Local Stair Lift Showroom in Chicago Suburb - Arlington Heights, IL
Posted on by Eric Rubel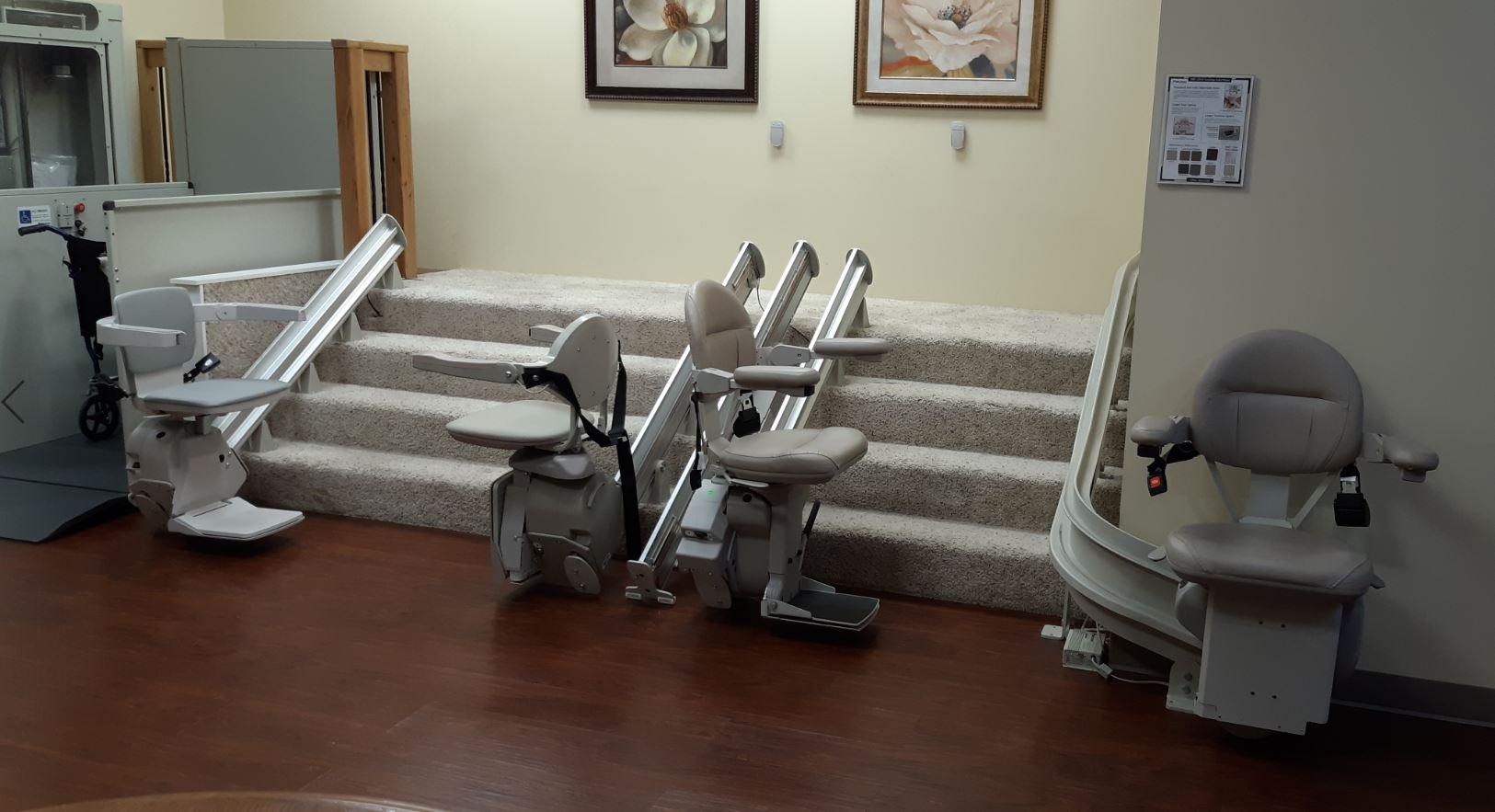 Lifeway Mobility Chicago (formerly EHLS), a local Bruno Diamond stair lift dealer, has a showroom equipped with four fully operational stair lifts. We invite anyone interested in the installation of a stair lift to visit our showroom:
Anyone that may be in need of a safe solution for navigating the stairs at home
Someone who is interested in helping a relative get up and down the stairs safely
Caregivers
Architects
Simply anyone else who is interested in purchasing a stair lift for a home, church, school, or commercial building
Seeing and/or test-riding a stair lift before purchasing it is very beneficial because it provides comfort and experience with the lift for the user. Below is a recent review from a custom who found his visit to the showroom to be extremely helpful:

Read more reviews about Lifeway Mobility Chicago
Where Can I Try a Stair Lift?
Lifeway Mobility Chicago's stair lift showroom is located at 210 W. Campus Drive in Arlington Heights, IL (just east of route 53). Click here for directions.
Virtual Tour of our Stairlift Showroom
Don't have time to visit our showroom in-person? Check out the new 360 tour of our showroom in Arlington Heights to see the available solutions on-site up close! We also offer virtual tours by video.
When to Visit the Lifeway Mobility Chicago Stair Lift Showroom
Our showroom in Arlington Heights, IL will be closed until further notice due to construction. Please contact us for updates on timing of reopening.
Our standard showroom hours are:
Mondays & Thursdays: 9:00 am – 4:00 pm
2nd Saturday of each month: 9:00 am – 1:00 pm
We ask that you please call ahead so that we can limit the number of people in the showroom at one time.
Why Test Ride a Stair Lift?
When you invest in a stair lift, it is important to make sure that you find the one that you are most comfortable with. Pictures, videos, and facts are all very helpful, but a stair lift is a product that often needs to be seen and touched in person. When you visit our showroom, you will be able to feel what it's actually like to ride a stair lift. You will be able to feel how a lift starts, stops, rides around curves or turns, and learn all the basic controls that enable it to go up and down a staircase.
Many of our customers visited our showroom before they purchased a stair lift. They found that being able to ride a stair lift before purchasing one allowed gave them confidence that it was the right solution for their needs. It also removed any worries of not being able to understand how it fully operates once it is installed.
Here is some more feedback from of a Glenview resident who visited our showroom before deciding to purchase a stair lift:
"Your showroom in Arlington Heights sold us as my husband was able to try all the lifts available. We chose the Bruno Elite model for all of its wonderful functions".
So, we highly encourage you to stop by and try one of our stair lifts out! We want you to be able to age in place and stay safe in the home you love. Giving a stair lift a test ride can help you confirm that it is the best product for your needs and situation. A stair lift is also more affordable than moving to a single-level home or senior living community.
What Types of Stairlift are in the Lifeway Showroom?
In our showroom, we have four stair lifts that you can test ride.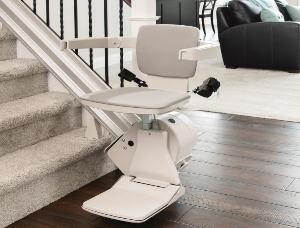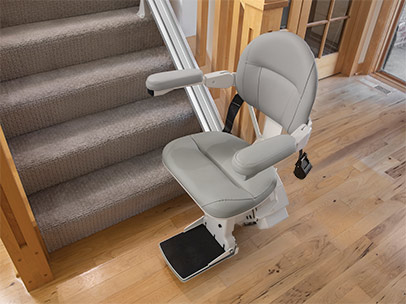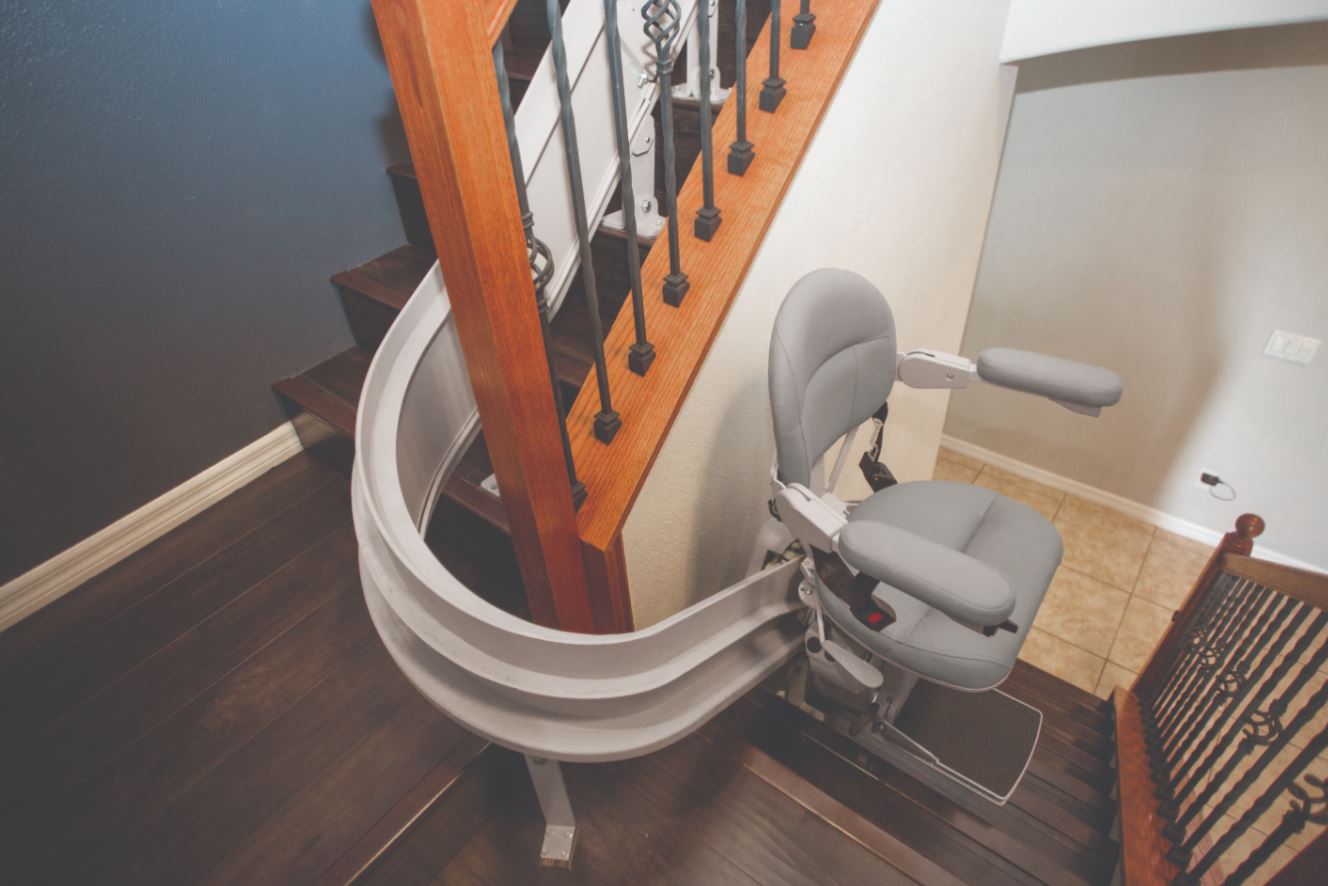 You can test ride as many of the lifts as you would like! The straight stairlift models have an aluminum anodized rails, which are built to fit any straight staircase. The rail of the curved stairlift is custom designed by Bruno to fit on staircases that have curves, turns, or landings.
One of our stair lift experts can help you learn how to operate the lifts and find the one that best fits your needs and staircase. We will also help you decide if you need to add any options such as a power folding footrest. Below are some of the most common stair lift options that we recommend to our customers:
Power Folding Foot Rest - allows you to conveniently fold the footrest up or down with a push of a button
Power Swivel Seat - provides a safe exit at the top landing of the stairs when limited mobility prevents the person using the lift to manually swivel the seat
Larger Footrest - recommended to those who have trouble bending their knees or have a larger foot size
Larger Chair - provides a more space and comfort for those that may need it
Manual or Power Folding Rail - recommended when the rail extends into a hallway that receives a lot of foot traffic to prevent it from becoming a trip hazard
Contact Us
If you have any questions about our showroom or when you can visit, please contact us. We look forward to seeing you soon!
Interested in other products that can make your home or commercial building safer and more accessible?
In our showroom, we also have a home elevator, wheelchair lift, and roll-in shower with grab bars on display. We will be happy to provide you with detailed information on any of those accessibility solutions as well.
---
---