A Solution for Every Situation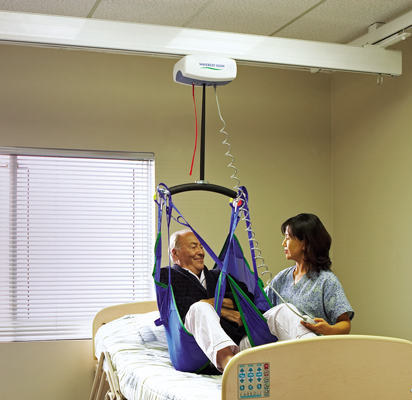 Our objective is to improve the quality of life for the user while making the caregiver's job easier and safer. The more strength and functional capacity the user has, the more they are able to participate in their own transfer or repositioning, and the easier the transfer will be for the caregiver.
Relying on lifts too early in the care process can make a user passive and impair muscle performance and joint mobility, but in cases where lifting cannot be avoided, mechanical lifting minimizes strain on the caregiver and provides a feeling of security for the user.
Solutions for active users: Lifeway's transfer-assistive devices help the caregiver activate the user while stimulating a natural movement pattern, which strengthens the user's muscles and provides a sense of independence.
Solutions for active and somewhat active users: Lifeway provides assistive devices for manual supine and/or sitting positioning such as turning in bed, moving higher up in bed, and positioning in wheelchair.
Solutions for passive users: Lifeway offers lifting aids such as mobile lifts, rail systems, ceiling lifts, lifting slings and lifting accessories for mechanical lifting of passive users in most transfer situations.
About Slings for Transfer Lifts
Sling styles vary based on the needs and abilities of the user. In general, slings are more encompassing when a user needs more support and are less able to assist the caregiver. A two-piece sling is easier for a caregiver to put on—but doesn't provide as much support as a larger sling.
Some slings are made to allow for toileting and others are made from mesh to dry quickly after being used in the shower. There are a number of specialized sling designs to choose from, including the walking sling shown here, which can be very helpful for gait training.