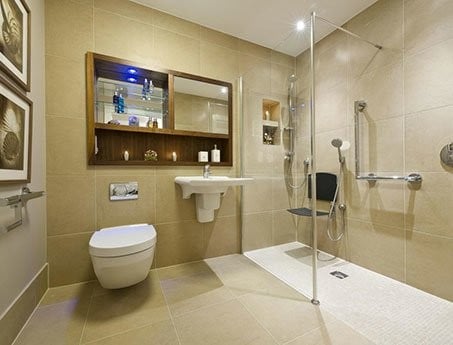 Showers & Bath
Bathroom Accessibility Modifications
Whether due to aging, illness or disability, when bathrooms need to be modified to reduce barriers for the safety and comfort of those at home—Lifeway can help. Our professionals can advise you on grab bars and other equipment to modify your bathroom to ensure maximum safety and independence.
Sink Access
Space is the primary issue facing a wheelchair user when trying to use the sink. A typical bathroom sink and vanity don't provide space below the sink for a wheelchair user's feet and legs. The accessible solution is to clear the area below the sink to provide room. There are several ways to create that space.
Sink Access Options:
Wall-mounted sinks
Pedestal sinks
Vanity tops
Motion-sensitive faucets
Consider these safety tips to reduce falls in the bathroom:
Ensure shower doors are made of safety glass, or replace them with a shower curtain.
Take extra care when on wet surfaces. Slip-resistant flooring is recommended for bathrooms, such as paint-on applications or self-adhesive non-slip strips.
Grab bars are recommended in all positions around the bath and toilet. Never use a towel rail to support body weight.
Hand-held shower hoses are a good idea, as are shower chairs or bath seats when mobility or balance is in question.
---
Bathroom Accessibility Modifications Gallery
---