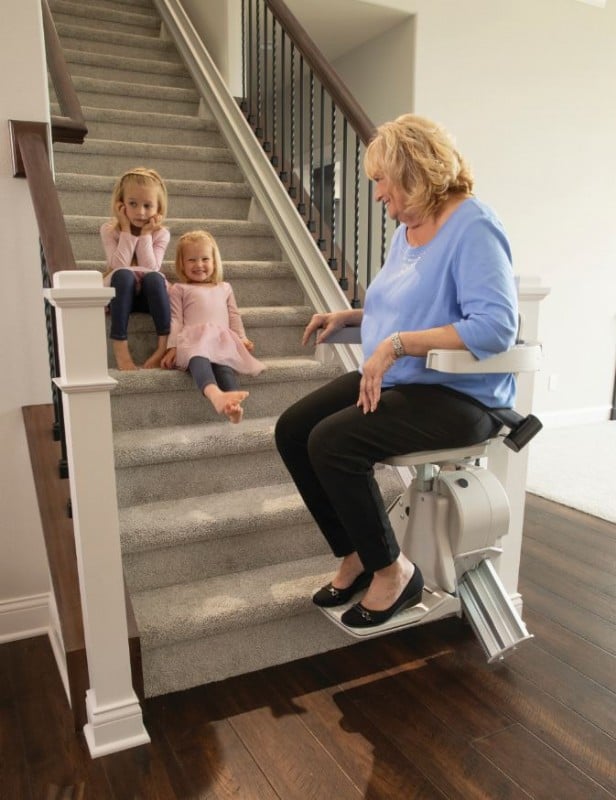 Rental Stair Lifts
Rental Stairlifts in Chicago Area
Lifeway Mobility Chicago, formerly EHLS rents high-quality, pre-owned stair lifts in great condition. A rental stair lift is a perfect solution when the stairs are going to be unsafe to use as a result of an injury or temporary living arrangement.
A rental stair lift is the perfect short-term accessible solution for the stairs when faced with situations such as:
Recovering from hip or knee surgery but expect a full recovery of mobility
A relative with limited mobility will be staying with you for a year or less
What Types of Stair Lifts Can Be Rented?
Straight rail stair lifts are the only types of lifts that we offer for rental. Your staircase must be without any curves or turns, as the rails for curved stair lifts must be custom-designed.
Please note that a manual folding rail is the only option that can be added when renting a stair lift. Single or double installations are available (double installation includes two lifts installed at the same location).
Below are our stair lifts models that are available for rental:
Stair Lift Rental Program: Details & Cost
Our standard rental package includes - Installation, removal, and a minimum 1-month rental period
Service & maintenance are included for the first 12 months of the rental
The cost of the rental depends on several factors such as the make, model of stair lift and whether a folding option is selected
Convenience! After the initial rental period, payments are billed monthly on your credit card.
Purchase Option
Not sure how long you will need your stair lift? Lifeway offers the ability to rent with an option to buy. This is a perfect option if you are unsure how long the lift will be needed for. For example, if temporary arrangements turn into a permanent living arrangement, then this a great option. You can choose to purchase the rental after any amount of time.
---