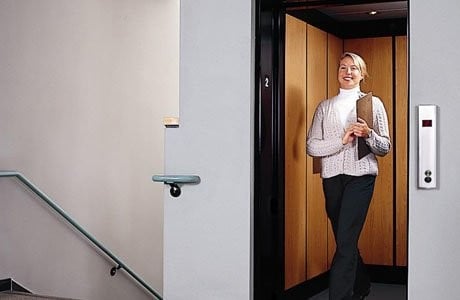 Commercial LU/LA Elevators
LULA Elevators in Chicago Area
Lifeway Mobility Chicago, formerly EHLS provides LU/LA (Limited Use / Limited Application) elevators for commercial and public buildings in the Chicagoland area. The main purpose of a LULA elevator is to provide an accessible way for disabled visitors to navigate between the floor levels of a building.
About LULA Elevators
LULA elevators have features you would find in a commercial high-rise elevator, without the price. They are described as a hybrid between a commercial wheelchair platform lift and elevator and are perfect for offices and commercial buildings. The sole purpose of LULA elevator is to provide a safe and accessible way for those with disabilities to access all levels of public or commercial building
The high-efficiency hydraulic drive system of a LULA elevator provides the ultimate smooth, quiet ride for passengers, and the automatic sliding stainless steel doors deliver the modern, sleek look of a standard commercial elevator. The LU/LA elevators that we professionally sell and install are manufactured by Savaria, which is one of the top manufacturers in the industry.
LULA elevators can provide ADA compliant handicap accessibility to any of the following buildings, where permitted by local code:
Schools
Libraries
Places of worship
Multi-family housing
Professional office buildings (up to 3 stories)
When is a LULA Elevator the Best Solution?
LU/LA elevators are the ideal elevator type for low-rise buildings
LU/LA elevators are a hybrid between a full-sized commercial elevator and a vertical platform wheelchair lift.
A LU/LA provides the look and feel of a commercial elevator in an affordable package.
LU/LA elevators are also less costly than a full-size commercial elevator and will require less space for construction – saving you money and floor space
LU/LA Elevator Features
Capacity: up to 1,400 pounds
Travel: up to 25 feet
Travel speed: 30 feet per minute
Stainless steel or brass control panel and call stations
Stainless steel handrail
Digital floor indicators
36" wide doors
Cab size: up to 18 square feet
Fire rated steel panel cab
Emergency battery back-up for lowering
Emergency interior lighting
Emergency stop and alarm buttons
---
LULA Elevators in Chicago Area Gallery
---