Bruno Stair Lifts in Chicago, IL
Why Choose Lifeway Mobility Chicago (formerly EHLS) for your Bruno Stair Lift?
We're Local: Lifeway Mobility Chicago is a locally operated stairlift dealer located in Arlington Heights, Illinois.
We are Chicago's only Bruno Diamond Dealer: Awarded only to Bruno dealers that finish in the top 3% in sales of Bruno's dealer network. Learn more about the Bruno Diamond Dealer designation ›
We are experienced: We have been providing Bruno stair lifts to the greater Chicago area, including Northwest Indiana, and Southeast Wisconsin for over 30 years!
We find the best solution for your needs: Our experts will take the time to learn about who will be using the lift and then recommend a solution based on that person's specific needs and situation.
We provide installation and maintenance: Our very own factory-trained technicians install all of the lifts we sell, and we offer ongoing maintenance on all of the Bruno stair lifts we install, with planned maintenance programs available.
We offer a variety of options: New, used, and rental stair lifts available.
Lifeway Mobility is the Only Bruno Stair Lift Diamond Dealer in the Chicago, IL Area.
Lifeway Mobility Chicago was recognized as a Bruno Diamond Stair Lift Dealer since 2016. The diamond dealer award is an exclusive award that is given to Bruno dealers that finish in the top 3% of Bruno's sales. So, if you are looking for a Bruno stair lift for a straight or curved staircase and live in the greater Chicago area, then you have come to the right place! It is a perfect solution for anyone who needs help getting up and down the stairs in a house, church, or any other building.
Below you will find more information about the Bruno stair lift models that we offer.
Types of Bruno Stair Lifts
Bruno Elan Stair Lift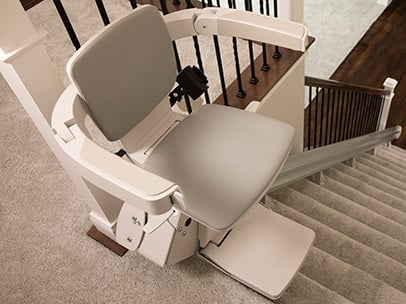 The most affordable and most popular Bruno stair lift is the Bruno Elan model. The Bruno Elan stair lift is made in the USA and is designed solely for straight residential indoor staircases. While most affordable, the Elan stair lift is built with many of the same components and options that the Elite has. It has a mix of high-quality standard functionality, unsurpassed reliability and comes with an armrest rocker switch that makes it very easy to operate. Please see below for the Bruno Elan stair lift features and available options.
Bruno Elan Features:
300 lb weight capacity
Padded seat with multiple height adjustments
Soft start and stop gives users a smooth ride
Flip-up arms, seat and footrest will create plenty extra space for others to use the stairs
Bruno Elan Options:
Manual or Power Folding Rail
Power Swivel Seat
Power Folding Footrest
Bruno Elite Indoor Stair Lifts
The Bruno Elite Straight Stairlift is a high-quality stair lift that is built with a luxury-quality chair. Like the Bruno Elan, the Bruno Elite is built for straight residential indoor staircases. However, unlike the Bruno Elan, the Bruno Elite can also be built in a commercial setting. The Elite stair will offer you access to all levels of your home or commercial building. It has a premium design that will blend in with your home décor.
The other Bruno Elite Stair Lift model that we offer is the Bruno Elite CRE. The Bruno Elite CRE is a curved stair lift that is custom made for staircases that have curves, turns, or intermediate landings. This model slows down around curves and turns and has a very smooth and stable ride.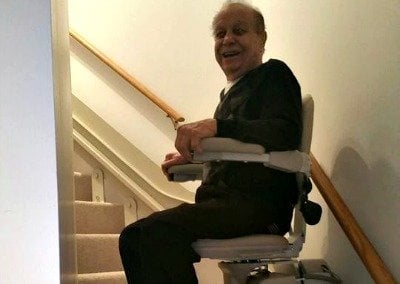 A Bruno curved stair lift will cost much more than a straight rail stair lift because the rail is custom made. However, a curved stair lift is still going to be less expensive than adding a first-floor addition your home or moving to a single-level home. So, if you need a quality stair lift that curves or turns, the Bruno Elite CRE would definitely be the stair lift for you!
Bruno Elite & Elite CRE Features:
Weight Capacity: 400 lbs (100lbs more than Elan)
Comfortable, generous size seat with multiple height adjustments
Swivel seat – makes getting on and off the lift easy and safe
Arms, seat and footrest can flip-up, allowing for extra space on steps
Bruno Elite & Elite CRE Options:
Larger Seat Pad
Larger Seat Rest
Power Folding Foot Rest
Power Swivel Seat
Bruno Elite Outdoor Stair Lifts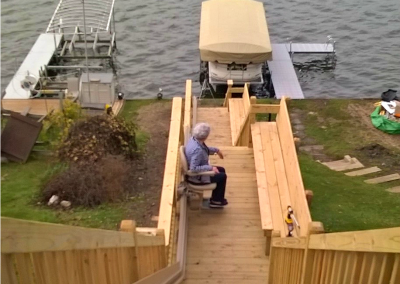 The stylish and quality design of the Bruno Elite is also available to be built on a straight or curved outdoor staircase. If you are having trouble getting in and out of your home or want to be able to access the porch or deck in your backyard, a Bruno Elite outdoor stair lift would be perfect for you. It will eliminate the difficulty of walking up and down the stairs outside of your home and will allow you to still be able to enjoy your patio or yard! The major components of outdoor models are built to handle all four of Chicago's weather seasons. These models also come with a canopy cover that will help protect it from rain and snow or any other Chicago weather elements!
Outdoor Model Features:
400 lb weight capacity
Performance tested 0-125 F
Durable outdoor paint protects all steel surfaces
Marine-grade vinyl padded seat and armrest
Outdoor Model Options:
Larger Footrest
Larger Seat
Come Visit Lifeway Mobility Chicago's Stair Lift Showroom!
We have an accessibility showroom that is equipped with four Bruno stair lifts. We have three Bruno straight stair lifts (2 Elans & 1 Elite) and one curved stair lift (Elite). Visiting our showroom will give you the ability to test ride each type of Bruno stair lift so that you can decide which one you works best for your mobility needs and home.
Our stairlift showroom is located in Arlington Heights, IL (remodeled in 2021) and is open for you to come visit Monday-Friday from 9 am – 4 pm! If you have a busy schedule we can rearrange a time on the weekend for you to come in and test ride our stair lifts. We hope to see you soon!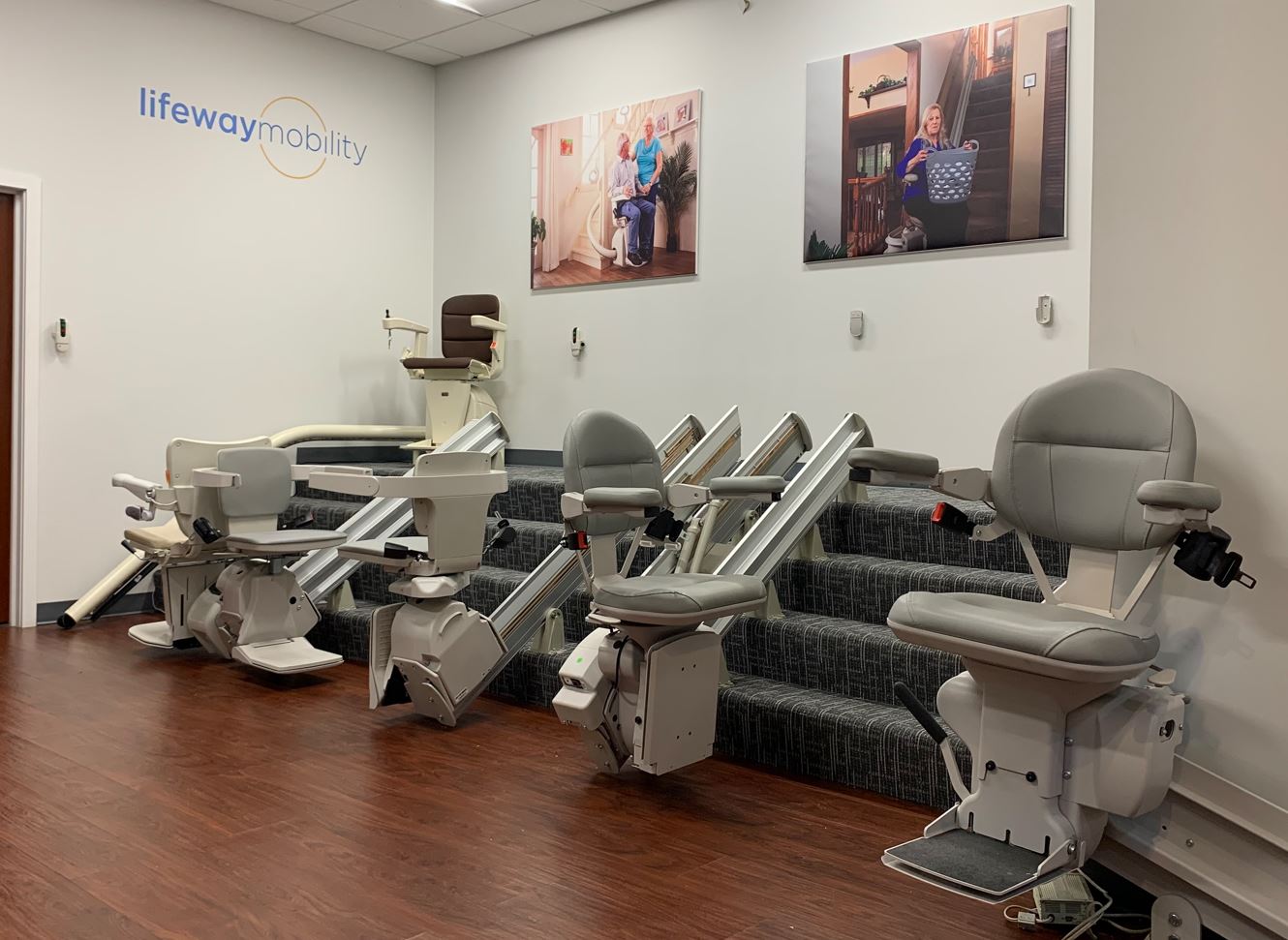 Please feel free to watch our stair lift videos to get a better idea of how a Bruno stair lift can help you get up and down the stairs in or outside of your home.
---