Stairlifts: Should I Buy New or Used?
Posted on by John Burfield
When buying a stairlift, it is important to consider your purchasing options. These include buying a new unit, a used unit, or even renting a stairlift. Like most purchases, there are pros and cons to each of these options. Let's take a closer look.
Buying a New Stairlift

Many customers that are shopping for a stairlift would prefer to purchase a new unit over a used model. This logic is understandable since there several advantages to buying new, including:
No wear and tear on motor parts and components
Less likely to have service issues
Latest technology and features
Covered by a comprehensive manufacturer's warranty
However, these advantages come with a price tag to match. Typically, a new straight stairlift will cost between $2,800 and $5,000 with professional installation. A curved stairlift will likely star around $9,500 range due to the custom curved rail that is manufactured to have a precise fit to your staircase. If you have a curved staircase, a new unit is likely your only option since you will require a custom curved rail.
When considering a new unit think about how long you anticipate you'll need the unit. If you think that you'll need the lift for more than 5 years, a new unit is probably the best option. This will allow you the longest possible lifespan which can vary but is typically up to 10 years.
A new unit will also come with the most comprehensive warranty coverage. Lifeway Mobility will extend the coverage of the manufacturer's standard 5-year warranty, into a lifetime warranty on motor parts and offer a 1-year labor warranty. When buying a stairlift, make sure your provider has details on the warranty and is prepared to honor it with prompt service.
Buying a Used Stairlift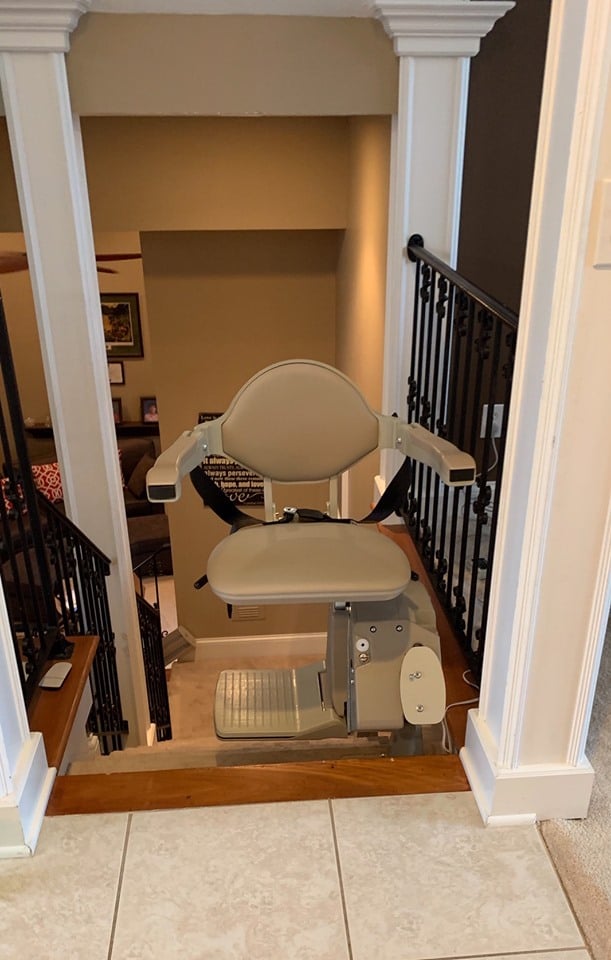 For many, the thought of buying something used is less than ideal. While it is true that buying new will allow you to purchase the exact model that you prefer with the longest lifespan, used stairlifts can be the right solution for many with a limited budget.
A pre-owned unit will typically cost between $2,200 and $2,500 with professional installation. The exact cost will be determined by the make, model, year, and overall condition that the stair lift is in. When buying used, it is important to choose a reputable provider that will make sure that the unit is thoroughly inspected and refurbished prior to being re-installed in another home.
With the price discount, however, comes risk as used units are often no longer covered by the manufacturer's original warranty. Many providers that sell used stairlifts will offer a limited warranty that should give the buyer some peace of mind, but it will likely not be as comprehensive as the material and labor warranty on a brand-new lift.
Keep in mind, it is not wise to purchase second hand directly from the owner. You want to make sure that service will be available should you have an issue, and this can be a challenge when the used lift is not bought from a reliable dealer.
You should also understand that the selection of used stair lifts and available features may not match the inventory of new lifts that a provider can offer. However, it is possible that a used lift will offer many of the features found on new lifts at a lower cost.
Renting a Stair Lift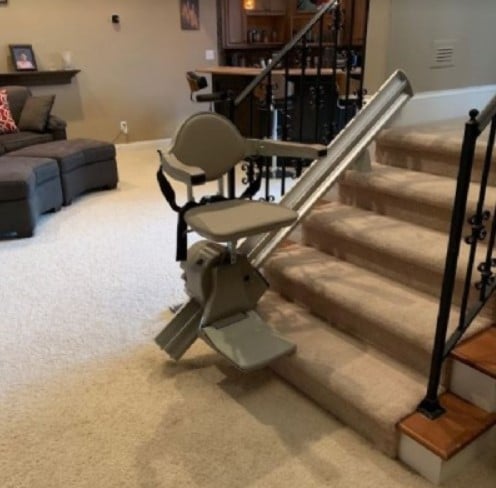 If you know that your needs are temporary, such as after surgery, a rental stairlift may be a good option. The primary reason to rent a stairlift instead of buying is the cost.
Our rental stairlift options include installation/removal, the first 3 months of rental, and any necessary service calls during that time. Each additional month will require you to pay a monthly rental fee. Optional features such as folding rail will also be subject to an extra monthly charge.
If you're not sure how long you will need your lift, be sure to ask your provider if they offer a rent-to-own program. After renting a stairlift, some people learn to love their lift and decide to keep it!
Final Thoughts
When deciding on which buying option is right for you, consider your budget and how that lines ups up with your wants and needs. If you think that you'll use the lift for its entire lifespan or there are must-have features that are not available on the used market, it is wise to look at buying a new lift. If you have a limited budget or the features of the lift are less important to you, a used lift might be the right solution.
If you still are unsure about which is right for you, there are experienced stairlift dealers that can help you make the right decision to meet your needs.
For more information about stair lifts, check out the Lifeway Ultimate Stair Lift Guide!
---
---