Stair Lift Cost: Guide for Chicago Area Residents
Posted on by Eric Rubel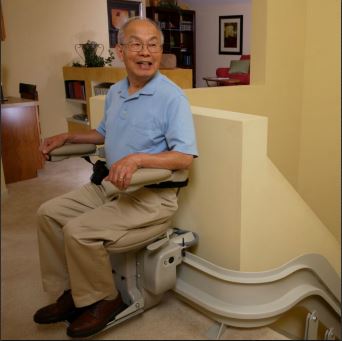 One of the most common questions that we receive from our local customers is "how much does a stair lift cost", or also commonly phrased as "how expensive are stair lifts"? However, every person is different and so is their situation and mobility. So, it is difficult to provide an accurate price without learning about who the stair lift is for, the type of staircase that the lift will be installed on, and the options that the user will need or want.
We can, however, help you learn about what factors go into the cost of a stairlift and help you determine which model and options may work the best for your needs and situation.
---
Stair Lift Pricing
If you decide that a stair lift is something that you are seriously considering, please give us a call @ (847) 215-9490 and we will be more than happy to schedule one of our experts to visit your Chicago or suburban home at a time that fits in with your schedule.
We will discuss the options that benefit the user most and provide you with an accurate "in-the-door quote,", meaning that the cost includes everything (shipping, equipment, measurement, taxes, installation fees, and warranties)
Be aware that the prices that our competitors list online may not include the cost of shipping or installation
Buying from EHLS means that you'll always have someone to call in case your lift needs to be serviced
We offer ongoing maintenance on all of the lifts we install
As a local family run company, we take pride in taking care of our customers like they are part of our own family! We will do our best to recommend the lift that best fits the users' needs, fits your budget, and most importantly, keeps the user safe!
---
Type of Staircase – Is your staircase straight or curved?
There are two types of stair lift rail configurations that we sell, install and service: straight and curved. The staircase located in or outside your home, school, place of worship, or business is what determines the type of model you'll need. The design of the staircase is usually the biggest factor when it comes to cost.
Straight Staircase:
Straight stair lifts, which have a standardized rail that is built to fit all straight staircases, are the least expensive types of stair lifts. Since the rail is standardized, these units usually have a quicker turn-around time and can also be bought used. The price of a straight stair lift ranges between $2,200-$5,000 (new or used).
One of our stair lift experts can come out your home to do an evaluation of the staircase and provide you with a firm price. These evaluations are FREE and usually only take 20-30 minutes. Please contact us to set up your evaluation!
Curved Staircase:
If the staircase at your home or building has any curves, turns and/or immediate landings, then you are going to need a custom curved stair lift. Curved models are more expensive than straight models because the rail is custom made. The rail has to be designed to fit the exact specifications of your particular staircase. The price you will pay will depend on the exact configuration and any options that are added (see some of the most common curved staircase configurations below). Curved stair lift pricing starts at $9,500, which significantly higher than a straight rail because of the custom-built rail. Although the price of a curved rail stairlift may seem high, it is still more cost-effective than moving into an assisted living facility. A curved stair lift would pay for itself when compared to the monthly payment of a senior or assisted living facility.
The stair lifts we offer to Chicago area residents are from the top manufacturers in the industry: Bruno, Harmar, Hawle, and Savaria. Our stair lift showroom, which is located in Arlington Heights, IL, allows customers to get a better understanding of how some of these stairlifts operate.
---
Used Stair Lift Pricing
If you are looking for a durable, high-quality stair lift, but want to save some money, then a used stair lift may be a good solution. The total cost savings will depend on the year of the model and what we have in stock. Please note that straight rail stairlifts are the only used stair lifts available.
Curved stairlift rails are custom designed to fit a specific staircase, so it impossible to offer a used curved rail. However, depending on what is in our inventory, we may have used seats/chassis that you can purchase for a curved stairlift. The Bruno Elite seat/chassis are the same for both straight and curved units.
---
Outdoor and Commercial Stair Lift Pricing
Commercial and/ or outdoor models generally cost more than the stairlifts models that are designed to be used inside of homes. The outdoor models are built to withstand the outdoor elements, such as cold, heat, rain, and snow. A lightweight cover travels with the lift and protects it when it is not being used. It may be required that permitting is needed for these types of stair lift models.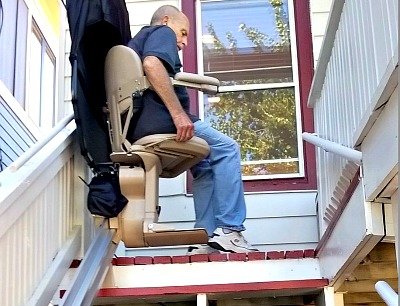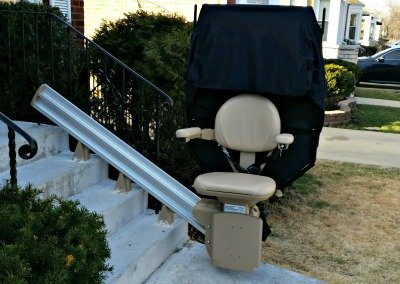 ---
Rental Stair Lift Pricing
Do you only need a solution to get up and down the stairs for a short period of time or maybe your even unsure how long you'll need assistance? Consider renting a stair lift. We offer straight stair lifts that can be rented for on a monthly basis. Please contact us for more details about our rental program.
Rental stair lifts are perfect for the following situations:
A loved one is coming to live with you for a short or unknown period of time
You or one of your family members will be unable to use the stairs for a limited period of time
But what if I decide that I want to buy it for a few months? That's not a problem! We offer a rent-to-buy option for those who want the buy their rental stair lift.
80% of your payments can be applied to the valued price of your lift at the time of purchase. Please note that this option is only valid within 12 months of the 1st day of rental
---
Other Factors that Impact the Price of a Stairlift
Number of Steps or Distance Traveled
While the distance traveled is not a huge determinant when it comes to price, it can still have an effect if you have more steps than standard staircases. For straight stair lifts, each model comes with a standard rail that covers 14 steps. The distance traveled for curved models as well as the number of turns needed will have an effect on the total price. The more distance required, the more rail needed, which results in a higher price.
Options
There are a number of options available that can be added to enhance the safety or comfort of your stair lift. Some may be necessary based on your needs, while others may be added for convenience. Below are some of the most common stair lifts options available that will increase the cost of a stair lift.
Rail Options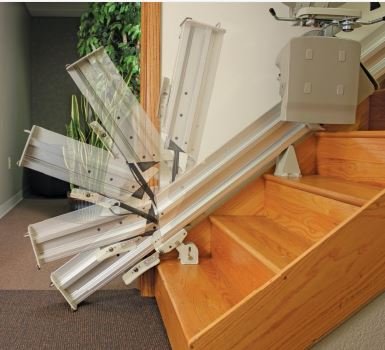 There are a number of rail options available for the straight and curved models. Any option that is added has an effect on the price you will pay. Here are some of the options available:
For Straight Models:
Manual or Power Folding Rail – Offering a NEW folding rail for our Bruno straight stairlift models
Extended Rail Lengths
For Curved Models:
Overrun
90-degree park
Additional 90-degree curve
180-degree park
Additional 180-degree curve
Additional straight intermediate landing
Non-standard angle turn
Please call us at (847) 215-9490 to learn more about the curved rail configurations and options.
Seat Options
Power swivel seat
Larger seat
Footrest Options
Power folding foot rest – Arm activated options
Larger foot rest
Upholstery options including leather and vinyl are available on some models. Choose a color that best matches the design and décor of your home!
*Please note that there are a few other options available that were not listed.
For more information please complete the form below! Also, feel free to stop by our showroom in Arlington Heights, IL to test ride a stair lift or two.
---
---