Stair Lifts for Churches & Places of Worship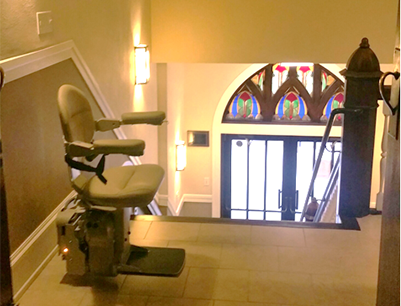 Lifeway Mobility offers stair lifts that can be installed on a straight or curved staircase in a church or other place of worship. Churches, synagogues, temples, and many other places of worship are where individuals with common beliefs and values come to gather and feel a sense of community. These places should be welcoming & safe for everyone to attend, regardless of their mobility. However, there are places of worship that were not built to safely accommodate people with limited mobility, thus making it difficult to enter/exit the building or navigate between the floor levels.
Fortunately, there are several accessible solutions that could make it safe for all parishioners, members, and visitors to navigate a church staircase. If you're looking for a quick and cost-effective solution, a stair lift is the product to consider.
Benefits of Installing a Stair Lift for your Church or Place of Worship
Cost effective solution to provide a safe and easy way for those with limited mobility to enter/exit the building, or reach main area of worship, or basement gathering area
Reduces the risk of a fall or accident on the stairs
Prevents parishioners from feeling unwelcome because of a staircase
Still allows other parishioners to safely use the stairs by foot
Quick and easy installation, with service provided after the date of installation
Stair lifts can be installed on staircase that is straight, or one that has curved, turns, or intermediate landings.
Our local stair lift showrooms give you the ability to see and test ride a straight or curved rail lift so that you can better determine it's the right solution for your church
Why Choose Lifeway to install a Stair Lift in your Church or Place of Worship?
With over 19 years of experience on average, our accessibility experts would love to help you find the perfect stair lift model for your church or place of worship
Lifeway Mobility is a Bruno Diamond Dealer

– only awarded to the top 3% of Bruno stair lift dealers
We proudly serve the following areas: California, Connecticut, Chicagoland (including northwest Indiana & southeast Wisconsin), Delaware, Indianapolis, Maryland, Massachusetts, Minnesota (including western Wisconsin), North Carolina, Ohio, Pennsylvania, South Carolina, Rhode Island, southern New Hampshire, Virginia, Washington DC, West Virginia, & Wisconsin.
To learn more about adding a stairlift to your church or place of worship, or to schedule a free remote or no-contact evaluation, please fill out the form below or call our office at (888) 714-1930.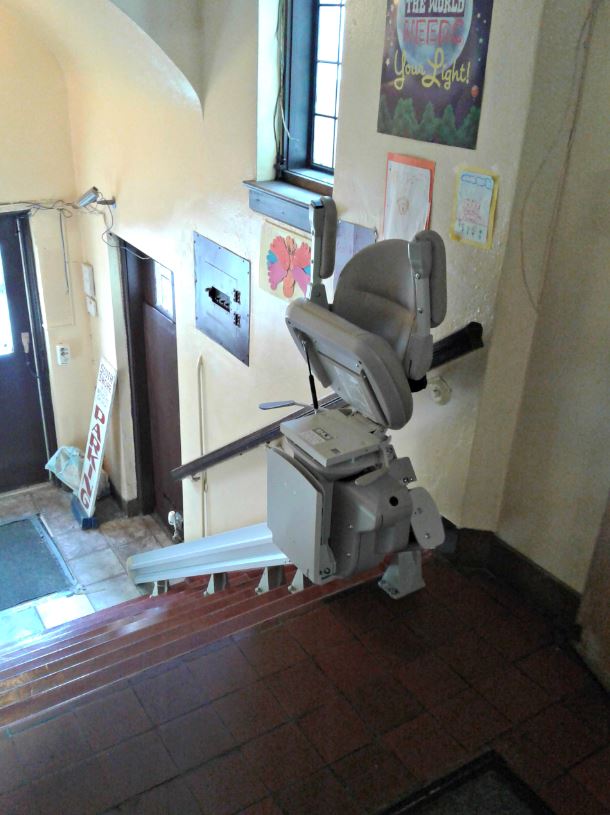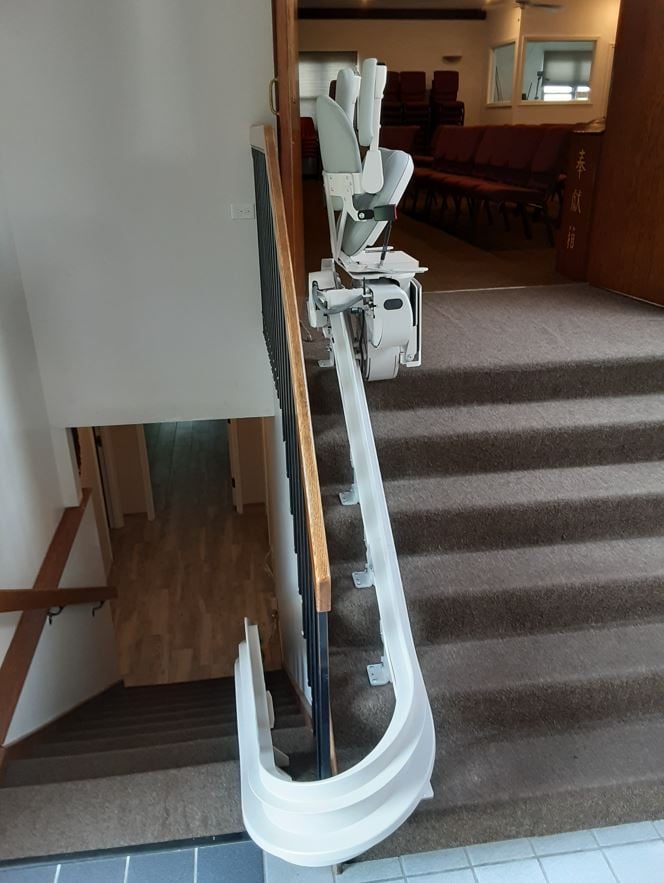 Safety Features & Upgrade Options for Church Stair Lifts
Stair lifts come with many safety features to provide users with a peace of mind while using the lift. The standard safety features of the the Bruno stair lift models we offer for church and place of worship stair lift installations are listed below:
Retractable seat belt allows users of the lift to stay secured in the seat while riding up or down the stairs
Safety sensors built into the footrest and carriage, will stop the lift if anything is detected in it's path of travel
Offset swivel seat allows for a safe exit away from the stairs at the top landing of the staircase
Folding components -- seat, armrests, and footrest fold upward when the lift is not in use to allow others to use the stairs
Remote controls for when the chair is at the bottom landing, but is needed to be used by someone at the top landing, or vice versa
There are also many upgrade options that can be added to further enhance safety and comfort for all users of the lift. A power folding rail, whether it be manual or powered, is a common option selected. Folding rails prevent the rail from becoming a trapping hazard if the staircase ends in a hallway that receives lots of foot traffic, or if it is near a doorway. Compare manual folding rails vs. power folding rails for stair lifts.
Some of the other commonly added options are a power swivel seat, larger seat pad, and power folding footrest. If you are interested in matching the upholstery of the seat to the color of the church walls or flooring, there are color options available ad an additional cost. One of our access sales consultant will be able to help you decide if an option will be needed for your stair lift.
Stair Lift Models for Straight & Curved Staircases in Churches & Places of Worship
Straight Stairlifts
Bruno Elite

The Bruno Elite straight stairlift features a vertical rail system and is ultra-compact, installing to within 6" of the wall. The arms, seat, and footrest fold up, creating plenty of space to walk on the stairs. The Elite has a soft-start, soft-stop creating a comfortable ride for the user.

It has a 400-lb. weight capacity, and offers several upgrade options including, but not limited to a power swivel seat option, power lifting footrest option, folding rail option, and leather upholstery.

View Product

Handicare 1000

The Handicare 1000 stairlift offers a safe alternative to climbing the stairs for those with limited mobility. Its sleek track provides minimal intrusion on the staircase, thus allowing others to still be able to use the stairs by foot. Available for both indoor and outdoor installation for churches and others places of worship.

Features include a 300-440lb. weight capacity, depending on the model and seat selected.

View Product
Harmar Pinnacle SL600HD

Harmar's Pinnacle SL600HD straight stairlift is one of the most durable stair lifts in the industry. Its 600 lb. weight capacity makes it an ideal model for commercial settings as it will provide a safe way to get up and down the stairs for a wide variety of people with limited mobility. Built with a wide seat and and high back rest, the SL 600HD from Harmar will offer your parishioners and visitors with a safe and comfortable way to navigate the staircase.

Features of this stairlift include a 600-lb. weight capacity, easy operating controls, swivels at landings for safe and easy entry and exit, and safety sensors to prevent the lift form operating with there is an obstruction in its way.

View Product
Curved Stairlifts
Bruno Elite Curved Stair Lift

Bruno has set the standard with award-winning, custom curved rail stairlift designs by offering a smooth ride up and down stairs and through turns…a ride unbeaten in the industry. Its powerful drive system combines a self-locking worm gear and rack-and-pinion design. This provides the safest operation and longest-lasting durability.

Features of the Bruno Elite curved rail stair lift include a 400-lb. weight capacity, offset swivel seat and power swivel seat option, power lifting footrest option, folding rail option, and leather upholstery.

View Product

Handicare 2000 Curved Stair Lift

Handicare 2000 curved stairlift is custom designed, easy-to-use, and provides a safe and comfortable way for those with limited mobility to use the stairs. Like the Handicare 1000, the 2000 curved stairlift model can be installed indoors and outdoors. Its versatile rail system will fit almost any staircase, no matter how complex, making your church of place of worship more welcoming for everyone, regardless of their mobility.

Features of this stairlift include a 252-302-lb., depending on the angle of the rail and type of seat selected. There are also a few upgrade options available for added safety and convenience.

View Product
---