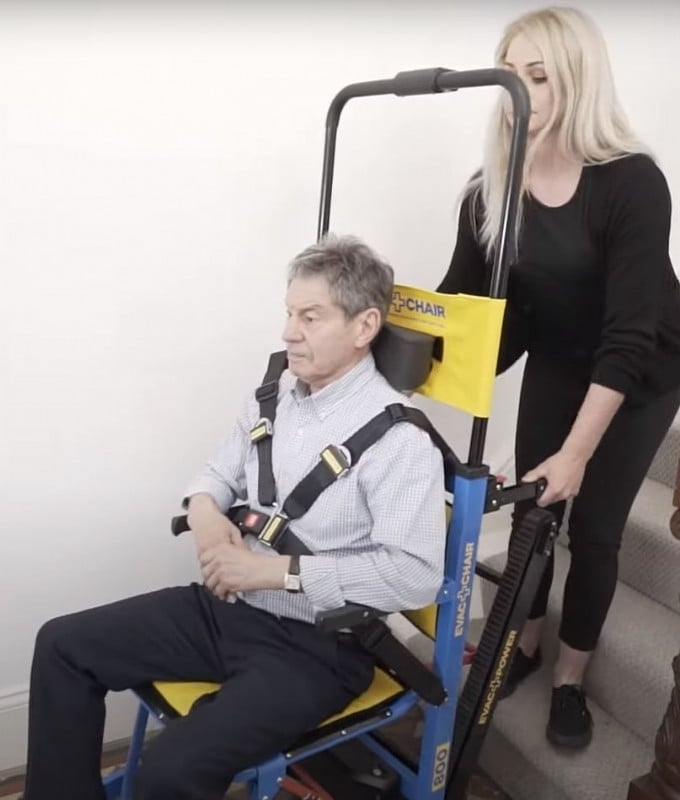 Portable Stair Climbers
Evac+Chair Evacuation Chairs
Designed in the United States, the Evac+Chair battery powered evacuation chairs provide a safe way to transfer those with limited mobility up or down the stairs. Lifeway offers free on-site demos and the Evac+Chair models we offer are available for purchase and rental in the Chicagoland area.
Powered Evacuation Chair For Navigating Up & Down the Stairs
The Evac+Chair evacuation chairs allow for easy and safe stair ascent and descent. It's perfect for use in emergency situations or just for daily transfers up and down flights of stairs without having to do any lifting or carrying. All Evac+Chair evacuations chair models come with a Manufacturer's warranty.
Below are features and benefits of the Evac+Chair evacuation battery powered chairs as well as basic specs and brochures of the chairs that Lifeway offers.
Features
Height adjustable head cushion for patient maximum comfort for patient during transfers
Easy-to-use control panel with on/off power and ascent & descent buttons
Ergonomic adjustable handle for ease of deployment & compact storage
Additional operator handles for added stability
Extra long quick release 4-point harness for increased passenger safety
Rechargeable lithium ion battery pack fully charges in 1.5 hours
High strength aluminum frame for increased strength and long-term use
Adjustable stair track for perfect transportation with tool included
Lockable rear wheels keeps chair in stationary position when needed
Manual override switch adjusts chair to manual function when power is unavailable
Benefits
FDA registered and CE & ISO 9001 certificated
Robust & compact in size
Easy to use
One-person operation & no heavy lifting required
Allows small attendants to easily move passengers 3x their size
Folds for easy and compact storage
Wipeable materials & anti-microbial paint for infection control
Exceeds fire safety requirements & emergency response guidelines established to support ADA
Evac+Chair assisted escape from Tower One of the World Trade Center on 9/11
Models
The Evach+Chair evacuations chairs offered by Lifeway Mobility are the Evac+Chair Power 800 and Evac+Chair Power 900 models, both of which are battery powered. Below are the specifications of the two models, the only difference being the weight capacity.
Evac+Chair 800
Specifications
Height: 45"
Width: 19.5"
Depth: 10.6"

Weight: 66 lbs
Weight Capacity: 350 lbs
Download Evac+Chair 800 Brochure
Evac+Chair 900
Specifications
Height: 45"
Width: 19.5"
Depth: 10.6"

Weight: 66 lbs
Weight Capacity: 500 lbs
Download Evac+Chair 900 Brochure
Accessories
There are several accessories available that can be added to enhance safety or comfort or even make it easier to store the chair when not in use. Below are the six available accessories that can be added to the 800 or 900 models of the Evac+Chair.
---