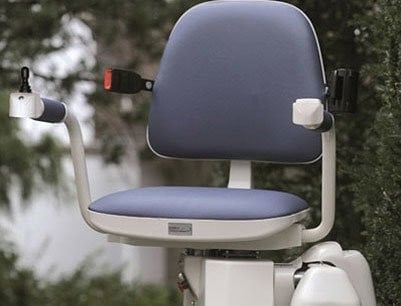 Outdoor Stair Lifts
Hawle HW 11 Outdoor Curved Stair Lift
The Outdoor Hawle HW 11 combines technical innovations with attractive design. So it is not only convenient, useful and reliable but even visually outstanding. They have elaborate construction and the used materials have the highest quality and trustworthiness.
Installation
This installation is optically adapted to fit the best way to your personal setting.
Difficult structural conditions are no problem. HAWLE stair lifts can conquer even the steepest staircases with up to 75° inclines, making this the best choice for spiral staircases.
Features
Weight Capacity: 350 lbs.
Rail Length: Can be made up to 131 feet
Minimum Staircase Width: 30 in.
Good planning allows for safe lift boarding outside the flight of the stairs.
Fold up and park the lift with minimum space requirements when not needed.
Zinc-coated rail is built to withstand all four of Chicago's weather seasons.
Color options available for the chair and the unit's hardware. (The rail does not have color options because of its zinc coating.)
---
Improve your mobility with an outdoor stair lift.
Request a free home assessment today!
Request an Assessment