Vertical vs Inclined Platform Lifts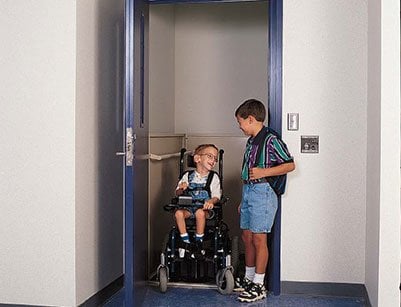 Vertical Platform Lifts (VPL) and Inclined Platform Lifts (IPL) help people who have a difficult time getting up and down the stairs. A VPL and IPL can carry a person in a wheelchair or other mobility devices, allowing them to travel between floor levels with ease. Both applications can be added indoor and out and can be used in both residential and commercial settings.
The difference between the two is the way they travel between levels. A vertical platform lift has a lift tower with either a hydraulic or ball screw drive mechanism. The platform has two solid sides and is attached to the tower. When in use, the platform moves vertically up and down along the tower.
In contrast, an inclined platform must be wall mounted or supported by a post system that secures into the treads of the stairs, thus requiring more space than a VPL would. The platform of an IPL can provide access from two or three sides and will include small ramps that fold up when traveling and down to roll-off at the bottom of the stairs. The platform can be folded up when not in use to provide space for people using the stairs on foot. An IPL is sometimes even described as a "flying carpet" because of the way it carries someone over a staircase.
Because of the difference in the way the applications travel, there are certain occasions where a VPL would be the best option and other occasions when an IPL would be the best option.
When a VPL would be the best option:
A VPL is a perfect option when there is not enough space for the installation of a wheelchair ramp
To access a porch or deck so that you can get in and out of your home safely
When an IPL would be the best option:
When traveling over an existing staircase
When there is no room for a VPL
When a residential elevator or VPL cannot be easily accommodated
Please don't hesitate to contact us if you would like more information on either one of these two lifts, or would like to free remote or no contact in-home evaluation.
---