What is Universal Design in Housing?
Posted on by John Burfield
If you've been researching home accessibility or products such as stair lifts or ramps, you may have come across the term universal design. While it may sound like some sort of New Age philosophy, it is really the cornerstone of the accessibility movement.
The 7 Principles of Universal Design
#1: Equitable Use
The design must be advantageous for people of various abilities. This is truly the heartbeat of accessibility. When designing or building for all users is at the forefront of the mind, the interaction will be appealing for everyone.
#2: Flexibility in Use
This idea encourages a design that can be adaptable and customized. It's all about choice! When people can select preferences, they enjoy a sense of freedom and independence. An example of this would be designing a door handle that is good for right or left-handed individuals with or without good gripping abilities or range of motion.
#3: Simple and Intuitive Use
This means the design can be used so everyone no matter the level of experience or current ability to concentrate. The idea is to reduce stress and not put people on overload. Following this principle will reduce complications and allow for intuitive use.
#4: Perceptible Information
This principle indicates that the design can be interpreted by all users even those with hearing or visual disabilities. There must be compatibility with the equipment that individuals use.
#5: Tolerance for Error
Here we see the need for the design to allow for an error friendly environment. Minimize the risks to eliminate the dangerous ramifications in the event of unintended actions. Fail safe features should be included where vigilance is not required by the user.
#6: Low Physical Effort
A universal design should be accommodating comfortable use without taxing the user by creating weakness or exhaustion. Repetitive actions and physical effort should be minimal.
#7: Size and Space for Approach and Use
This is important no matter the body size, posture or mobility of the individual. The size and space needs to accommodate all, so their approach, reach and manipulation are not in jeopardy.. There should be a clear line of sight for all users whether standing or seated. Everyone should be able to reach the components no matter their size or ability to grip. Space should always allow for those using wheelchairs or other devices.
Simply put, universal design is the concept of creating products or spaces that can be used by individuals of all abilities. An example of universal design would be building a home with features that can be utilized by all users equally. For instance, the entryway of the home could have a sloped concrete walkway that leads to a front door with a barrier-free threshold and a door wide enough to accommodate a wheelchair.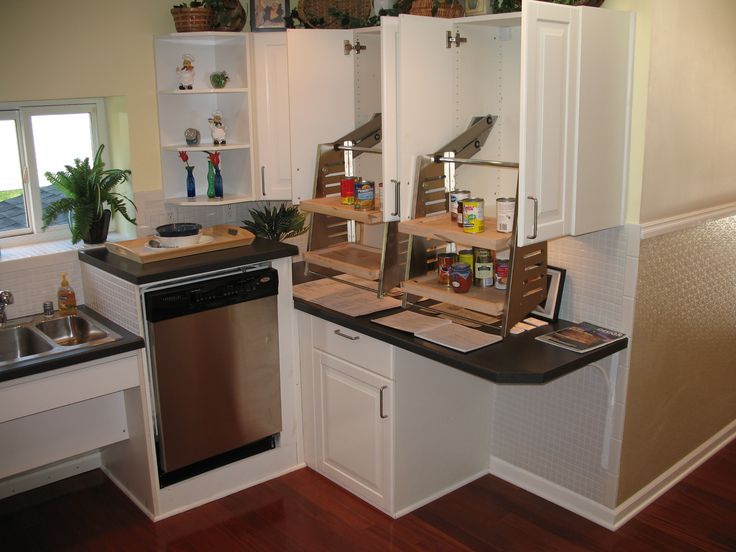 Inside the home, this could include wide hallways and doorways that are easy for a wheelchair user to navigate. A kitchen might have countertops of varying heights, drop-down cabinet racks and a roll-under sink. The bathroom would be large enough to turn a wheelchair, have a zero-entry or a barrier-free roll-in shower, roll-under sinks, and a tilting mirror that can be adjusted to accommodate both seated and standing users.
Ideally, a building or home is built from the ground up utilizing the concepts of universal design. However, the reality is that most homes, both old and new, do not incorporate these principles.
Home Accessibility Solutions & Modifications to Increase Usability
Fortunately, there are several options to increase the usability of these spaces and adhere to the principles of universal design. Through home modifications or retrofitting, barriers that limit a home's accessibility can be eliminated.
Examples of home modifications include the installation of stair lifts, vertical platform wheelchair lifts, ceiling lifts and ramps as well as renovations, such as widening doors and converting standard step-in bathtubs to zero-entry showers.
If you want to learn more about universal design, there are many resources to choose from. Some good places to start include your local area agency on aging (AAAs), a disability advocacy group, or a qualified home access provider.
Learn More:
Differences Between Accessible, Usable, & Universal Design
---
---