Traveling Safely with Limited Mobility
Posted on by Eric Rubel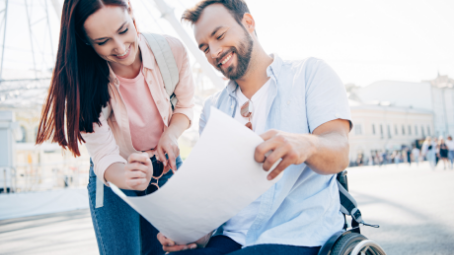 When you are in a wheelchair or have limited mobility, travel can be a challenge. Everything from getting to your airport gate and into your seat to finding hotel rooms and tourist destinations with ADA accessibility can add an extra layer of concern to your travel plans.
The good news is, you're not alone. According to the Bureau of Transportation Statistics, 25.5 million Americans have disabilities or mobility issues that affect their ability to travel and 21.9 million still get out of the house for vacations. Here is some helpful information for those who have mobility issues and plan to travel.
Airlines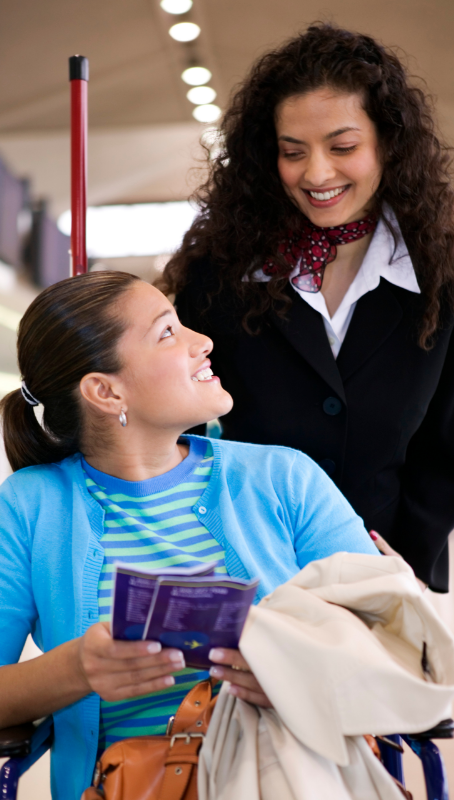 The Air Carrier Access Act dictates that all flights into or out of the United States, whether the second destination is domestic or international, are required to provide necessary accommodations to ensure safe travel for people with disabilities.
If you are traveling on a major air carrier and you need a wheelchair or have limited mobility, you can request wheelchair assistance from the airline. If you have your own wheelchair, you can usually use it to get to your boarding gate, then the airline will stow it so it is available when you disembark.
If you do not have your own wheelchair but would like to have access to one in the airport before and after your flight, as well as during any layovers, most airlines have wheelchairs to lend and can offer a staff member to assist you if needed. The best way to make sure you have access to a wheelchair is to request one when booking your flight.
You can also ask about other accommodations, including storage of assistive devices like canes and walkers, flying with a service animal, using electric medical equipment on board, the availability of wheelchair-accessible bathrooms (every U.S. airline that seats more than 60 passengers must be equipped with an accessible bathroom or an on-board wheelchair to help you reach the bathroom), and assistance for those with hearing, vision, cognitive, or developmental disabilities.
If you are booking flights with layovers, make sure you give yourself enough time to deplane, travel between gates or terminals, go through security or customs if applicable, and board the new aircraft.
When you check in for your flight at the airport, be sure to notify the gate agent of any special help you will need, including advance boarding, assistance with boarding and seating, specific seating needs, or any medical needs you may experience in flight.
If you have a problem with any issue related to your mobility issue and air travel, you can ask to speak to the airline's complaint resolution official (CRO) or call the DOT Aviation Consumer Protection Division's Disability Hotline at 1-800-778-4838.
Hotels
If your travel plans involve staying in a hotel, an extra step in the booking process can ensure your stay is safe and comfortable.
Once you have come up with some hotel options based on location, price, and availability, call the hotel directly to ask what level of mobility issues they can accommodate. Don't rely on labels like "handicapped accessible," because that can mean many different things.
Verify that the hotel you're considering has all the accessibility options you may need, including handicapped parking, handicapped accessible airport shuttle, ramps, an elevator, grab bars, a roll-in-shower, a shower chair, etc.
Also, be sure to ask about bed options if that is an issue for you, including the height of the bed (many hotels beds are extremely high, which may make them difficult for people with mobility issues to get in and out of), whether the bed is open underneath to allow for a lift if required, and the availability of an extra bed for a caregiver or assistant if needed.
Cruises
All cruise ships that sail in U.S. waters are required to be ADA-compliant, but some lines offer more accommodations than others for people with mobility issues. When booking a cruise, be sure to ask what specific accommodations are available.
In general, newer, larger ships, as well as those that are marketed to more mature passengers, tend to have more accessibility options, including larger staterooms, wider doors, and public areas that are equipped with ramps, automatic doors, and wheelchair seating.
Many ships have accessible bathrooms including extra wide doors, ramped thresholds, roll-in showers, grab bars, low sinks, shower benches, and handheld showerheads.
Having mobility issues doesn't have to keep you at home. With a little extra attention to accessibility details, you can travel the world in safety and comfort.
---
---
Improve your mobility. Request a free home assessment today!