7 Stair Lift Myths Debunked
Posted on by Eric Rubel
As a trusted stair lift provider for 30+ years, we have heard several stair lift "beliefs" that in reality are not true. In this blog post, we debunk the 7 common myths that people have about stair lifts so that you can know the real facts.
Myth 1: A stairlift takes up the entire staircase when installed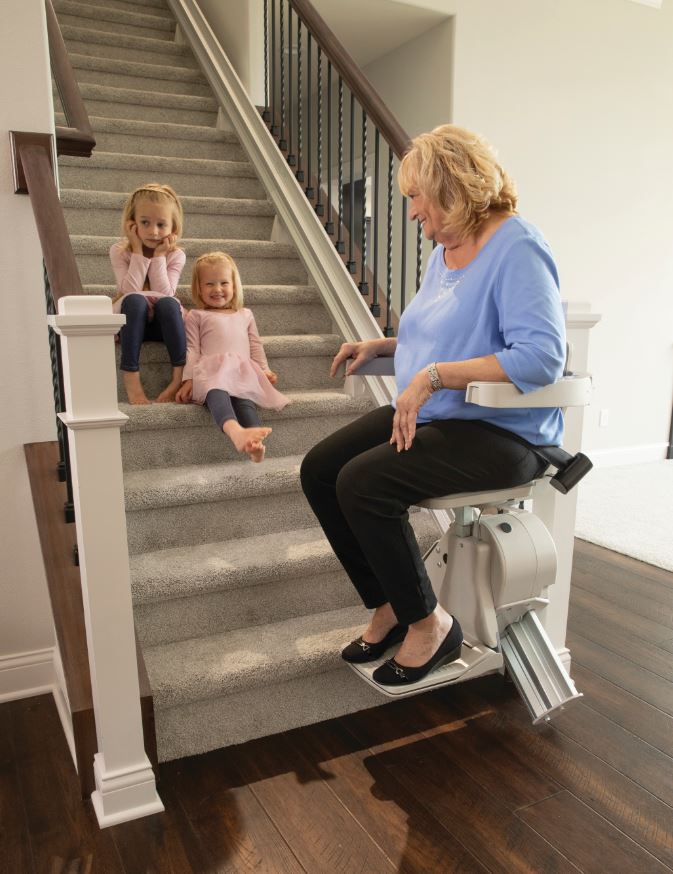 FACT: After installation, there will still be room for others to use the stairs by foot if needed. The chair's arms, seat, and footrest can also be folded out of the way at the top and bottom landing of the staircase, thus creating room for foot traffic on the stairs. (see photos below)
Most staircases in homes throughout the areas we serve have more than enough room for a stair lift to be installed.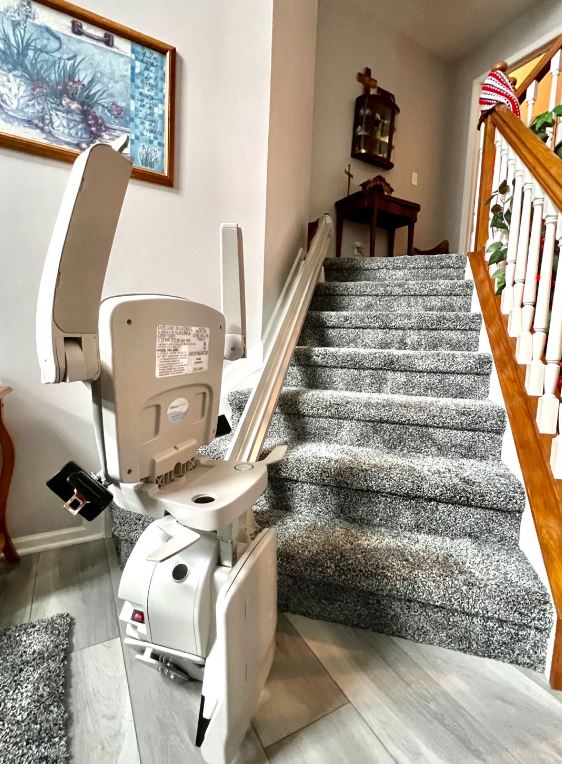 Myth 2: I want to get a stair lift, but I can't because my staircase has curves and turns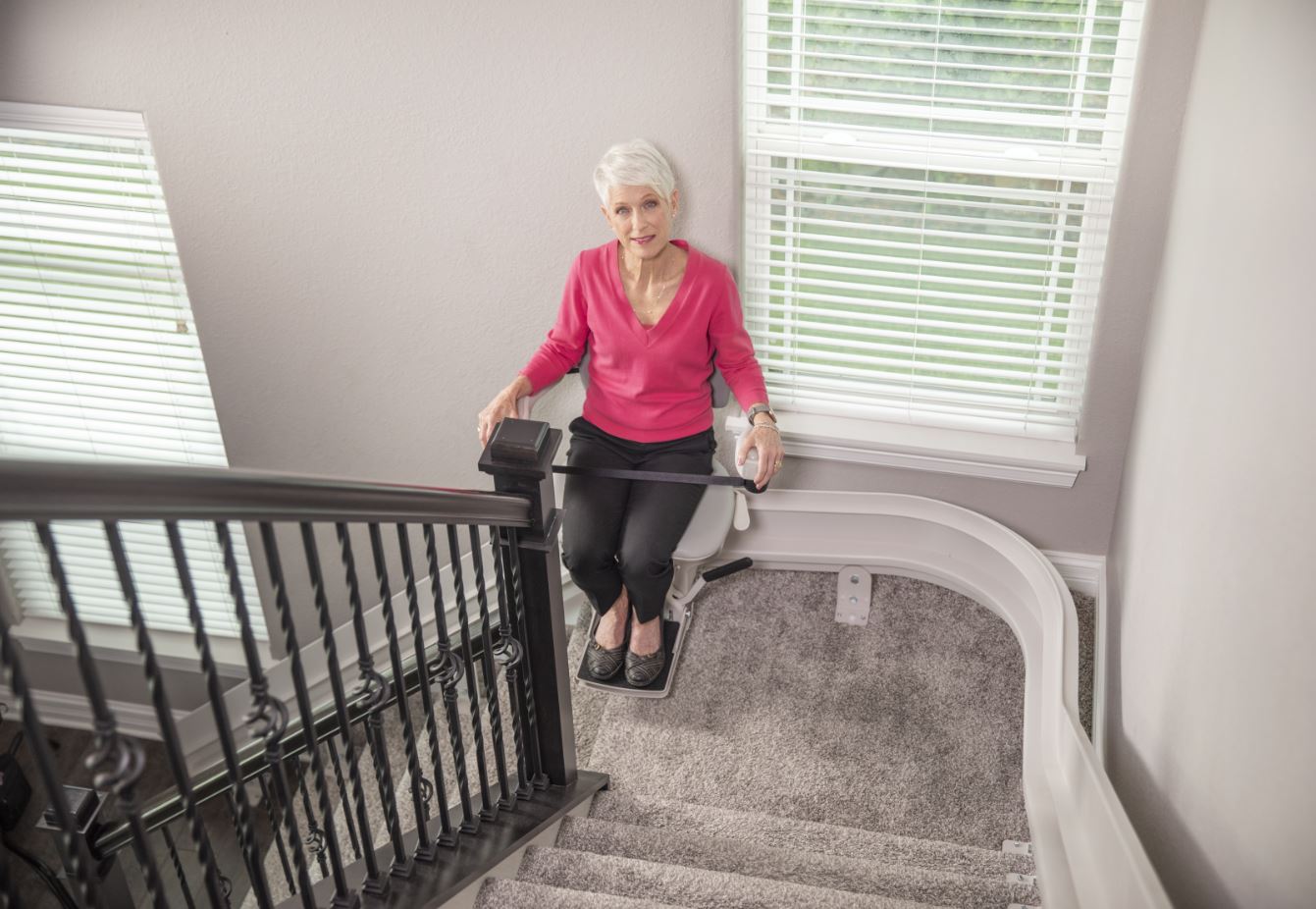 FACT: While stair lift installations on straight staircases may be more common in certain regions, there are several stairlift models built specifically for staircase that has curves, turns, and/or intermediate landings.
These types of stair lifts are known as "curved stairlifts". To properly fit a "curved" rail on your specific staircase, one of our friendly stairlift experts will come out to your home and take pictures and measurements of your staircase. Those pictures and measurements are then sent to our manufacturer so that they can design and build the rail to properly fit your staircase. We offer Bruno, Handicare, and Harmar curved stairlifts.
Bruno's curved rail stair lifts are custom made to fit the exact specifications of an individual staircase.
Myth 3: Stairlifts are run solely on electricity
FACT: Many assume that stair lifts operate solely on electricity, but that is not the case. Although there does need to be a standard electrical outlet at the top or bottom of the stairs for the lift to be plugged in, stair lifts are battery-powered.
For most stairlift models, there is a charging contact located on the top and bottom of the stairs. So, even if there is a power outage in the area, you will still be able to use your stair lift lift a number of times to navigate between the levels of your home.
Myth 4: Stair Lifts are attached to the wall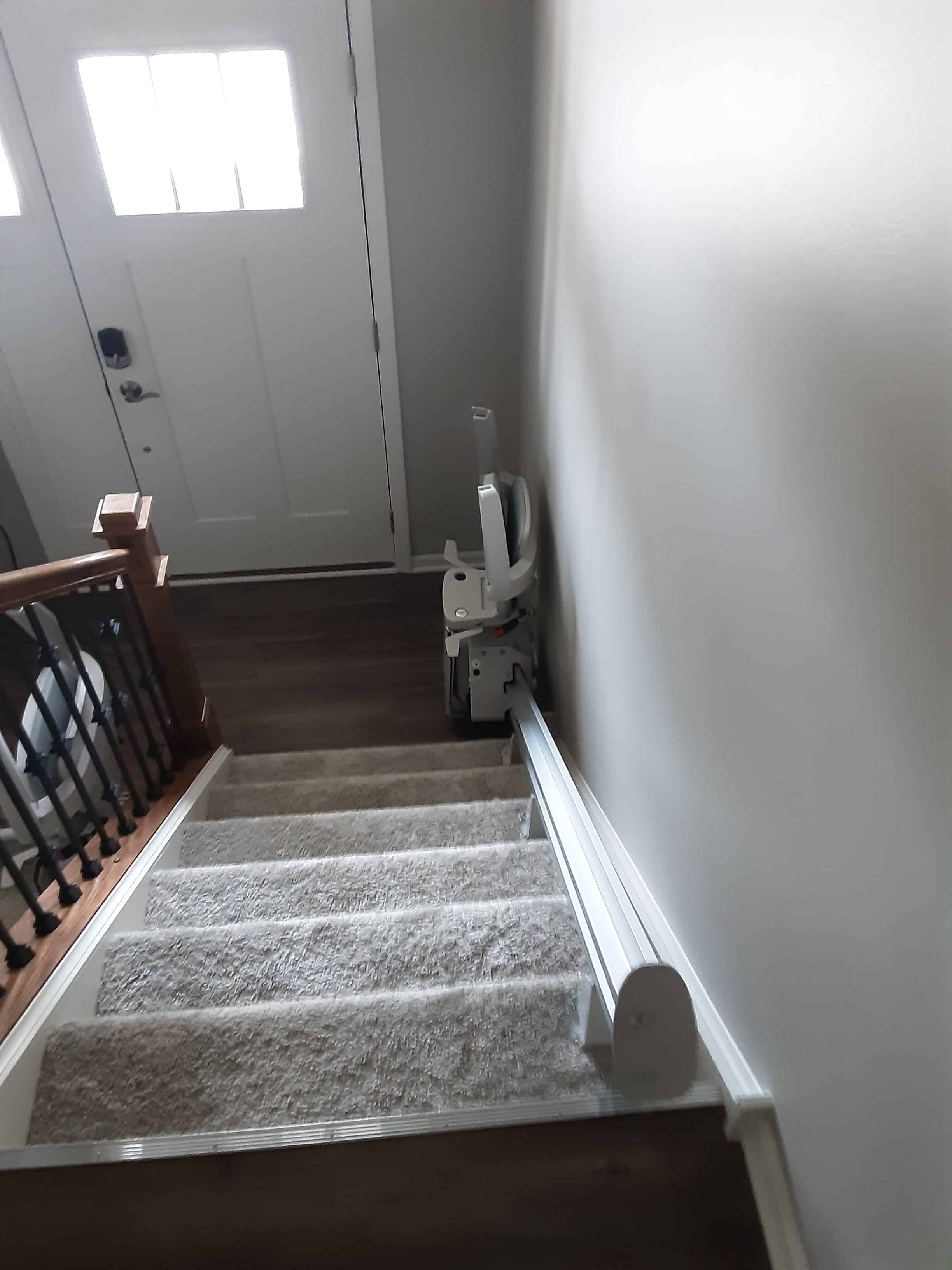 FACT: The rail of a stair lift is not attached to the wall when installed on a staircase. It is actually mounted on the treads of the stairs, so your walls will not be damaged.
Myth 5: To use a stair lift, you have to enter & exit from a stair tread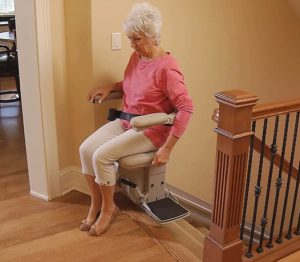 FACT: Getting on and off a stair lift is both safe and easy for most users. At the top of the steps, the seat swivels enabling safe exit and entry at the top landing of the stairs. At the bottom, the rail extends to the floor allowing for safe exit/entry on the bottom landing. One should never need to exit or enter on a step.
Two options that are often added to enhance safety at the top landing are the power swivel seat and extended overrun rail. A power swivel seat allows the user to swivel with the push of a button. An extended overrun enables one to enter and exit even further away from the stairs.
Learn more about the available upgrade options for stair lifts
Myth 6: A stair lift means giving up your independence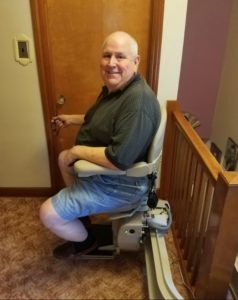 FACT: Some believe that having a stair lift installed will reduce your independence if you can no longer walk up and down the stairs However, the truth is actually the exact opposite. The addition of a stair lift will restore independence, providing a safer and more convenient way to navigate between the floor levels of your home.
Yes, you will no longer be walking up and down the stairs, but that is perfectly okay if the stairs have become too difficult to climb. Some will say "but I use the stairs for exercise". Stairs may be a great way to exercise, but when mobility is limited and there is a risk of a serious injury, then the stairs are no longer safe to use.
Fortunately, there are many other ways to exercise that are much safer such as walking on a path at a local park or on a treadmill at a nearby gym. A stair lift provides independence because it allows you to continue to safely use all levels of your home.
Myth 7: Only seniors use stair lifts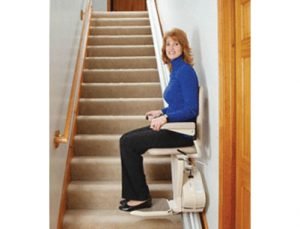 FACT: Yes, there are seniors with limited mobility that benefit from stair lifts, but not ALL stairlift users are seniors. In fact, a stairlift can actually be very helpful for a person of any age that may have experienced a significant injury and or has a challenge and is unable to safely use the stairs at home.
For example, if someone injures a knee or foot in an accident or a sport, they may be unable to use stairs for the next few months. A rental stair lift would be a great solution for someone who needs assistance getting up and down the stairs for a short period of time.
If you have any questions about stair lifts or would like a free in-home assessment, please contact us. We also have showrooms with fully operated stair lifts in the following locations where you can test ride a lift.
Lifeway Mobility's Stair Lift Showrooms
Additional Stairlift Resources
---
---