Stair Lift Installation
A stair lift installation doesn't require extensive work or modifications to your home. In just a few hours, you'll be able to regain your independence at home and have a safer and more convenient way to navigate your stairs. To ensure a stairlift is safe to use, it's important to have it professionally installed by a certified stair lift dealer.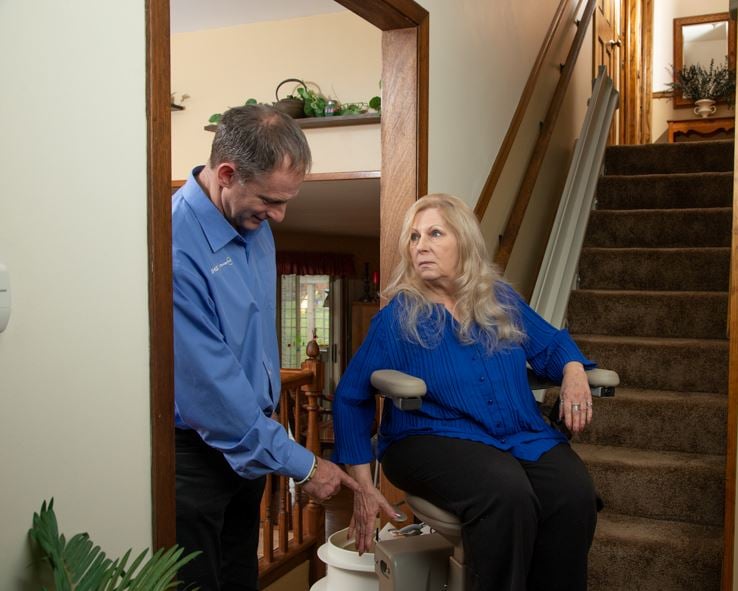 Stair Lift Installation Process - Topics Covered in this Guide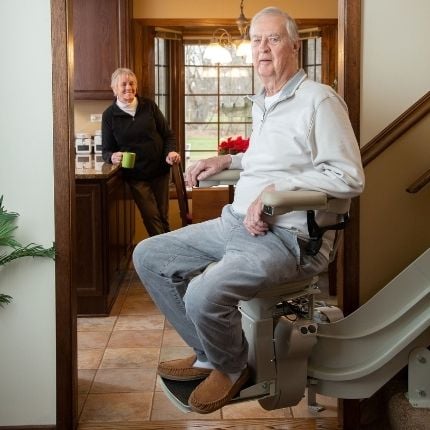 Lifeway Mobility, a Bruno Diamond Dealer, offers a wide variety of stair lifts, and we professionally install every lift that we sell or rent to our customers. In fact, Bruno and the other stair lift manufacturers that we work with require that a professional dealer install their stair lifts.
Lifeway Mobility also offers service after installation, so, you will always have someone to call should you run into any issues with the unit after it is installed.
In this post, we will walk your through Lifeway's stairlift installation process, so you know what to expect when you purchase a stair lift from Lifeway Mobility. We will also provide answers to some frequently asked questions.
1. Stair Lift Installation | Evaluation & Measurements
The very 1st step in ensuring a smooth stair lift installation and safe use after it is installed is to have an evaluation done by an accessibility expert. This happens before you even purchase the stair lift, but it is essential as it allows you to choose the best possible stair lift.
Evaluation
At Lifeway Mobility, we always take the time to assess your needs and your current situation when conducting a stair lift evaluation. It's important that we have a full understanding of the following before we even go to the staircase for measurements.
Mobility needs/issues (ex: what has made the stairs difficult to climb?)
Living situation (do you live alone or with other family members?)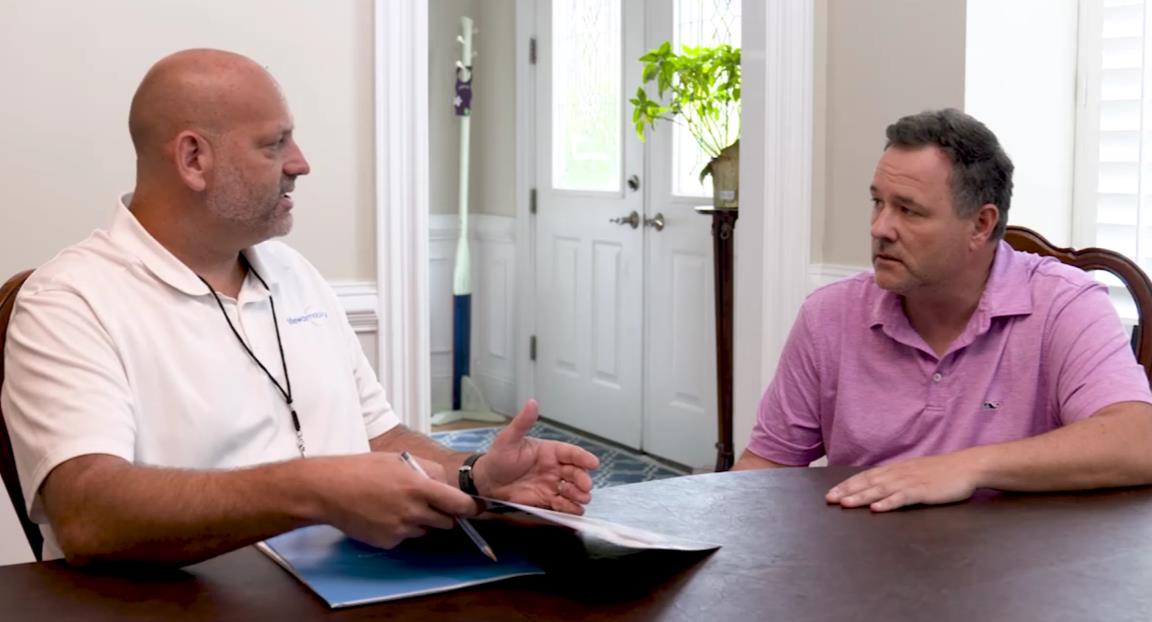 Measurements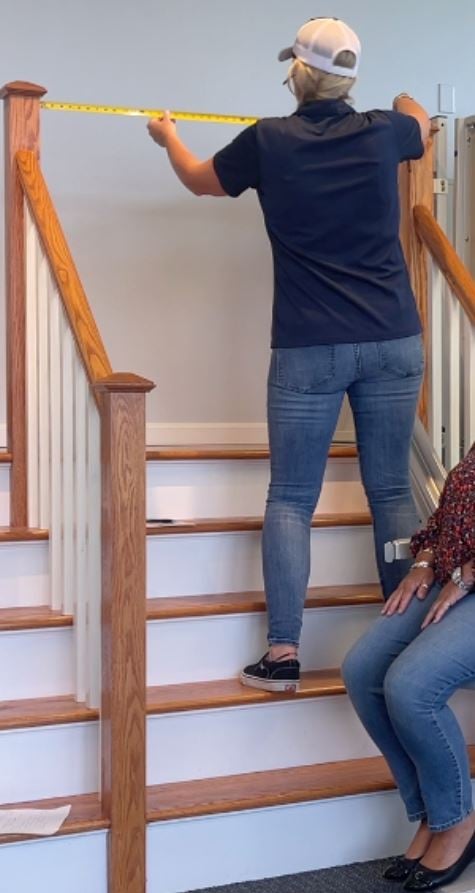 Once we have a full understand of the mobility needs and living situation, we will take the following basic measurements:
Width of the staircase
Length of the staircase
Tread depth
Number of steps
Height and weight of the user
Stair lifts are attached to the stairs, not the wall, which is why we need the above measurements. There won't be any damage to your walls and the rail can be mounted onto most types of stairs treads.
Lastly, we will assess the top and bottom landing areas of the staircase. This will help us confirm there is access to a 110-v outlet near the staircase as as stair lifts are battery powered and need to be plugged in to charge when not in use. It will also help determine if any additional options, such as a power swivel seat, or folding rail are necessary to provide the safest and most convenient ride possible, based on the evaluation of your mobility needs.
At this point, we will recommend the best solution based on our evaluation and conversations with you and/or your family.
2. Stair Lift Installation | Preparation
Now that you've decided to purchase or rent a stair lift from Lifeway, our local team will start to prepare for the installation. The preparation will differ depending on the type of stair lift that is needed for your staircase(s).
Straight Stair Lift Prep
In most cases, the preparation for the installation of a straight stair lift is simple. All we'll need to do is contact you to determine a date and time that is most convenient for you to have the lift installed. In some cases, we may be able install your lift the next day!
Curved Stair Lift Prep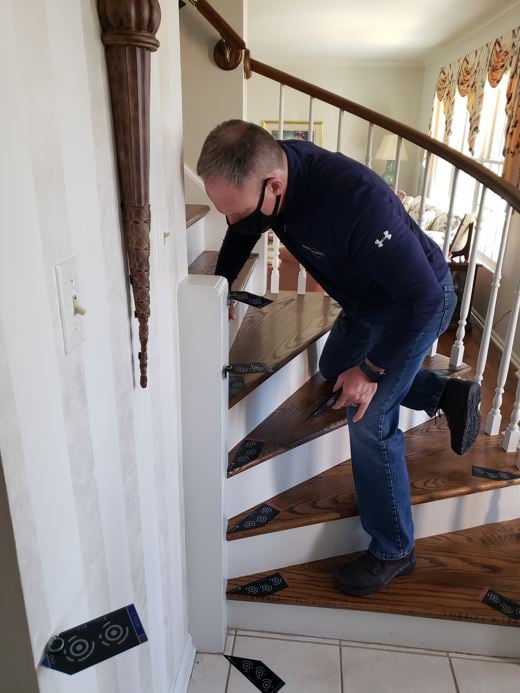 A curved stair lift installation is more complex and requires the rail to be custom-configured by the manufacturer. To allow the manufacturer to build the custom rail, the local consultant will take additional measurements using a photo system and specialized camera.
The special photos and measurements are then sent to the manufacturer so the rail can be built. This typically takes 2-5 weeks. Our team will be in contact with you every step of the way and will reach out to schedule the installation.
Is there anything I should do to prepare for the installation?
It's helpful to remove any obstructions on or near the stairway before our technicians arrive on the day of installation. Our technicians will be notified of any permanent obstructions from the photos shared by our accessibility experts, but if there's anything that you may be able to clean up or clear out of the way, it would be much appreciated.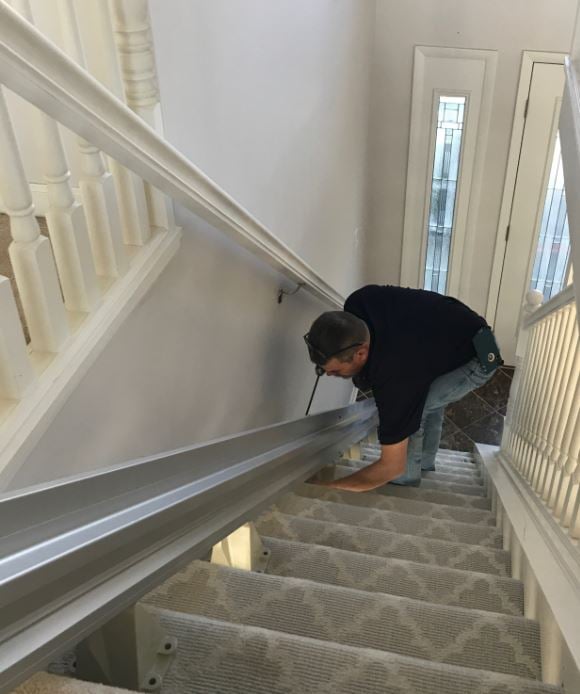 3. The Stairlift Installation
The day has finally arrived! Your lift is soon to be installed and you'll be able to use the stairs safely and conveniently again, which will allow you to remain independent in the home you love.
How Long does the installation take?
On average, the installation of a stairlift typically takes between 2-5 hours, depending on the length and configuration of your staircase.
Below is how quickly our professional technicians can install a stair lift in your home, well in a "time lapse" version at least!
What happens on the day of the installation?
On the day of installation, one or two of our own technicians, who are factory trained and certified, will pick up the lift from our warehouse in the morning. We will reach out prior to the installation to let you know that we are on our way.
How is a stair lift installed?
When we arrive at your home, our technicians will prep the stair lift components, parts, etc., and begin installing the lift on your stairs. The rail is attached to the stairs with clamps to ensure a safe and smooth ride.
You are free to be near the staircase when the lift is being installed. However, there will be some light drilling, which can create dust and be noisy, so we often recommend waiting in a separate room until our technicians are finished with the installation.
4. Stair Lift Installation | Post-Installation
Once your stair lift is safely installed by our technician(s), they will clean the entire area. While there is typically very little mess from the install, we want to make sure it looks just as clean and neat as it was before we touched it (outside of the new stair lift and you're renewed independence of course!).
Demonstration of the Unit
After we clean the area, we will then take the time to provide a thorough demonstration on how to safely operate the unit. We want to make sure you are 100% comfortable with operating the lift and know all the basic safety features before we leave your home. Please don't hesitate to ask questions at this point!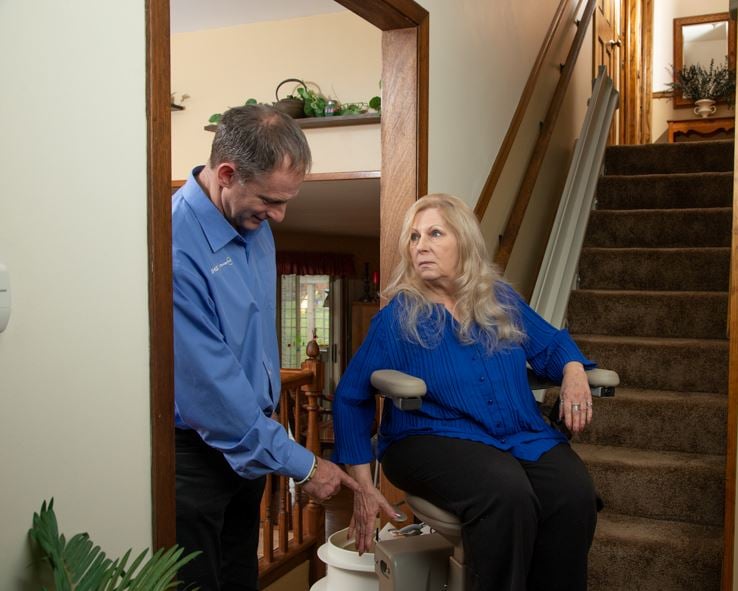 Leave-Behinds
Before we leave, you will receive a short checklist to ensure we've covered how to safely operate, clean, and maintain the stairlift.
5. Stair Lift Installation | Service & Maintenance After Install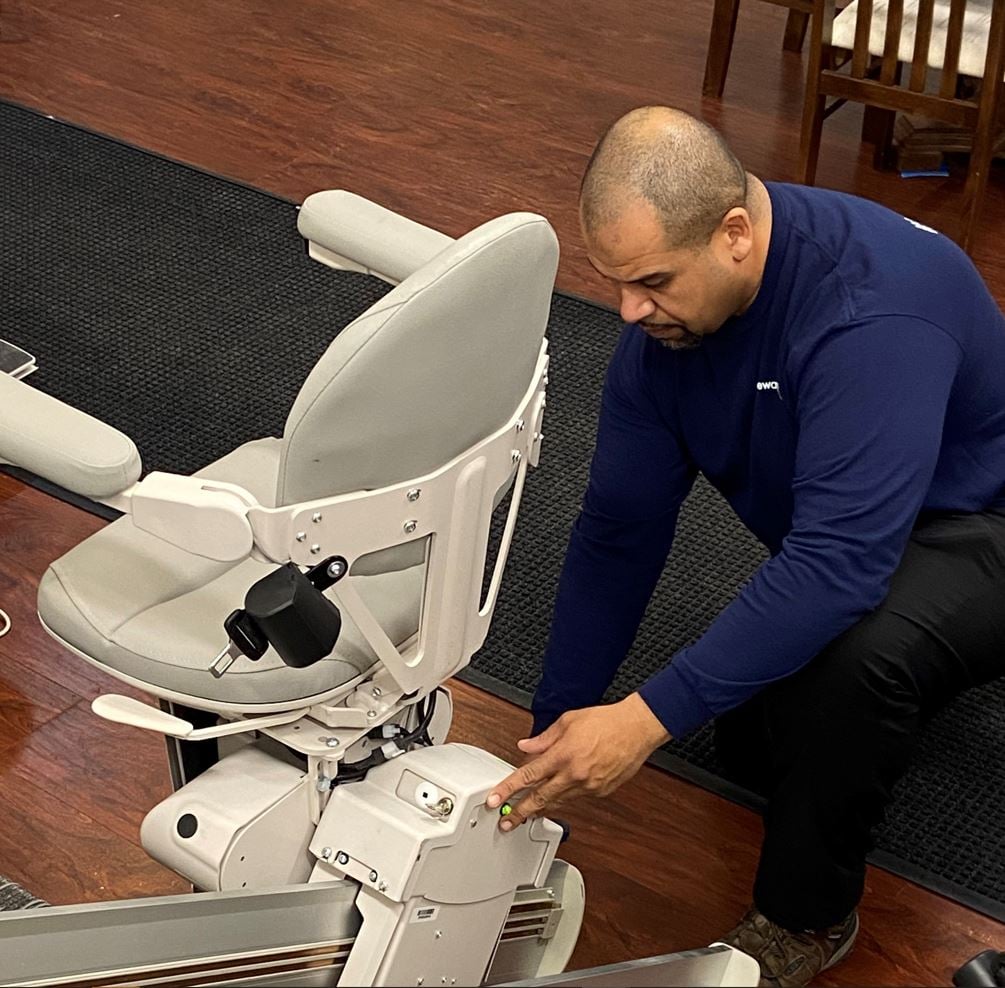 Purchasing or renting a stair lift from Lifeway Mobility also guarantees that you'll have a local support team that you can call if you have any questions or ever run into issues. Your lift purchase or rental includes a comprehensive warranty both on your stair lift and on labor.
A stair lift, like many other types of mechanical devices may require service occasionally. Regardless of whether you purchase a new or used stair lift, or rent one, your local Lifeway team will be available to provide service if needed.
While we're always happy and willing to come out to service your lift, you may be able to prevent a service call if it's a simple fix. Lifeway's stair lift troubleshooting & repair guide can help you determine if it's service call is needed or not.
Routine/Planned Maintenance
Bruno, which is Lifeway's preferred manufacturer for the stair lifts that we sell and install, recommends a yearly maintenance to grease the rails. While we do not require a yearly maintenance plan, it can increase the longevity of the stair lift and ensure it is in the best possible working condition!
Stairlift Installation FAQs
Can I install a stair lift myself?

You can install a stairlift yourself, but it's not recommended and can lead to an unsafe installation and use of the lift. Lifeway Mobility cannot sell the product by itself (without installation). In fact, some states require special licensing and training to ensure a safe installation. Lifeway's technicians are all professionally trained to install stair lifts to ensure the safest possible install and use of the lift.
How much does it cost to have a stair lift installed?

The cost of a stair lift installation varies, depending on a variety of factors, such as rail configuration, staircase length, location, and upgrade options. Learn more about stair lift pricing.
Where can a stairlift be installed?
Do stair lifts have a warranty?

Yes, Lifeway's stair lifts come with a warranty on both the product and labor. Warranty coverage may differ depending on the product model selected and if you purchase a new or used unit or decide to rent one. Warranty information will be provided during the evaluation.
Note: Warranty coverage is an important factor to consider when comparing stair lifts, as not all companies offer warranties, or may require to you pay extra for warranty coverage.
Does my home need to be modified for a stair lift to be installed?

No additional modifications need to be made to your home for a stair lift to be installed as the rail is mounted onto your stairs.
Will others be able to use the stairs after the lift is installed?

Yes, the components of the chair fold up when the lift is parked at the top and bottom of the staircase, which leaves enough space for others to walk up and down the stairs.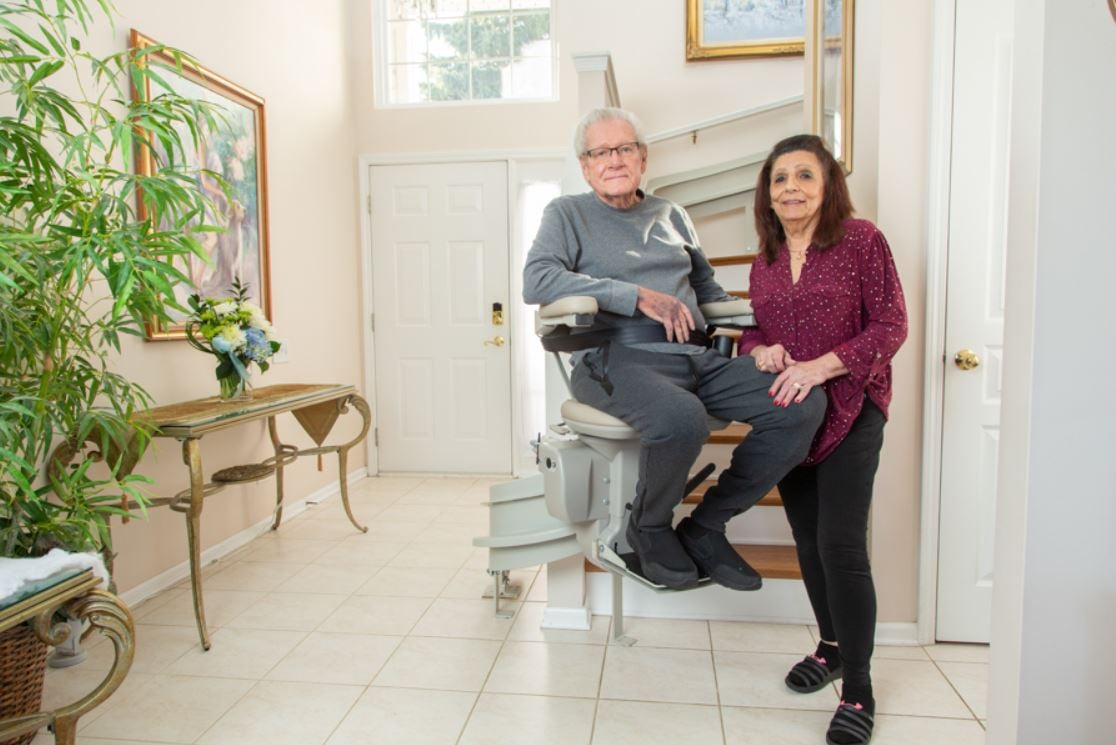 We hope this installation and service guide has given you a better understanding of what to expect when purchasing/owning a stair lift. We want to ensure the installation process is as smooth as possible and provide you with the best possible experience.
Lifeway offers free home accessibility consultations and is here to answer your questions. We look forward to helping you or your family remain safe and independent at home!
For additional information on stair lifts, we recommend you check out the following articles:
Stair Lift Guide – Anything you'd want to know about a stair lift can be found in this ultimate stair lift guide!
Stair Lift Reviews – learn why people just like you chose Lifeway Mobility, and about their experience with our local teams.
Compare Stair Lifts -- compare features, options, warranty coverage, and more of the top stair lifts in the market for both straight and curved stairlifts
---