Will a Stair Lift Fit in My Home?
Stair Lifts Fit Most Staircases
A staircase needs to be a minimum of 32″ wide to fit a stairlift, and most staircases are strong enough to hold a stairlift. The track is mounted on the treads of the stairs and will extend out from the wall between 6 to 9 inches. We recommend, however, that you contact us so that we can schedule one of our stairlift experts to come out to your home to assess the stairs. Every staircase is different, so there are times when the minimum width required is more or less than 32″.
Components Fold Up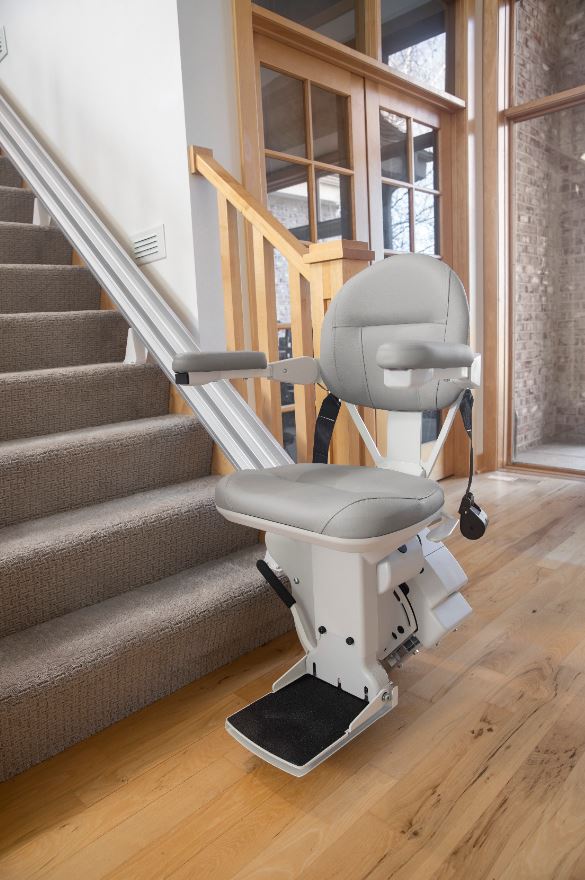 The seat, arms, and footrest will fold-up when the lift is not in use. When folded up, stairlifts will extend from 11" to 16" away from the wall. Again, that may vary depending on the type of stair lift you decide to purchase.
Folding Rail
The rail, also known as the track, usually extends beyond the bottom of the staircase. If the rail extends into an area that gets a lot of foot traction, it can present a tripping hazard. There are two ways that people solve this:
Put a small plant or tree in front of the rail so that anyone walking by will be able to see the tree or plant and the rail. We have many customers that do this and it has worked for them!
Select the manual or electric folding rail option when purchasing the stair lift. A folding rail enables the rail to fold-up and out of the way when the stairlift is not in use.
Interested in learning more about stair lifts? Check out the Lifeway Mobility ultimate stair lift guide.
To schedule a free remote or in-home evaluation, please contact us.
---
Improve your mobility. Request a free home assessment today!