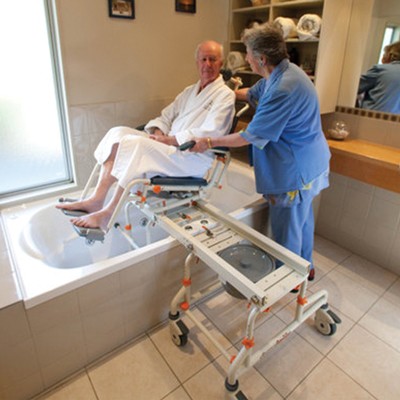 Bath Transfer
Tub Transfer System with Tilt Seat
The tilt option allows the caregiver to relieve pressure for the patient while simultaneously making it easier to bathe the patient. It can roll straight over the toilet and into the shower, eliminating unnecessary transfers.
The Tub Transfer System (SB2T) from ShowerBuddy is identical to the original Tub Transfer System with one big difference: a tilt function. The tilt option alleviates caregiver strain by allowing the patient to slide over the bath tub without having to lift their legs.
Most importantly, this chair can be assembled in less than 20 minutes with no tools required and without the expense or hassle of a total remodel.
Features
350 lb. weight capacity
Tapered cushion with tailbone recess
Low maintenance
Removable / lockable / foldaway arms
Height adjustable
Safety mechanisms
Full aluminum frame (Grade 6061 T6)
Stainless steel hardware
If you're looking to provide a safe and comfortable bathing experience for a loved one at home, request an evaluation. Lifeway Mobility specializes in free home assessments to help identify hazards, and help you find the safety products that fit your needs, lifestyle, and budget.
---