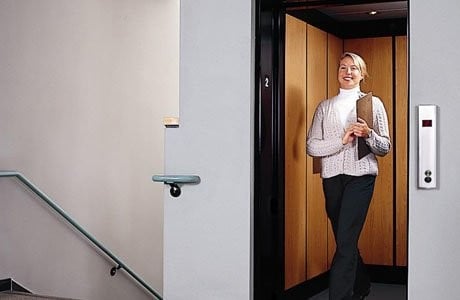 Commercial LU/LA Elevators
Commercial LU/LA Elevators
Lifeway Mobility provides elevator solutions to commercial buildings in the form of LU/LA (Limited Use / Limited Application) elevators.
For your low-rise office or other public building, our LU/LA elevators have features you would find in a commercial high-rise elevator, without the price. The high-efficiency hydraulic drive system provides the ultimate smooth, quiet ride for passengers, and the automatic sliding stainless steel doors deliver the modern, sleek look of a standard commercial elevator.
LU/LA elevators can provide handicap accessibility to any of the following buildings, where permitted by local code:
Schools
Libraries
Places of worship
Multi-family housing
Professional office buildings (up to 3 stories)
When is a LULA Elevator the Best Solution?
LU/LA elevators are the ideal elevator type for low-rise buildings
LU/LA elevators are a mix between a full-sized commercial elevator and a wheelchair lift.
They provide the look and feel of a commercial elevator in an affordable package.
LU/LA elevators are also less costly than a full-size commercial elevator and will require less space for construction – saving you money and floor space
Features
Capacity: up to 1,400 pounds
Travel: up to 25 feet
Travel speed: 30 feet per minute
Stainless steel or brass control panel and call stations
Stainless steel handrail
Digital floor indicators
36" wide doors
Cab size: up to 18 square feet
Fire rated steel panel cab
Emergency battery back-up for lowering
Emergency interior lighting
Emergency stop and alarm buttons
---
Gallery
---
Improve your mobility. Request a free home assessment today!