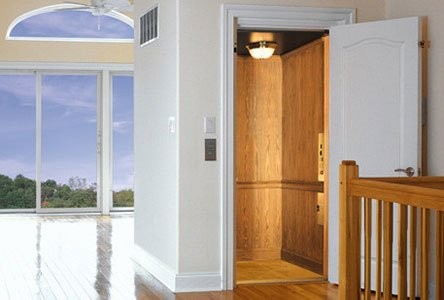 Residential Elevators
Custom Elevator Inc. Home Elevators
Custom Elevator Inc. models are made for specialty, custom designs. There are multiple cab and design options available as well.
Cable Drive Lift Systems
For those applications where space is an issue, Custom Elevator Manufacturing Company has designed a system that eliminates the need for a separate machine room. We utilize the space at the top of the elevator hoistway for the driving machine. Locating the elevator equipment at the top of the hoistway makes this design perfect for coastal flood plain applications. The compact elevator control cabinet can be located near the elevator hoistway for easy access.
Features:
Up to 15 sq/ft cab dimensions
Up to 950 lb lifting capacity
For specialty, custom designs
No machine room necessary
Includes more standard safety features than other common cable drive systems
Roped Hydraulic Lift System
Roped Hydraulic Home Elevators from Custom Elevator Manufacturing Company Inc. are designed for reliability and easy maintenance where the hydraulic cylinder is completely above the ground, safe from oil leaks and corrosion. This environmentally safe design does not require penetration below the pit level nor does it require additional overhead room for the elevator machine.
Features
Up to 15 sq/ft cab dimensions
Up to 950 lb lifting capacity
For specialty, custom designs
Vibration-free submersible hydraulic power unit located in a room or space outside of the elevator hoistway
Designed for reliability and easy maintenance
Environmentally safe design
Does not require additional overhead room for elevator machine
Downloads
---