Wheelchair Ramps: The 2023 Ultimate Wheelchair Ramp Guide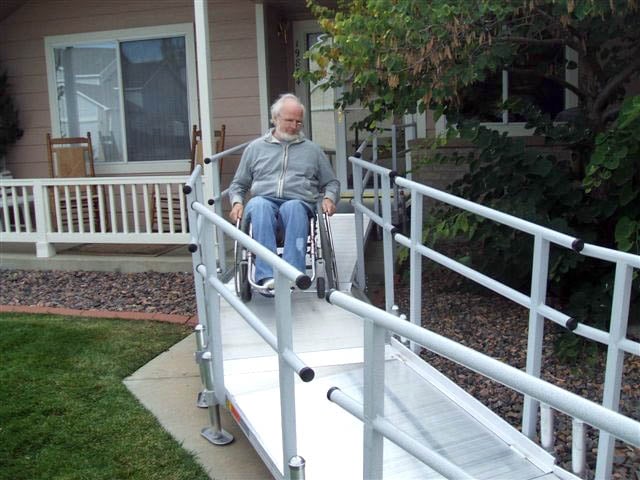 Every home has barriers. Getting in the door is usually the first. A wheelchair ramp is a viable solution that solves this problem. This Ultimate Guide to Wheelchair Ramps will share how to:
Evaluate and design the wheelchair ramp for your need.
Understand the rise and slope of a wheelchair ramp.
Choose the right type of ramp between threshold ramps, portable ramps, modular ramps, wood ramps, and concrete ramps and when to use them.
Key tips including finding the right solution, managing a tight timeline, how to save money, how caregivers can help, and what to choose in common situations.
According to an AARP survey, 90% of seniors prefer to remain at home as they age rather than moving to an assisted living facility. However, aging, injuries, and illnesses can make it difficult and unsafe to navigate raised entry ways or stairs at the main entrance to a home. A wheelchair ramp can provide a convenient way to access your home and allow you to remain in the home you know and love. And as the overall American population continues to age, handicap ramps are becoming more popular – making them widely available at affordable prices, especially when comparing the monthly cost of assisted living facilities or retirement homes.
So how do you decide if a wheelchair ramp is the right solution for you or your loved one? This Lifeway Mobility Wheelchair Ramp Guide has all the answers you'll need to find the best ramp for your family's specific need.
Table of Contents (Topics Covered in this Guide)
Use the links to jump to the topic(s) you are interested in, or simply scroll down to start reading.
---
First Step: Understand the Need
To fully understand the need for a wheelchair ramp, ask yourself these questions:
Will I need this for a few weeks/months to recover or am I going to need assistance or be using a cane/walker/wheelchair for more than 1 month? We hope to quickly recover and not need a ramp, but it is better to plan ahead for long term use than choose a half way solution.
What is the doorway with the least amount of steps?
Is there room for a wheelchair ramp to be installed outside my home or in the garage?
Are there obstacles in or around the area where the ramp would need to be installed?
Here are some of the most common situations that we encounter when doing a home evaluation for a wheelchair ramp:
An injury or surgery has made it impossible to enter a home because of steps, a porch, or deck at a main entryway
There are steps in the garage, that one must climb in order to enter/exit the home. These raised doorways are quite common and installing a wheelchair ramp in the garage is one of the most frequent uses cases.
The interior of the home has uneven floors, like a step up or down form the kitchen to a sunken living room. Even one step can be a trip hazard.
If any of those situations listed above sound familiar to you, and moving to a single-level home or senior living is not an option that you want to consider, then a wheelchair ramp is a great option for you. Size and weight of the person are usually not an issue as the weight capacity of a modular wheelchair ramp, for example, is 1,000 lbs. A portable ramp is typically around 800 lbs., depending on the model selected.
With the installation of a wheelchair ramp, you'll be able to continue to enjoy the home you love, and the risk of a serious injury from falling on the steps at the entrance/exits of a home, or inside of a home, will no longer be a worry.
<
---
What is the Barrier? How to Define the Rise and ADA Ramp Slope?
Rise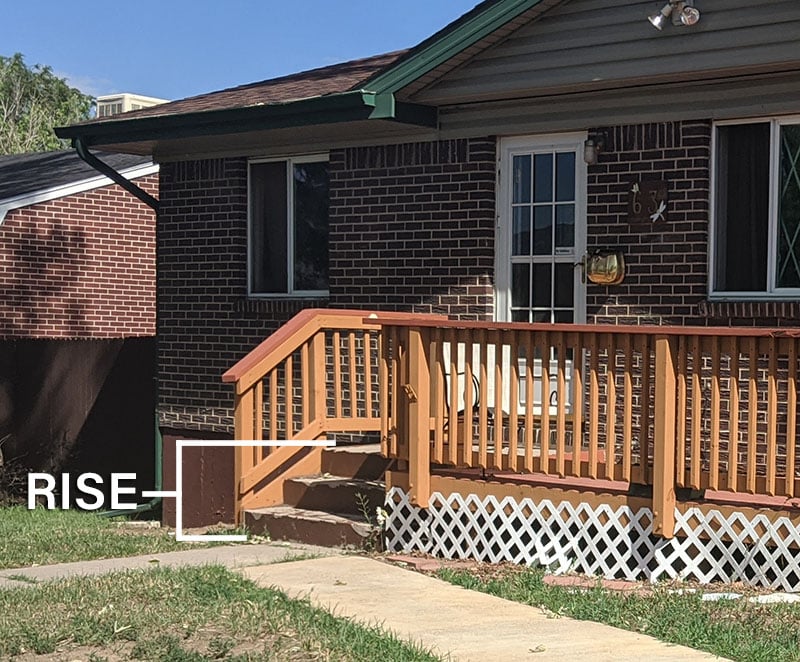 One of the first factors to consider before installing a ramp is the rise of the stairs needing to be overcome. Rise is defined as the vertical height of the steps or stairs leading into a home. Essentially, how many steps are between you and getting in the door. You can measure the total height or count the steps. Each step is 7-8 inches high. If you have 3 steps, you can plan on a total rise of 21-24 inches. For an exact measurement, this can be measured from ground level to the top of the highest step that is level with the main entryway (see picture).
ADA Ramp Slope Requirements
The recommended rise to ADA ramp slope ratio is 1:12. This means that for every 1 inch of rise, 12 inches of ramp are required. Or, for every 1 inch of rise, you need 1 foot of ramp. For example, if the steps to an entryway is 24 inches high, you will need a ramp that is at least 24 feet long.
The rise will determine the ADA ramp slope at which the ramp will need to be installed. The slope is the angle of the ramp on which a person will move. This defines safety and ease of use. A steep ramp is more difficult for a person using a cane, walker, or manual wheelchair. Going down a steep ramp is dangerous with a cane or walker or manual wheelchair because stopping becomes a problem. A power scooter or power wheelchair can climb up a steeper ramp and has automatic brakes for safety as you go down the ramp.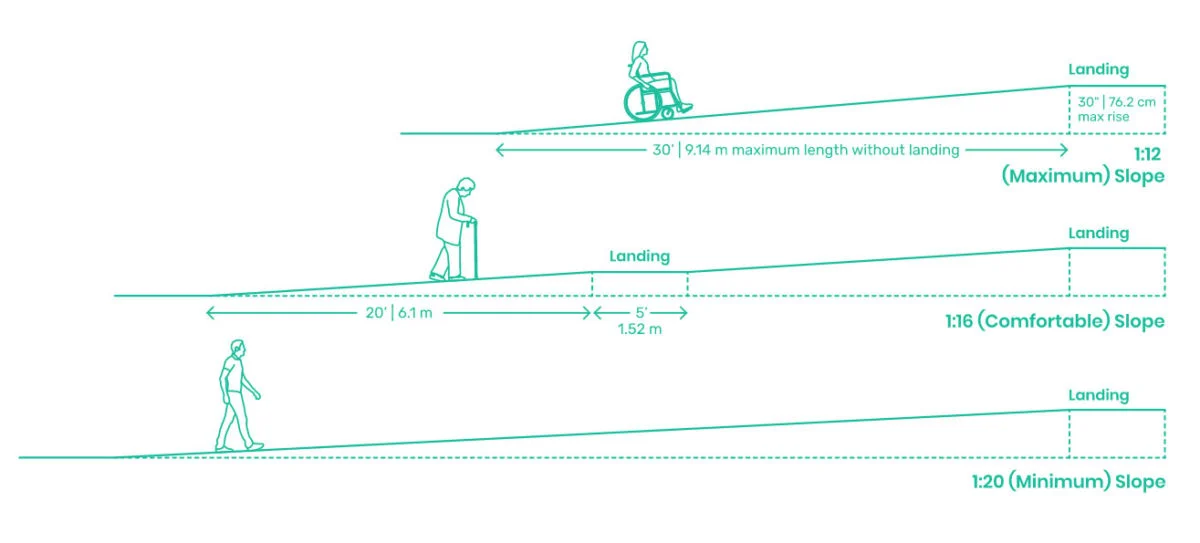 ---
Types of Wheelchair Ramps
Modular Aluminum Wheelchair Ramps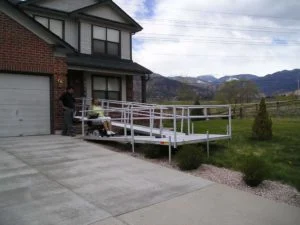 A modular aluminum wheelchair ramp system consists of aluminum ramps, platforms, and other options as needed, such as stairs. This type of system offers infinite custom configurations to create safe and seamless access for both standard and unique entryways.
Aluminum Wheelchair Ramp Features & Benefits
Quick and easy installation means minimal disruption for you and your family; no poured footers, no construction – just simple assembly
Virtually maintenance free, it will not rot or rust
Multiple handrail styles available: single rail, two-line, vertical pickets, and horizontal pickets
Solid and expanded metal surface options available to best suit your exact needs
1,000 lb. weight capacity (this can vary depending on the aluminum ramp model selected though)
Modular ramps are typically $80-$100 a linear foot and vary based on handrails. The price is very similar to wood ramps and they do not require maintenance. They can be easily modified and adjusted, as well as moved or resold. The surface of a modular ramp has ridges going across the ramp and is the safest surface when wet.
Threshold Ramps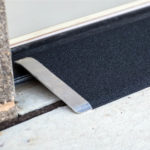 It takes only half an inch bump to stop a walker or wheelchair to a halt. The threshold is the sill of a doorway. It is very jarring and uncomfortable especially as you move through a door's threshold and navigate a narrow opening. It can be made of metal or wood, depending on a home's construction. The threshold can also differ in height from the ground level of the exterior. It becomes even more challenging for those that rely on wheels, like a wheelchair or a scooter.
Threshold ramps ramp over bumps or thresholds from 1/2 inch to 6 inches in 1 inch increments. They are usually made of aluminum or rubber as this material can make a smooth transition on and off the ramp. These can make independence easier as pushing over these bumps is very difficult without a threshold ramp. They are either temporary or permanent, and are usually between $40 and $250 depending on size and materials.
Portable Ramps and Folding Ramps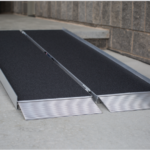 Portable ramps can be temporary or long term solutions for 1 to 2 steps. They do not have handrails, but they do have a 2 inch flange that can keep your wheels on the ramp. They are usually 30 inches wide compared to the other long term use ramps that are 36 inches or wider. By folding up like a suitcase, these ramps can be moved and carried from place to place. These portable ramps are usually between $120 and $799 and weigh 8-35 lbs. based on their length.
Singlefold and Multifold Ramps: 2 feet to 10 feet long in 1 foot increments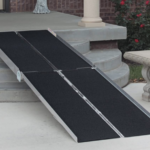 Made of lightweight aluminum, the Singlefold Ramp is ideal for at home or on the go with its quick set up and easy-to-carry design.
Ergonomically-designed handles allow you to carry it anywhere
Features an extruded slip-resistant tread for superior traction
Self-adjusting bottom transition plate makes for a smooth change to any surface
Non-protruding hinge helps protect against
800 lbs weight capacity
Wood Wheelchair Ramps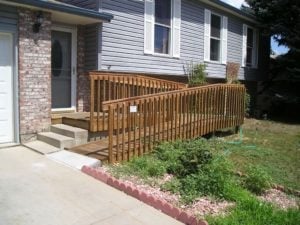 Wood ramps are built in place and most use 2×6 decking with a 2×6 handrail. A few wood ramps are built with plywood, but expect the plywood to deteriorate in 1-2 years. The decking should be installed across the ramp, not down the ramp, as the edges of the wood provide a non-slip surface. If the decking is installed running down the ramp, it can become very slippery. Trex or manufactured materials can also be very slippery especially when dew, rain, or snow makes the ramp wet.
Wood ramps are built in place and usually have posts that attached to 3 foot deep concrete pillars so the ramp will not sag or shift. Unfortunately, once built, this ramp is very difficult to modify if you need to add ramp, or move the ramp. Wood ramps cost between $70 to $100 a linear foot and can be more expensive depending on the handrail and the materials used. Also, when you include the cost of staining or painting the ramp, a wood ramp is about the same price as a modular ramp.
Concrete Wheelchair Ramps
Concrete ramps are very flexible because they are custom built to fit the space. The surface is non slip and very durable as well as good looking. However, be careful, as concrete ramps get very heavy as they get bigger, and a concrete ramp over 15 feet long can shift and sag over the first year or two. Concrete ramps are usually the most expensive, and adding handrail or curbs are very important so that you don't fall off the ramp. Concrete ramps cost between $100-$150 per linear foot depending on the options.
Installation Options and Timeframes
Here is a reference guide for installation options, timeframes, and requirements. It is important to note that threshold ramps, portable ramps, and modular aluminum ramps can be installed without a building permit because they are not considered a permanent structure. That means that they can be installed in a few days compared to weeks. However, wood and concrete ramps are considered permanent structures and your city or state building department will require permits and inspections. This means that the entire process can take 3-6 weeks. Sometimes a wood or concrete ramp under 18 feet long can be constructed without a permit, but make sure to check with your local area building department.

---
Wheelchair Ramp Benefits
Wheelchair ramps provide a safe and accessible way for people with mobility impairments to enter and exit a home. They provide numerous benefits and we'll discuss the many advantages of installing a wheelchair ramp:
Independence: One of the top reasons that people choose to install a wheelchair ramp is to regain their independence at home. A person's independence becomes limited when they no longer feel comfortable maneuvering steps. Handicap ramps can make entering and leaving a home easy and safe, and can help overcome trip hazards like the threshold of sliding glass doors or that one step between a kitchen and living area.
Safety: Limited mobility puts many seniors at risk of tripping on steps. Fortunately, these mishaps can be prevented with the installation of a ramp. The addition of handrails provide extra grip for balance and stability.
Peace of Mind: Your family will have peace of mind knowing that the risk of an injury on steps has been greatly reduced.
Cost-Effective Solution & You Can Stay in Your Home: When comparing the price of a wheelchair ramp to the monthly cost of independent senior living community or assisted living facility, a ramp is by far a more cost-effective solution. According to assistedliving.org the average monthly cost of a senior independent living community ranges between $1,500-$4000, and it's even higher for an assisted living facility, ranging between $3,500-$10,500. A ramp will have already paid for itself in a few months, and allow for you to stay in the home and community that you've come to know and love.
Wheelchair Ramp Prices
How Much Does a Wheelchair Ramp Cost?
It is difficult to provide an exact price of a wheelchair ramp because there are many different factors that can contribute to its cost.
Materials. The material used – metal, wood, concrete – varies and each will impact cost differently.
Design and build of a home. Are steps at the entrance? Is there a porch or a raised doorway in a garage? Will any customization need to be made so that a ramp will fit?
Type of ramp. Is the ramp made of aluminum metal, wood or concrete? Cost of materials can impact price.
Permanent or temporary? Is the need short-term or long-term? A modular handicap ramp made of aluminum metal is more ideal for shorter periods, and is easier to install and can be taken down and taken with you. Wood or concrete ramps make more sense if a ramp will be needed for many years.
DIY or hire a professional? The cost of labor is surely a big factor. When debating between doing it yourself or hiring a certified home accessibility professional, the decision should be based on the quality of the laborer's craftsmanship. If the wrong ramp type of ramp is installed, and if done incorrectly, the risks of injury or death from falling go up significantly.
To get an exact price for the installation of a ramp, please contact us to set up your FREE in-home evaluation.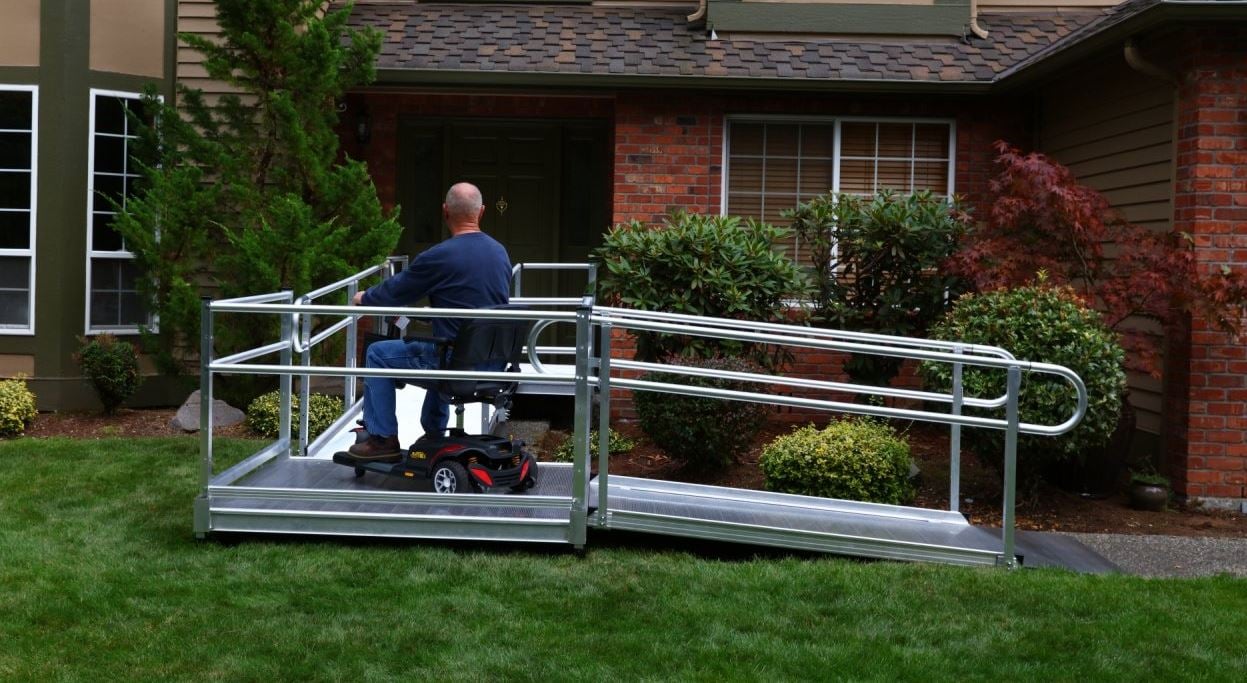 Modular Wheelchair Ramp Pricing
For a modular ramp made of aluminum metal, you can expect to pay somewhere between $150 to $200 a linear foot and cost can vary with handrails modifications. The material cost of metals continues to get more expensive each year, so NOW is always going to be the best time to install a ramp.
Wood Ramp Pricing
Wood, like metal, is a natural resource that is also increasing in cost each year. For a handicap ramp made of wood, you can expect to pay between $100 to $250 per linear foot.
Concrete Ramp Pricing
For a handicap ramp made of concrete, which is considered a more permanent installation, you can expect to pay from $200 to $300 per linear foot.
If you want to learn more about what determines the total price of a wheelchair ramp, or if you would like a free quote, please contact Lifeway Mobility.
Wheelchair Ramp Warranty
Warranties on modular wheelchair ramps made by EZ-Access are lifetime. Warranty coverage may vary depending on the actual wheelchair ramp product model.
How Do I Pay for a Wheelchair Ramp?
If you are finding that the price ranges listed above are not within your budget, consider these funding options to help pay for a ramp:
Veterans Affairs (VA): If you are a veteran and in need of a safe way to overcome steps at the entrance of a home, please contact your local VA hospital. The VA offers different types of waivers for certain types of accessibility ramps for those who meet their criteria.
Medicaid Waiver: There are some states that offer Medicaid waiver programs that will cover the cost of a handicap ramp. Depending on the state you live in, you may be able to apply for this waiver through the Department of Health & Human Services or an insurance carrier. Feel free to contact us if you have any questions.
Consumer Financing: Some ramp providers offer financing with monthly payments to qualified buyers. Typically, a down payment will be required and the interest rate will be based on your credit score.
Other Options: You may also consider other financing options to help cover the cost of your ramp, such as a home improvement loan, reverse mortgage, state grant, or state-based home modification program. Your local township may even offer grants to assist with home modifications for people with disabilities.
If you live in the area served by of one of our office locations, here are links to lists of local funding sources that may be able to help pay for a lift:
Should I Choose a New, Used, or Rental Wheelchair Ramp?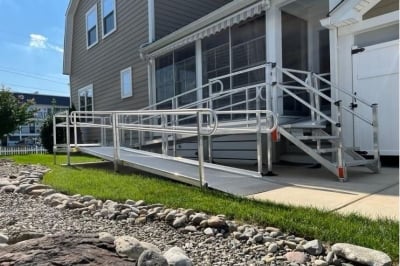 New
Choosing between a new, used, or rental ramp will depend on your mobility needs and unique situation. If you are not on a strict budget and will need the ramp for more than a year, then new is the way to go. A new wheelchair ramp will not only look better, it also offers a more robust warranty.
Used
If you are on a strict budget, then "used" is the way to go. While it may not offer as great of a warranty, you'll still be receiving a ramp that will provide the safety that comes with home accessibility. This only applies to modular, portable and threshold ramps made of metal. Composite or rubber ramps are best purchased new.
Rental*
Renting a home accessibility wheelchair ramp is worth considering for shorter periods of time. You can expect to pay between $100 to $300 per month, plus an installation fee.
* Please contact us to confirm your Local Lifeway Mobility offers wheelchair ramp rentals!
Buying Online & DIY
Be careful when looking at handicap ramps that can be purchased from online market places. We suggest you ask yourself the following questions before making a purchase decision:
Does the online price listed include taxes, shipping, and installation? Very often, the price you see online is not all-inclusive. While the listed price may look attractive, they may be hiding shipping costs, and installation of the ramp is most likely not included.
Who will install the ramp? A majority of the ramps purchased online have to be installed by the buyer instead of a certified installer. While a DIY install may be help minimize costs, all of the high quality ramp manufacturers do not recommend it. If you purchase from a local dealer such as Lifeway Mobility, your lift will be installed by a factory trained technician.
Who will service the ramp? Companies that sell ramps online do not usually provide service after a sale, which means you would be stuck figuring out how to repair or replace components (screws, handrails, etc.).
Removal and Re-installation? Should the need arise to take down and relocate a ramp, like at a new home, do you really want to add more to the burden of moving.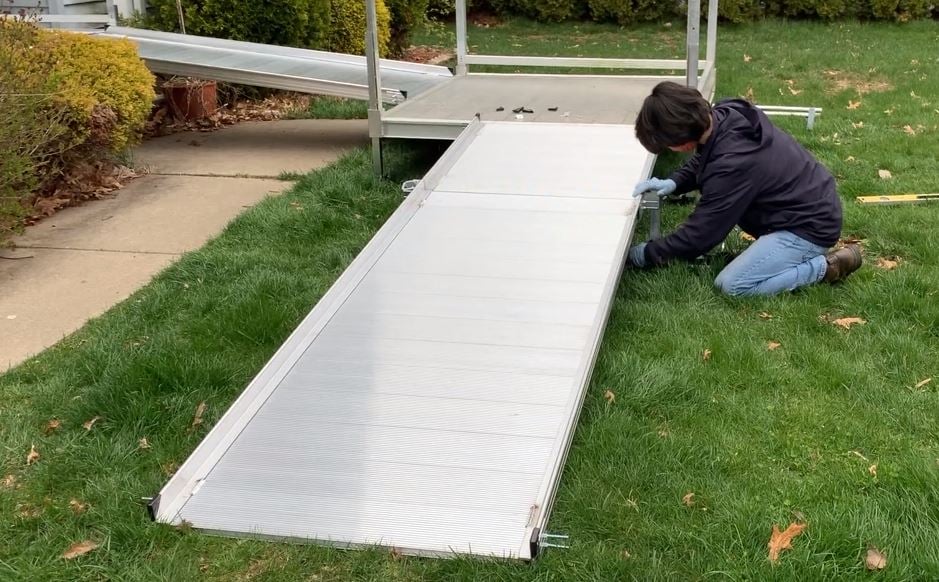 Purchasing a ramp from a local certified dealer like Lifeway Mobility is most often the best option for those who want a quick, safe, and worry-free solution – and here's why: Your ramp will be installed and serviced by a factory-trained technician who installs these products on a daily basis. You'll also receive better warranty coverage on both the product and the labor.
---
Comparing Wheelchair Ramps
Below are some of the ramp types that Lifeway Mobility offers to local residents. It's important to consider the durability/quality of the ramp, weight capacity, size/width requirements to fit your home, and warranty coverage. Please note that some of the products listed may not be offered at all Lifeway Mobility locations.
---
How Does the Buying Process Work?
If you've read everything above and have decided that a wheelchair ramp is the best way for you or a family member to age safely and happily at home, please follow the steps listed below to get started.
Schedule a Free In-Home Evaluation: All Lifeway Mobility locations offer free remote or no contact in-home evaluations. One of our office staff members will be happy to schedule one of our ramp experts to meet with you virtually or in-person at a time that is convenient for you and your family. During evaluation, we will first take the time to understand your specific needs and then offer our best recommend solutions. We will also measure the area and the steps where the ramp will be installed. Lastly, one of our experts will also assess other areas of the home (such as adding a grab bar or two in the bathroom) that can also help prevent falls.
Receive Free Quote:

After the conclusion of the evaluation, our sales consultant will provide a free quote on-site or a day or two later. If you have a very unique home design, or need customization, it may take longer to provide a final quote. The quote provided will include the price of the best recommended ramp solution and all other potential options discussed during your home evaluation.

Visit a Showroom (Where Available):

Visit one of our local showrooms in

Boston

,

Chicago

, Colorado Springs,

Connecticut, Denver, Kansas City, Los Angeles

,

Minneapolis

, Northern CO,

Pittsburgh

, or

San Francisco,

so that you or a family member can test a ramp to find the best solution for your mobility needs.

Purchase Wheelchair Ramp: Consider all factors – from wheelchair ramp reviews, to safety features, options, and warranties, when deciding on the best wheelchair ramp for your needs. We are happy to answer any questions that you may have.
Installation:

After the ramp is purchased, one of our team members will reach out to schedule the date and time of installation that works best for you. Many times, handicap ramps can be be installed within a day after purchase, depending on the type selected and local inventory. On the day of installation, one or two of our professional, factory-trained technicians will come to your home to install your wheelchair ramp. The time of installation varies by ramp type. It's normally between 1-3 hours.
---
Wheelchair Ramp FAQs
Is a wheelchair ramp permanent?
This depends on the type. Portable and threshold ramps are most definitely non-permanent since they can be moved with ease. Certain "suitcase" style ramps can be folded up to be taken on the go. This comes in handy when the grandparents come to visit, for example.
Modular ramps made of aluminum metal are the most versatile and are a non-permanent option. They can be installed for as long as they are needed, are very durable, and can be removed with no damage to a home since they are free-standing.
Ramps made of wood or concrete on the other hand, are considered more permanent solutions, as they are attached to a home and not so easy to break down to remove. Removing these ramps can be very expensive.
Can a wheelchair ramp be resold?
Modular aluminum wheelchair ramps can be resold, depending on the condition. It does require some tools and when broken down, be prepared for a stack of metal pieces, nuts and bolts to keep sorted. How much these types of ramps resell for also depends on the condition.
If I move, can I take my wheelchair ramp with me?
Modular aluminum wheelchair ramps can be broken down and reinstalled at a new home, if desired.
How long does a modular wheelchair ramp take to install?
Modular aluminum wheelchair ramps can be installed within a matter of hours. Same timeframe to be removed. This makes these ramps the best solution when needing same-day install.
About Lifeway Mobility
Lifeway Mobility is an accessibility solutions company headquartered in Connecticut. Our wheelchair ramp technicians are Lifeway employees, not outside contractors, and we proudly serve the following areas across U.S.
Visit our locations page for a full list of areas that we currently serve.
In addition to wheelchair ramps, Lifeway Mobility offers stair lifts, home elevators, patient lifts, and other home and bath safety solutions. The accessibility solutions that we offer are manufactured by some of the top manufacturers in the industry such as EZ-Access, Bruno, Savaria, and Handicare.
Our primary goal is to help customers to be able to better identify products and services that will help meet their needs and improve their quality of life. Please call us today at (888) 714-1930 to schedule a FREE home evaluation or to learn more about ramps or any of the other accessibility solutions that we offer.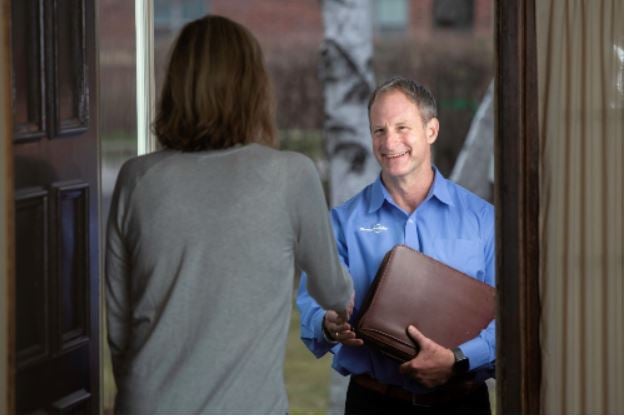 Advantages of Choosing Lifeway Mobility for Your Ramp
Free home assessments (We will evaluate the holistic accessibility needs)
Local showrooms to "try before you buy"
Installation & delivery by our factory-trained and certified technicians
Service offered after installation
Limited Lifetime manufacturer warranty on wheelchair ramps*
---