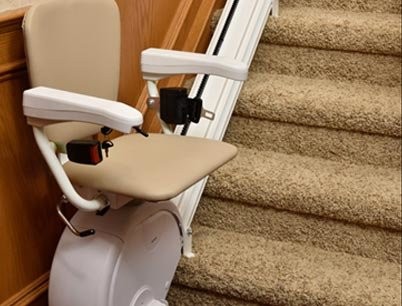 Straight Stair Lifts
Savaria K2 Straight Stair Lift
The Savaria K2 stairlift operates on a battery-powered system to provide a safe and easy way to navigate the stairs at home. When not in use and its components are folded up and out of the way, there will be ample space for others to use the staircase if needed.
Features
350 lb. standard weight capacity (For a stair angle greater than 45 degrees, the max capacity is 300 lb.)
Quiet and smooth ride
Battery-operated
Safety Features: Swivel & lock seat at top of stairs, retractable seat belt, anti-slip footrest, and obstacle sensors
2 infrared remote controls, plus toggle switch on arm rest
Adjustable arms up to 20? wide
Options
Flip-up rail for bottom landing
Can be installed on either side of the stairs
Rail extension brackets: to create no intrusion at top landing
Continuous charge system
Emergency stop button and radio frequency remote controls
Downloads
Photo Credit: Savaria
---
Improve your mobility with a stair lift. Request a free home assessment today!