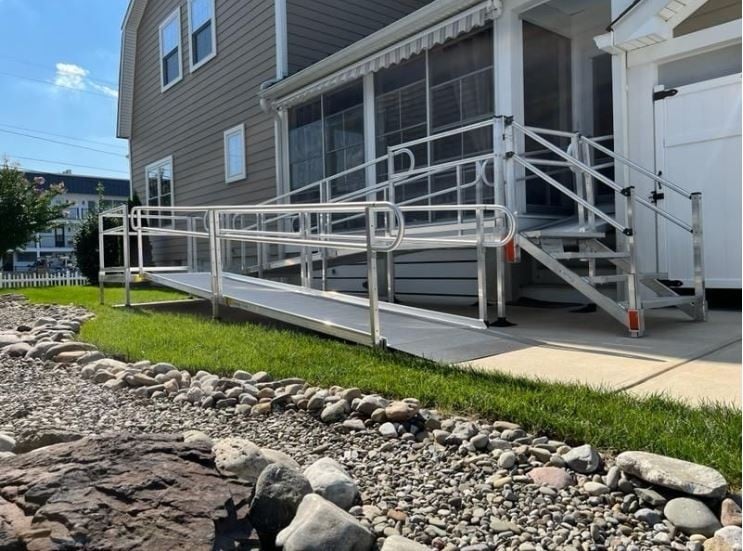 Aluminum Wheelchair Ramps
Aluminum Wheelchair Ramps
Aluminum wheelchair ramps are a semi-permanent accessibility solution for anyone with limited mobility, whether you use a cane, walker, wheelchair, or scooter. These types of ramps are customized to provide a safe, secure entrance to your home.
Finding the Aluminum Wheelchair Ramp that Meets Your Needs
Safety is the number one priority for every modular aluminum wheelchair ramp system Lifeway Mobility installs. After a free home assessment, we'll design the slope and length of your ramp. Our experts will carefully consider your unique circumstances like the assistive device that will be used and whether the user will need assistance. We'll also help identify the best location for your ramp, considering protection from the weather, privacy, and convenience. These details make the ramp safer and easier to navigate.
Features
Lifeway's aluminum wheelchair ramps are durable and affordable, and have infinite ramp and platform configurations so they be customized to match your home's style with a variety of options:
Durable Surface Options: Choose from two surface options - solid & expanded metal
Aluminum Advantage: Our wheelchair ramps are virtually maintenance free, and will not rust
Color: Aluminum ramps can be powder-coated in the color of your choice.
Hassle-Free Design: Aluminum ramp system will not impact your home's property and does not require construction.
Quick & Easy Installation: Modular ramps can be installed in 1 – 3 days.
Built in the USA!
Aluminum Wheelchair Ramps - Pricing
Modular aluminum ramps are designed to fit your home's specific rise. A typical rise is 30″. ADA regulations – which do not apply to residential applications, but are a good guideline – specify that for every 1″ of rise, 12″ of ramp is needed to create a gentle incline.
Typical ramp pricing for a 30″ rise installed:
New
Used
1:12 Incline Ratio (includes 1 platform at the door and installation)
ADA recommended slope
$5,000 range + tax
$4,000 range + tax
1:8 Incline Ratio (includes 1 platform at the door and installation)
Great for users who have an able-bodied attendant to assist
$3,800 range + tax
$3,000 range + tax
Options for Aluminum Wheelchair Ramps
Handrail Options
There are four types of handrail options available for our aluminum wheelchair ramp systems. They are easy to assemble and are all made of durable aluminum.
Rental & Purchase Options for Aluminum Wheelchair Ramps
Buy-Back
Need a temporary aluminum wheelchair ramp? Lifeway Mobility can sell and install the best ramp for your home – and then we'll buy it back when no longer needed.
Discount ramps from our previously-rented inventory may also be available for purchase. For help finding a ramp that meets your needs and budget, contact Lifeway today.
---
Improve your mobility with a modular ramp system.
Request a free home assessment today!
Request an Assessment