Winter Maintenance Tips for Wheelchair Ramps
Posted on by John Burfield
If you're in need of wheelchair ramp, there's no need to wait for spring to have one installed. In fact, modular aluminum ramps can be installed all year round. Unlike wooden ramps, aluminum ramps do not require concrete footers to be poured. Their adjustable legs sit securely on large foot plates that provide a substantial base and sit on top of the surface. This means that they can be installed even when the ground is frozen.
Should an aluminum ramp settle between winter and spring, all it takes to level the ramp is a socket wrench. However, aluminum ramps are typically maintenance free and do not rust when exposed to the elements. Like any ramp surface, aluminum can become slippery when covered with snow or ice. However, since the surface is extruded, aluminum ramps have superior traction to wooden ramps when wet.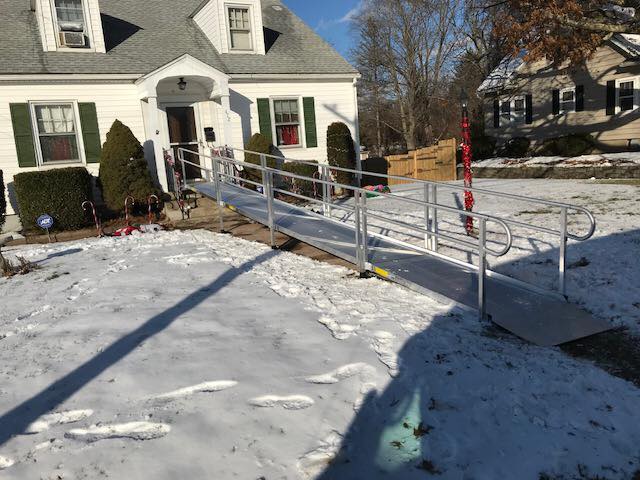 Winter Maintenance Tips
Keep your ramp clear of snow by using a thick bristled push broom or plastic snow shovel. It is best to avoid metal shovels as this can scratch your aluminum ramp.
Use non-corrosive ice melt. If you are unsure if an ice melt is corrosive, select a formula that is safe for pets.
Consider powder coating. Optional powder coating is available that will add an extra layer of protection from corrosive materials. It also allows you to choose from a variety of colors including black, bronze, or tan.
Final Thoughts
If you're in need, don't put off having a wheelchair ramp installed until spring or summer. An aluminum modular ramp can be installed year-round and is easy to maintain during winter. An experienced home access provider can help find the right solution for you. If a provider tells you that you need to wait for spring, look for a different firm that is capable of installing your ramp now.
---
---
---
Improve your mobility. Request a free home assessment today!