Stair Lifts vs. Home Elevators - Which is Best for Me?
Posted on by Eric Rubel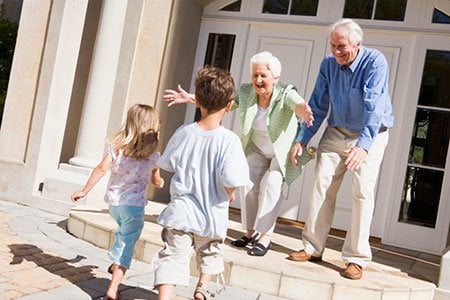 If the stairs start to become too difficult to manage at home, there are usually two options that people can consider to solve the problem. The first option is to remain at home (with modifications), and the other is to move to a senior living or assisted living facility. Both are feasible options, but many prefer to remain in their home because it prevents the stress of having to move again, and makes it possible to remain in the place that has so many positive emotional ties. A home is a place of comfort as it is where most people build lasting memories with family and friends, whether it be from holidays parties, or social gatherings with friends.
However, for those that do decide that they want to remain at home, there are modifications that will likely be needed to ensure it is still safe enough to live there. The stairs usually end up being the first area of concern for seniors or people with limited mobility. Outside of the bathrooms, a staircase is the area in the home that presents many potential injury risks if someone were to miss a step and fall.
Home Elevator or Stair Lift?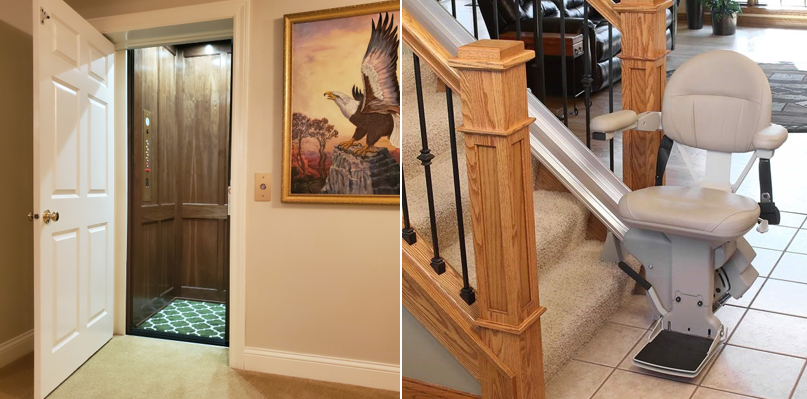 To ensure the stairs are no longer a barrier at home, many will consider the installation of a stair lift or home elevator. These two products are commonly added to homes as they offer a safe and easy way to access the bedroom and shower upstairs, or laundry room in the basement. However, the question is, how do you know which is the better option for you?
The answer really depends on a variety of factors. In the rest of this post however, we will give you an idea as to when one option may be the better than the other, and vice versa.
Stair Lifts
A stair lift is a motorized chair that can be mounted to the treads of the staircase by a Lifeway Mobility certified technician in a few hours. If you're in need of a quick and affordable solution to safely access the upper level of your home or the basement, a stair lift is a great option. For straight staircases, a stair lift can be installed in as little as one day after it is purchased. Curved stair lift installations have a longer turnaround time because the rail is customized, but you can still expect it to be installed within a few weeks after you purchase it.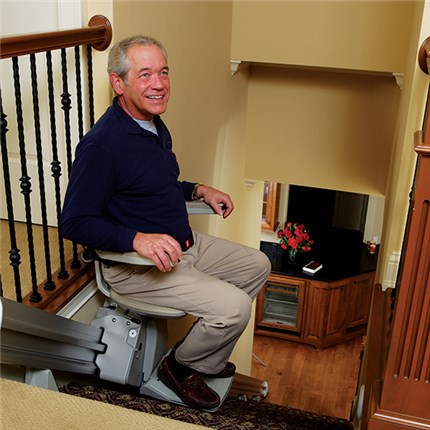 Stair lifts can be installed on both straight and curved staircases for both indoor and outdoor settings. So, whether your staircase is limiting access to getting into your home or to another floor level inside your home, we have a variety of stairlift models that can be of assistance to you. While we most often recommend Bruno stair lifts, there are other manufacturers' stair lift models that we offer as well. To further enhance safety, there upgrade options that can be added to your lift, such as a manual or power folding rail (prevents the rail from becoming a tripping hazard at the bottom landing).
Typically, a stair lift is a better solution than a home elevator if the home cannot structurally support an elevator or cost is a main consideration. The starting cost of a straight used stair lift is $2,200, which is much lower than any type of residential elevator. There's also no construction required for the installation of a stair lift, thus saving you time and money! While space on the staircase may be slightly reduced, the footrest, seat, and arm rests can be folded up when not in use so that others will still have enough room to navigate the stairs by foot.
For more in-depth information, visit our stair lift guide!
When a Stair Lift is Not the Best Solution
While there are many benefits to having a stair lift installed, it is usually not a recommended option for wheelchair or powerchair users. In order to safely use a stair lift, you must be able to get up from a chair with little to no assistance. For those in a wheelchair or powerchair, this can be very dangerous, which is why it is often not a recommended solution for them. A home elevator, or even a vertical platform lift are the best solutions for wheelchair and power chair users as they can remain in their chairs and live independently.
Here is a quick list of pros and cons of a stair lift:
Pros:
Affordable
A solution for short and long-term needs
Quick turnaround times
Easy and quick for Lifeway technicians to install and remove
No construction or remodeling required
Allows others to use still be able to use the staircase
Cons:
Usually not a safe solution for wheelchair users
Only provides access to one additional floor level, unless multiple lifts are installed
Lower weight capacities compared to a home elevator
Limited design options
Won't necessarily add value to the home
Home Elevators
A home elevator is the more expensive option between the two, but it does offer several benefits to someone who is need of a safe solution to navigate between the floor levels of their home. First, the addition of a home elevator will add value to your home. So, even though it is the more expensive solution, a good portion of the cost is retained in the added value. A home elevator also provides you with a variety of design options. You can select a cab design and color to match the décor of your home and pick a swing door that matches the other doors throughout the home.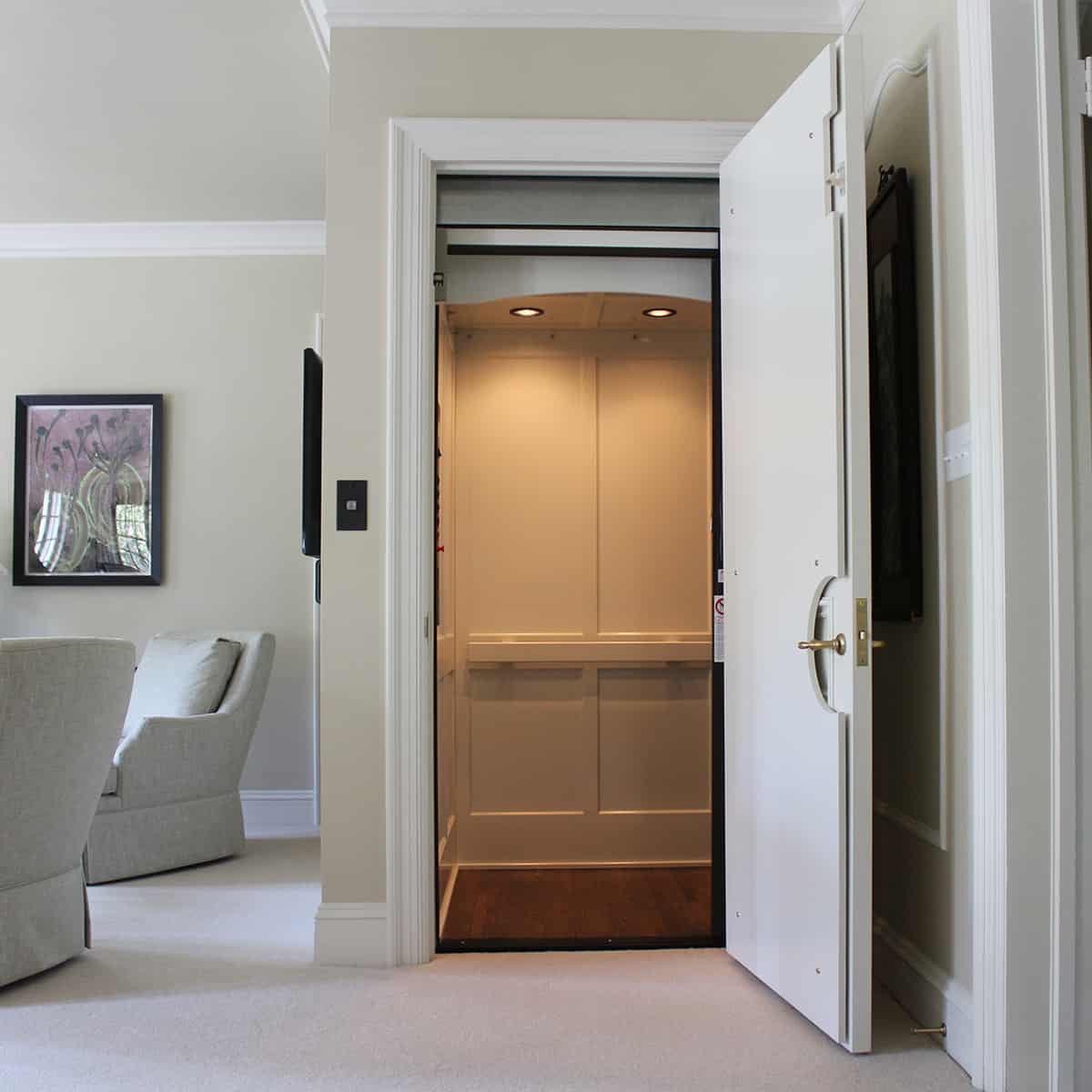 The ability to travel to multiple floor levels with one push of a button also makes it more appealing than a stair lift. A standard home elevator can travel up to 5 floor levels and can be added to new or existing homes.
Finally, a home elevator is going to be the safest accessible solution for wheelchair and power chair users. It has a higher weight capacity and has enough room for the user to not have to get in and out of the wheelchair or power chair to navigate from one floor level to the next. Carrying groceries, baggage, and holiday decorations between floor levels is also going to be much easier with the addition of a home elevator.
Disadvantages of a Home Elevator
In addition to being the more costly option between the two, a home elevator requires more planning and work. All that is needed for a standard straight stair lift are measurements of the width of the staircase, and number of total stair treads. For a home elevator, we'll need to coordinate with an architect, and contractor, and a builder if it is a new home. This extra time and energy translate to additional costs.
Through the Floor Home Elevator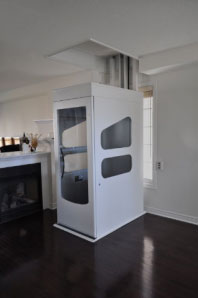 When cost and space are a concern, but you still feel that an elevator is going to be the best solution, consider looking into a /elevators/through-the-floor-elevators/. While limited to a maximum travel of two floor levels, a through the floor elevator is more affordable than a standard residential elevator because there is no construction required to build a hoistway. The weight capacity is not as high as it would be for a standard elevator, but it is more robust than a stair lift's weight capacity.
Here is a quick list of the pros and cons of a home elevator:
Pros
Safe and convenient to access multiple levels (through the floor style is limited to two)
Increases the value of your home
Multiple design options and ability to customize it to match your home's décor
One of the best accessible solutions for wheelchair and powerchair users
Provides a way to easily transport heavier items with you from one floor to the next.
Cons
Costly to install - more expensive than a lift
Construction required
Significant time required to select location of installation, interior cab design, gate options, etc.
Longer installation time
Usually not suitable to be installed outdoors
Key Takeaways
A stair lift is the more affordable option and is an excellent solution for seniors with limited mobility that want to remain in their home. It offers a quick turnaround time and safe and comfortable ride up and down the stairs. A home elevator on the other hand, will provide multiple level access and increase the resale value of your home. It is the best option for wheelchair users and provides you with several options to design or customize your elevator. If construction is a concern and you want to save space, then a through elevator may be your best fit.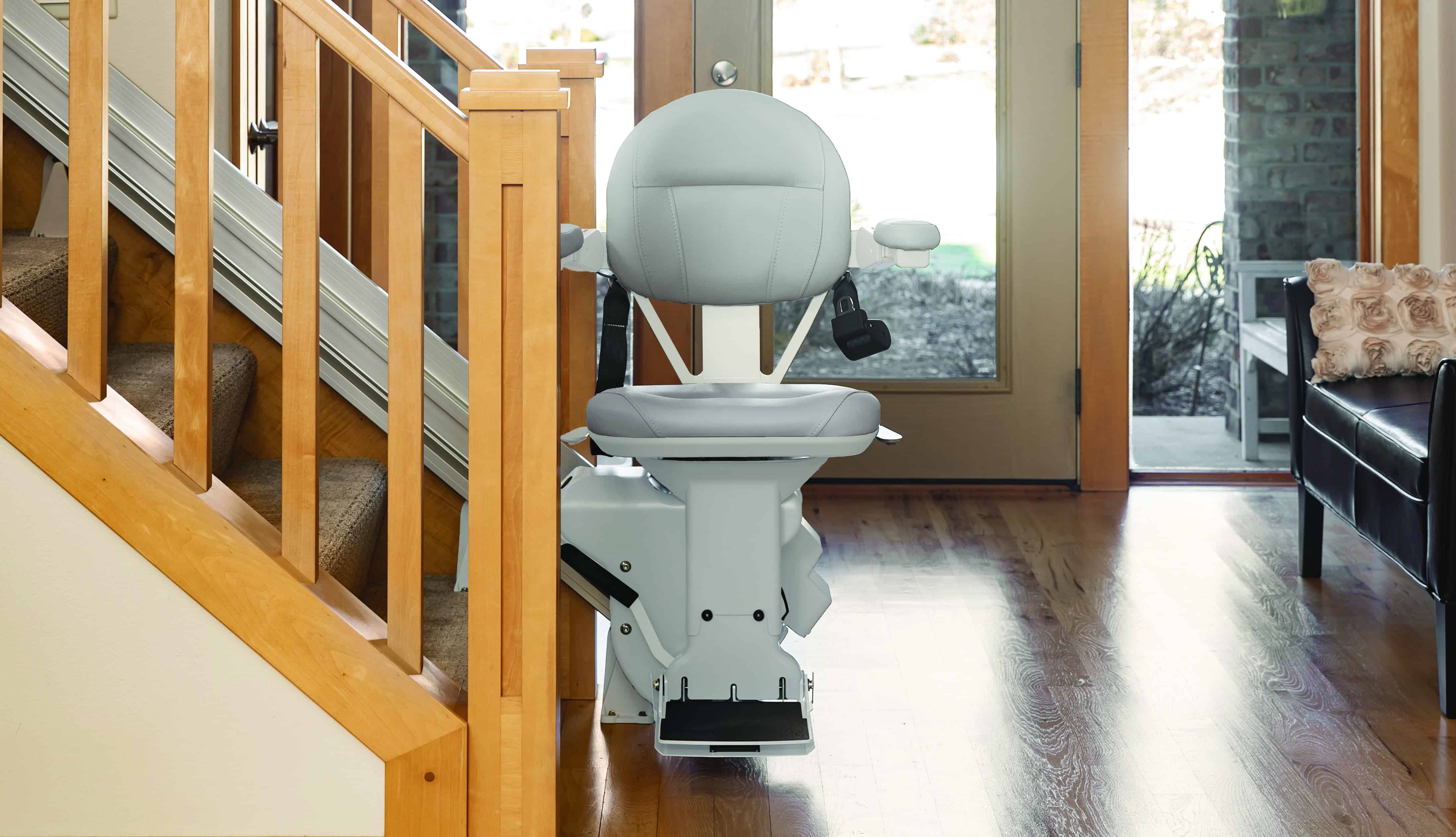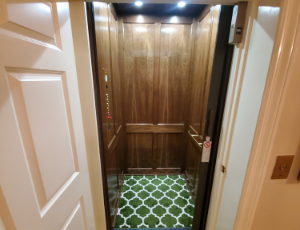 We hope this post has helped you gain a better idea of which product is the better accessible solution for you, your friend, or family member. Regardless of the option you choose, you'll have a new, safe and convenient way to navigate between the floor levels of your home!
If you have any additional questions or if you would like to schedule a FREE home evaluation, please call 847-215-9490, or use the contact form below. Our accessibility experts have an average of 18 years of experience and will be more than happy to help you identify the best solution.
Test Ride a Stairlift in One of Our Local Showrooms!
Interested in test riding these products? Lifeway Mobility has local showrooms in:
Colorado (3) - CO Springs, Denver & Northern CO
All of the Lifeway Mobility stairlift showrooms have fully operational stair lifts and a variety of other accessibility solutions on-site. You will be able to learn how a lift operates and feel how smooth of a ride it provides. Photos of our some of our showrooms can be seen below.
Minneapolis Hartford, CT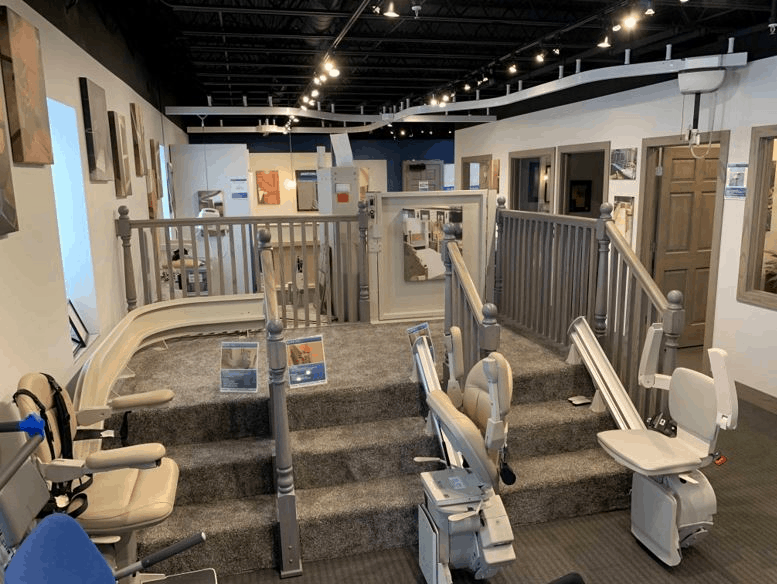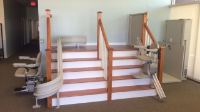 Chicagoland Massachusetts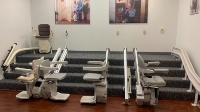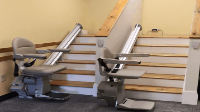 If you are living in the Chicagoland area or LA Metro Area, we have both stair lifts and a home elevator in that you can test ride.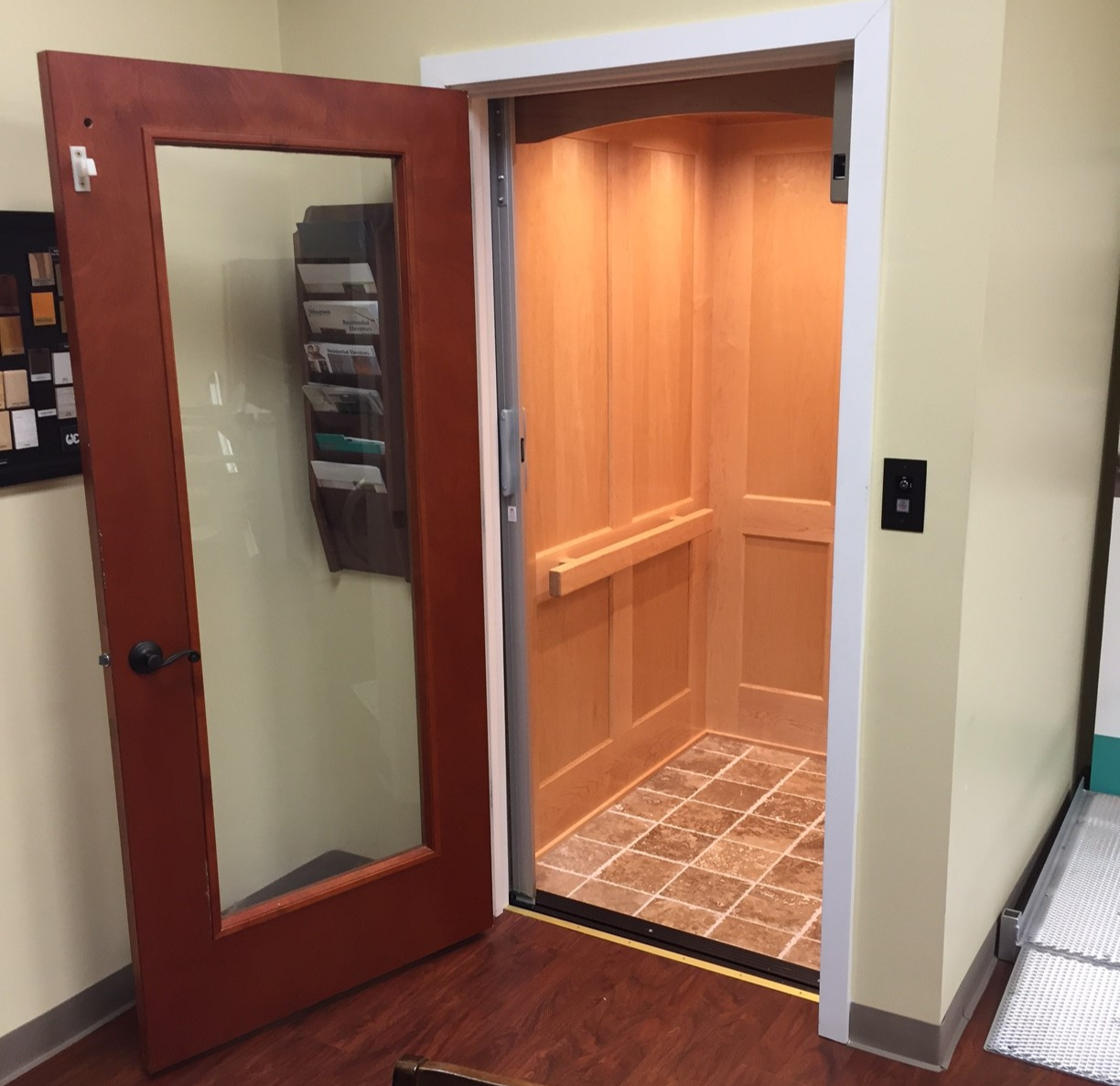 ---
---