Stair Lifts in Minnesota
A stair lift from Lifeway Mobility can make your house feel like home again!
Stair lifts provide a convenient, and safer way to go up and down the stairs for people with limited mobility. Lifeway Mobility Minneapolis offers a variety of stair lifts for straight, curved, and outdoor staircases, including used and rental options. Lifeway's stairlifts are professionally installed onto the stairs by our trained & certified technicians, and service is available after installation.
Learn more to help you select the best stairlift from for your home & mobility needs.
Visit Our Stair Lift Showroom in Minneapolis-St. Paul Area
Lifeway Minneapolis
Tel: (952) 808-3646
1528 Cliff Rd E, Burnsville, MN 55337
Showroom by appointment
Why Choose a Stair Lift from Lifeway Mobility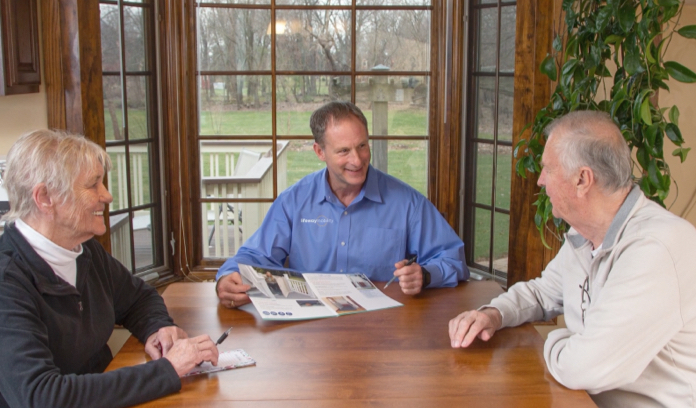 Local team of stair lift experts in Minneapolis-St. Paul Area
Professional stairlift installation within 1 day in some cases
Robust warranty coverage on the product and labor
New, used, & rental options
Service available after installation
Made in USA (Bruno Stairlifts)
Stair Lift Reviews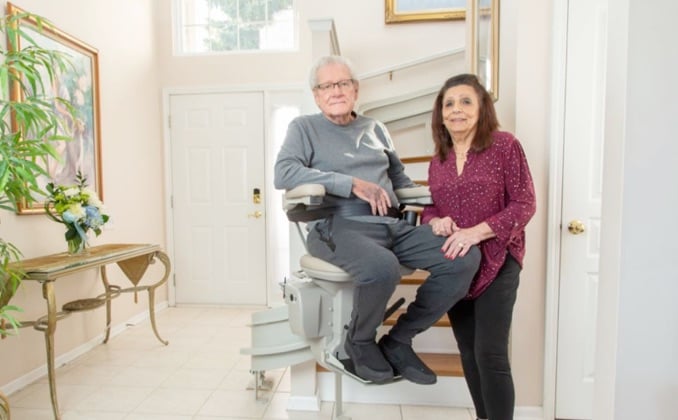 Lifeway Mobility is proud to be rated 4.8/5 with thousands of reviews across trusted online review platforms such as Google, Trust Pilot, & Consumer Affairs. Every one of Lifeway's stair lifts is professionally installed by our very own trained and certified technicians. See what our stairlift customers have to say about their experience with Lifeway Mobility and new stair lift.
Stair Lift Videos
From helpful tips & product overview videos to customer testimonials, our stair lift video gallery will help you learn more about stair lifts and how they can improve independence, quality of life, & peace of mind at home for you and your family.
Stair Lift FAQs: Everything you need to know
A stair chair lift makes your house safer and more convenient, and can be essential in helping you remain independent in your own home. Check out our most frequently asked questions about stair lifts:
How much does a stair lift cost?
Stair lift costs vary depending on the type of staircase and its length, condition of the user and use of the chair (indoor or outdoor), and added options. Typically, the average price of straight stair lift ranges between $2,200-$8,000 (new or used stair lift). There are also monthly payment options available starting at $56.70/month, for those who qualify.
Curved stair lifts are custom made to fit your stairway, so prices will vary, but the starting cost for the most basic custom curved rail lift is $11,300.
For more information, see our guide on stair lift pricing. For an exact quote, please call us at (952) 808-3646.
How does a stair lift work?
A stair lift is a product that is very easy to operate for most people! A person can ride up or down the stairs by holding a button down or pushing a switch that is located on the armrest of the chair. As the user holds down the standard rocker switch or optional toggle switch, the chair lift smoothly travels up or down the stairs.
How is a stair lift powered?
A stair lift is a battery powered chair that glides along a rail system that is mounted to the treads of a staircase. Stair lifts are battery-powered for maximum safety and come equipped with a charger that plugs into a 110 volt outlet. The lift being battery powered means that it will work even during a power outage.
The lift will charge when not in use at the top and bottom landing of a staircase. If you choose a Bruno straight stair lift, the lift will charge regardless of it's location on the staircase as it has a charging strip that runs through the entire rail.
Should we buy new, buy used, or rent a stair lift?
Ultimately, this decision comes down to a few factors, including your budget, physical condition, desired options, staircase design, and whether the stair lift is for long-term or short-term use. See our blog post on this topic for more in-depth information.
Are stair lifts for seniors difficult to operate?
No. Although there are many models on the market, each with optional features, stair lifts are universally designed for smooth, safe, and simple operation by people of all ages. And when your stair lift is installed by a Lifeway expert, we take the time to train all members of your household on its use and maintenance. Want to test one out before you buy? Just make an appointment at the Lifeway showroom nearest you!
Will a stairlift fit on my staircase?
Yes, Stair Lifts Fit Most Staircases. A staircase needs to be a minimum of 32 inches wide to fit a stair lift. The track is mounted on the stair treads, not on the wall, and will extend out from the wall between 6 to 9 inches. The chair lift's seat, arms, and footrest will fold up when the lift is not in use. Folded up, stairlifts will extend from 11 to 16 inches from the wall. The track on a straight or curved model does extend beyond the bottom of the staircase which, in some cases, can be a problem. A manual or electric folding rail will allow the track to fold up and out of the way when the lift is not in use.
Is there a stair lift warranty?
Yes, below are some details regarding the warranties offered on the Bruno stairlifts that we sell and install:
Indoor straight stair lifts have a 2-year warranty on parts & batteries and a limited lifetime warranty on the major components.
Indoor curved stair lifts and all outdoor stair lifts have a 2-year warranty on parts & batteries and a 5-year warranty on major components.
For indoor curved stair lifts and all outdoor stair lifts, Lifeway Mobility also provides an additional warranty on the motor—lifetime coverage for the original owner at no additional expense.
In addition, we offer a 1-year labor warranty on all new stair lifts that we sell and install. If your stairlift needs service, please just reach out by phone or contact us on our website!
Warranty information provided above is applicable to new stair lifts only. Please contact us to learn about our used stair lift warranties.
How long does it take for a stair lift to be installed?
On average, it usually takes 3-6 hours for a stair lift to be fully installed and ready to use. The time of installation will depend on whether it's a straight or curved stair lift. After the lift is installed, our technicians will take the time to help you learn how to safely operate the lift.
The time it takes to have a stair lift ready to be installed can vary greatly. Straight stair lifts can sometimes be within a day or two after the unit is purchased, depending on inventory. Curved stair lifts take several weeks though as a custom rail needs to be made so it cant fit the exact specifications of your staircase.
Want to learn even more about stair lifts?
Check out the Lifeway Mobility Ultimate Stair Lift Guide!