Home Elevators in Minneapolis-St. Paul & western WI
Once considered a high-end luxury item, home elevators are finding their way into everyday homes. With smaller footprints, decreased machine room space and more flexible design options, home elevators are quickly becoming a staple item in modern homes. Learn more about the home elevator models we carry, as well as available design options and lifting systems.
Home & Residential Elevators Are:
Affordable: Home elevators are surprisingly affordable, and will increase the market value of your home. From basic designs to high-end luxury models, we have an elevator that fits your budget. Contact us for a free evaluation!
Custom: We work with the top manufacturers to provide the perfect elevator for you. With a wide range of styles, wood and finish options, we can create a custom home elevator to match any home's decor.
The Best Way to Stay In Your Home: No more worries about bad backs, knees or heavy lifting up flights of stairs. We have added elevators to many existing home plans and we are ready to help you age in place gracefully!
Waupaca Home Elevator Series

Waupaca Elevator offers models to fit every budget with a broad range of cab styles, woods, finishes and accessories that will blend perfectly into any home décor. A Waupaca elevator delivers a smooth, quiet ride that improves your home accessibility and enhances your quality of life.

View Product

Savaria Vuelift Home Elevator

Make an investment in your continued mobility that will change your perception on home elevators and give you a new perspective on your home. The Savaria Vuelift is a high-quality glass elevator crafted with exceedingly strong acrylic panels, so you can enjoy a smooth ride with unobstructed views of the place you love best.

View Product

Savaria Telecab Home Elevator

If you thought a home elevator was outside of your budget, think again. The Savaria Telecab is the quickest, easiest, and most economical way to add an elevator to your home.

View Product
---
Home Elevators in Minneapolis-St. Paul & western WI Gallery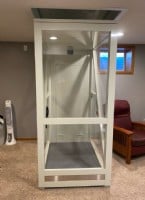 ---
Improve your mobility. Request a free home assessment today!