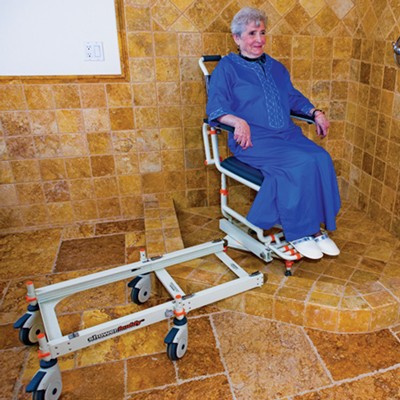 Bath Transfer
Roll-In Shower Transfer System
The Roll-In Shower Transfer System - SB1 is an ergonomic shower transfer system designed to alleviate heavy lifting and unnecessary transfers. It also eliminates slip hazards and costly construction while maintaining the privacy and dignity of the patient.
ShowerBuddy's unique Roll-In Shower Transfer System allows for the patient to toilet and shower in one easy trip, utilizing only one transfer.
Features
350 lb. weight capacity
Tapered cushion with tailbone recess
Low maintenance
Removable / lockable / foldaway arms
Height adjustable
Safety mechanisms
Full aluminum frame (Grade 6061 T6)
Stainless steel hardware
360° rotation
Is the Tub Transfer System Right for Me?
If your shower has no edge to step over, then the Roll in Shower System with Tilt Seat might be a better option.
If you're not sure which bath transfer system is right for your home and loved one, request an evaluation. Lifeway Mobility specializes in free home assessments to help identify hazards, and help you find the safety products that fit your needs, lifestyle, and budget.
---