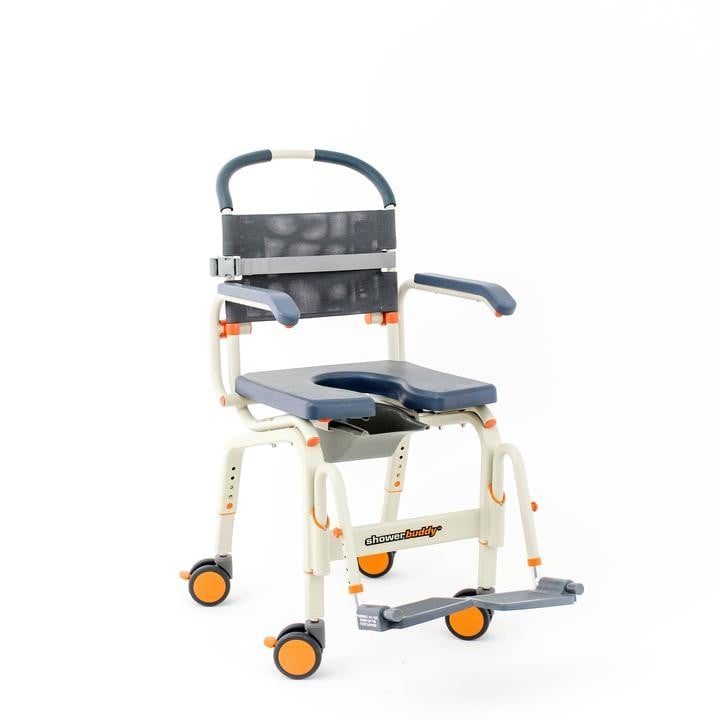 Bath Transfer
Roll-in Transfer System - ShowerBuddy Lite
The ShowerBuddy Lite Transfer System (SB6C) features the same aesthetics as the original ShowerBuddy products, at the fraction of the cost. It comes with a standard front opening cushion, movable and removable armrests and a foot rest, and optional cushions. The ShowerBuddy Lite is height adjustable and its removable commode bucket makes it perfect for use from the bed to over the toilet.
Features
Weight Capacity: 300 lb.
Rolls over most standard toilets
Low maintenance
Lockable & flip-back arms
Height adjustable
Removable, swing-away, and height adjustable footrests
No rust aluminum frame
Stainless steel parts and hardward
Safety belts - lap, chest, plus calf
Commode system with deflector splash guard
Tool-free assembly
There are also multiple accessories available that can be added to the system to improve comfort and/or convenience. Visit the ShowerBuddy website to see the full list of available accessories for the Roll-In Shower System - Buddy Light SB6C.
---