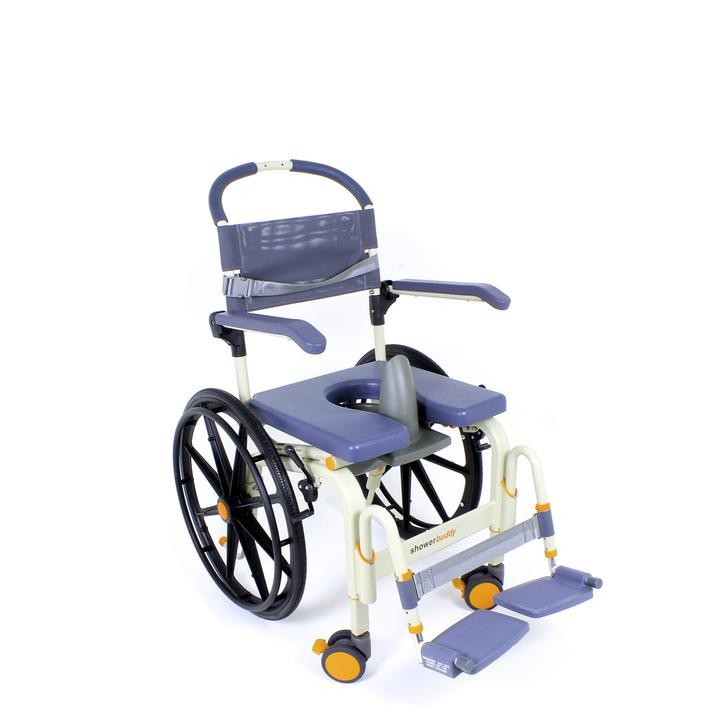 Bath Transfer
Roll-in Shower Transfer System - Buddy Solo
The Roll-in ShowerBuddy Solo SB6W is a reinvented shower chair with the same integrity as the rest of the line's shower and bath transfer solutions. It includes large self propelled wheels, a standard front opening cushion and movable armrests and footrests. The Solo SB6W is lightweight and durable and comes with multiple seating options. Bring back the independence and relaxation of taking a shower with the ShowerBuddy Solo SB6W!
Features
Weight Capacity:

300 lb.
Rolls over most standard toilets
Low maintenance
Lockable & flip-back arms
Height adjustable
Removable, swing-away, and height adjustable footrests
No rust aluminum frame
Stainless steel parts and hardware
Safety belts - lap, chest, plus calf
Commode system with deflector splash guard
Caster wheels - 4" all locking
Soft blow-mold cushion
Tool-free assembly
There are also multiple accessories available that can be added to the system to improve comfort and/or convenience. Visit the ShowerBuddy website to see the full list of available accessories for the Roll-In Shower System - Buddy Solo SB6W.
---