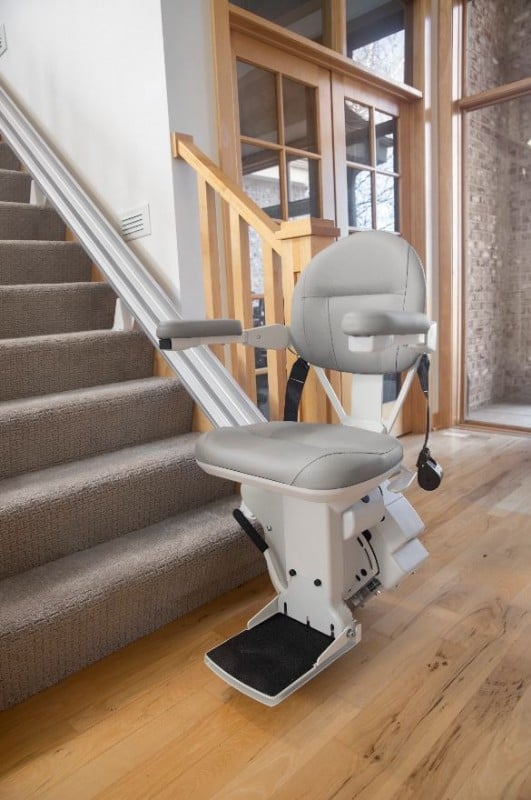 Straight Stair Lifts
Bruno Elite Straight Stair Lift
Designed for staircases without curves, turns or landings, the Elite stair lift has all of the comfort and reliability of the Elan, plus a higher weight capacity, added seat padding for comfort, and range of stylish color options. The Elite can be installed in both residential and commercial settings.
Timely stair lift installations to accommodate your schedule.
Rails are mounted to the treads of the stairs and do not require a wall for support.
Removal of the unit and track leaves minimal footprint.
Stair lift buy back program available.
Features
Use this chart to compare and contrast the features of an Elite Indoor Straight Stair Lift and an Elan Indoor Straight Stair Lift:
Features
Elan
Elite
Padded, generous-size seat
Flip-up arms, seat, and footrest
Two wireless call/send remotes
Battery operated
Continuous charge strips
Gold warranty (Limited lifetime on major components; 2 year parts & batteries)
Obstruction safety sensors
Rental or buy-back options
Swivel seat
Adjustable width armrests
N/A
Upholstery and track color options
N/A
Weight capacity
300 lb
400 lb
Onboard diagnostics
Audio only
Audio and visual
Vertical rail design
Installation to within 5" of wall
Installation to within 6" of wall
Pricing
$49.50/month**
$56.95/month**

*Monthly payment option for qualified buyers. Contact us for details.

*Financing pricing is only applicable for residential stairlifts
Pricing
A new, USA-made Elite Indoor Straight Stair Lift is $56.95/month* with no money down. This includes:
The Lifeway Advantage
Limited Lifetime manufacturer warranty on major components*
1-year labor warranty on parts covered by lifetime warranty
Installation & delivery by factory-trained and certified technicians
Free home assessment (We will evaluate the holistic accessibility needs)
Local showrooms to try before you buy
Service by Lifeway technicians after installation
*Applies to original owner of new stair lift purchase
Additional Information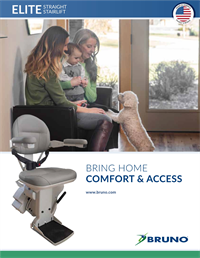 Learn more about all the safety features and benefits of an Elite Straight Indoor Stair Lift.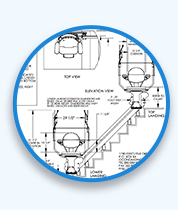 Want to get a bit more technical? Check out the technical drawings of the Elite Straight Indoor Stair Lift.
---
Gallery
---
Improve your mobility with a stair lift. Request a free home assessment today!