Can a Stair Lift be Installed in a Condo?
Posted on by Eric Rubel
A stair lift can be very useful to those who need assistance with navigating a staircase due to limited mobility or balance issues. While these types of lifts are most often installed inside and outside of homes, there are other buildings where they can be accommodating.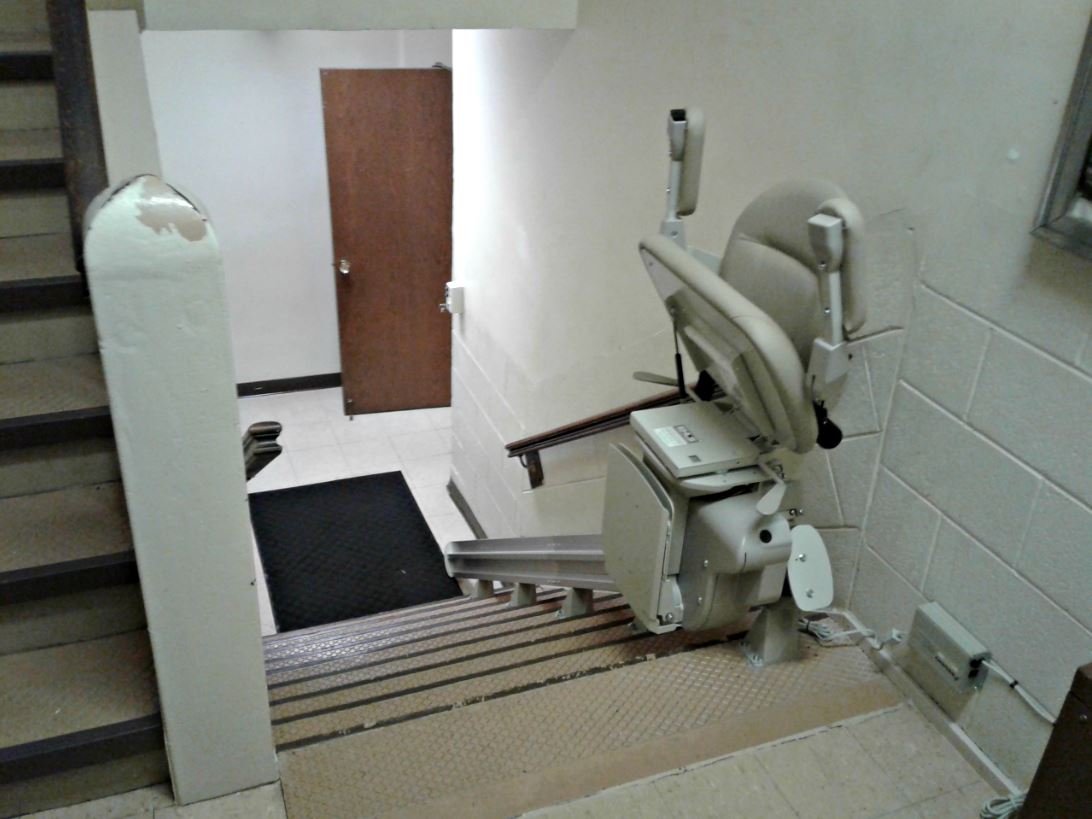 A good example is a church when there is an outdoor staircase leading to the main entrance, or an indoor staircase leading the main area of worship or a gathering area. Another example is a staircase in a condominium common area that is difficult to access for people with mobility challenges. Many may believe that building or fire codes will prevent a stair lift install from being passed for a common area staircase. That is not always the case and Lifeway has actually installed a few stair lifts in condos over the past several years
Installation of a Stair Lift in a Condo Building
The installation of a lift in a common area of a condo building can turn into a long process because of all that is required. As a result, some may avoid reaching out to the building's association or condo board because of the time involved. However, we want to provide you with some facts so that you can better determine whether a lift could be passed for your condo building.
Lifeway Mobility is locally operated in each of the areas that we serve and has experience in educating clients about the process of getting these types of lifts approved. As experts in installing both residential and commercial stair lifts in over the past few years, we are always willing to help, so please don't hesitate to contact us.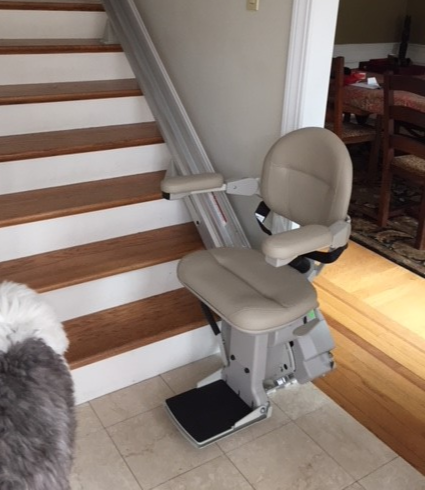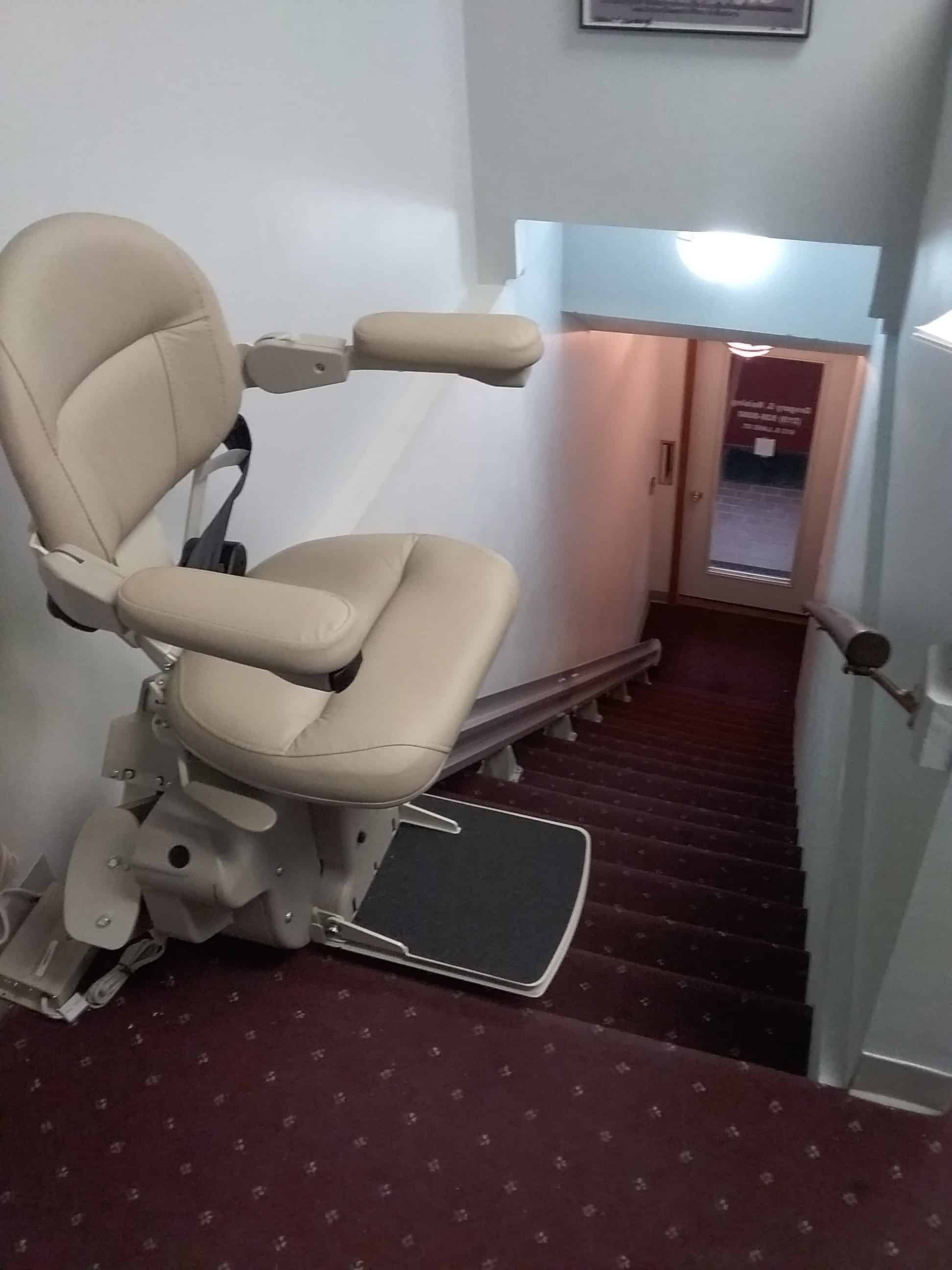 In the rest of this post, we will list some potential issues that would need to be ruled out for the lift to be approved and then briefly describe the process to help you get started.
Potential Issues with a Stair Lift in a Common Area Staircase
The following items are potential issues that you could potentially run into when trying to get approval for the installation of a stairlift in the common area of the building that you live in:
Width of staircase – The width of your staircase is usually one of the main criteria in determining whether the stair lift will be approved by the local Fire Marshal. It must be wide enough so that others are still able to safely use the staircase by foot.
Area at top & bottom landings of the staircase – It must be determined that there is enough space available for safe exit/entry to the building and to get on and off the stairlift.
Accessing the lift – Access to the lift is limited to the owner of the unit by way of a lock and key system on the unit and remote. This will prevent unauthorized use of the lift.
Electrical – For a stair lift to be installed, there must be access to the client's 110 volt electrical outlet in there unit, or an approval from the condo board to access a common area outlet. The local Fire Marshal may direct the stair lift company to install an electrical disconnect at the electric site.
Liability – Some condo associations may need to add an insurance rider on the building, while others may already have that covered in their existing policy.
How to Get Started
Now that we've identified some of the potential issues that you may run into when attempting to get the approval of the stair lift in a common area, it's time to help you get started with this process. Our first suggestion is to reach out to a local Lifeway office to schedule a free assessment of the staircase in your condo building. When one of our stair lift experts arrives to assess the staircase, they will first take the time to learn about the mobility of the person in need of the lift. That always helps us identify if the lift is in fact a viable option for getting up and down the stairs safely.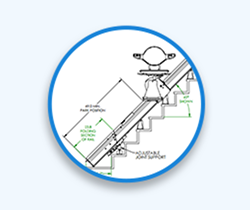 We will then take measurements and evaluate the staircase to see if it is worth moving on to the next steps towards approval. We can also answer any other questions that you may have at that time.
Next Steps to Follow for Stair Lift Approval in Condo
Homeowner's Association / Condo Board Approval – Stair lift specs and quote provided by dealer should be delivered to the HOA for their approval.
Packet of Documents – A packet containing the contract, stair lift description, specs, photos, and a drawing must be submitted to the city permitting office
Get Approval from Fire Marshal – The local Fire Marshal must sign off to confirm that it meets the fire safety requirements. They will want to ensure that there is still enough room on the staircase for it to be used in the case of a fire.
Inspection (Post Installation) -- It must be inspected by the local elevator inspection service, which the stair lift dealer (such as Lifeway) will arrange
Visit our Showroom to See & Test Ride a Stair Lift
Are you or the owner of the condo building unsure of how the lift will look when installed in your condo building, or worried about their potentially not being enough space on the staircase for others to use the stairs? If you answered yes to either one of those questions, we recommend you visit one of our local showrooms to see what a stair lift looks like in person. For some, there's nothing like being able to see the product on a real-life staircase.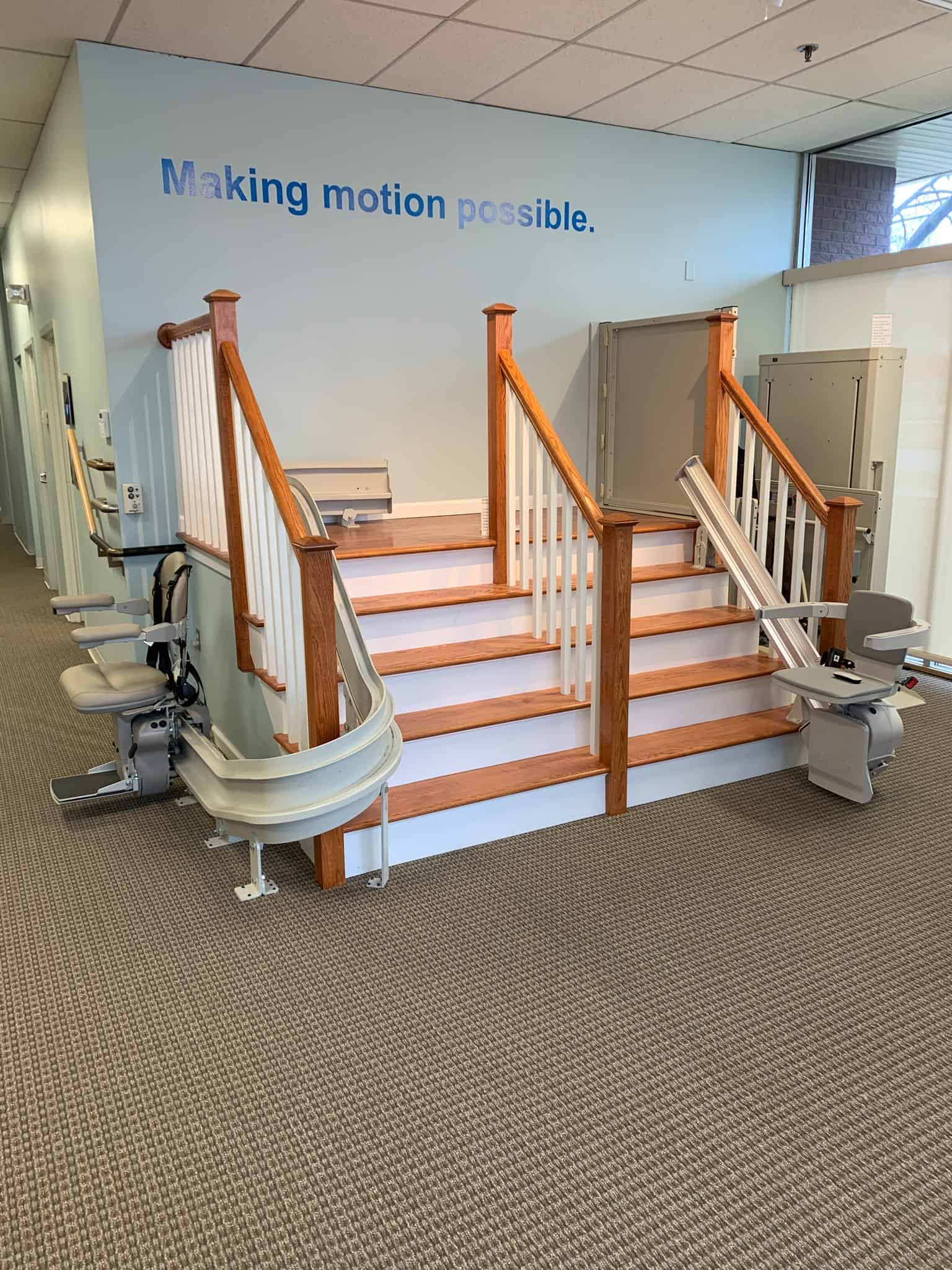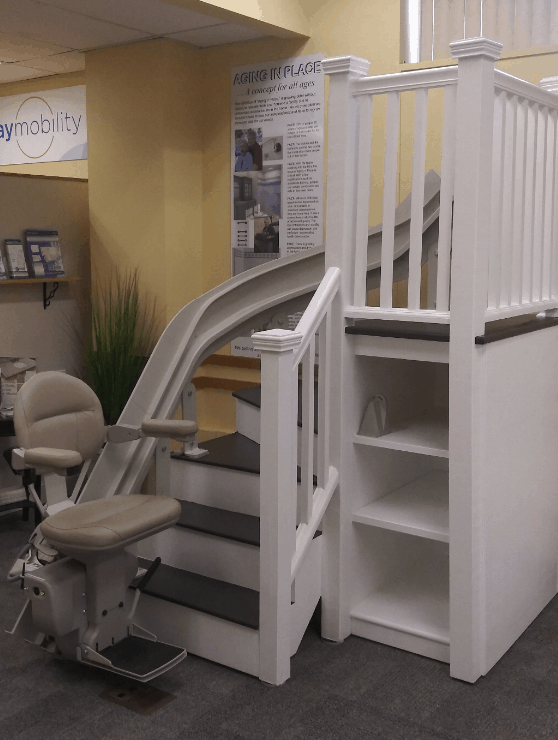 All Lifeway showrooms are equipped with fully operational Bruno stair lifts for local residents to test ride before making a purchase decision. We have both straight and curved rail stair lifts in all of our showrooms and some of which are equipped with upgrade options.
At the time of your showroom visit, we can answer any other questions that you may have, show you how to operate the lift, and how to use a remote control to send it up or down the staircase.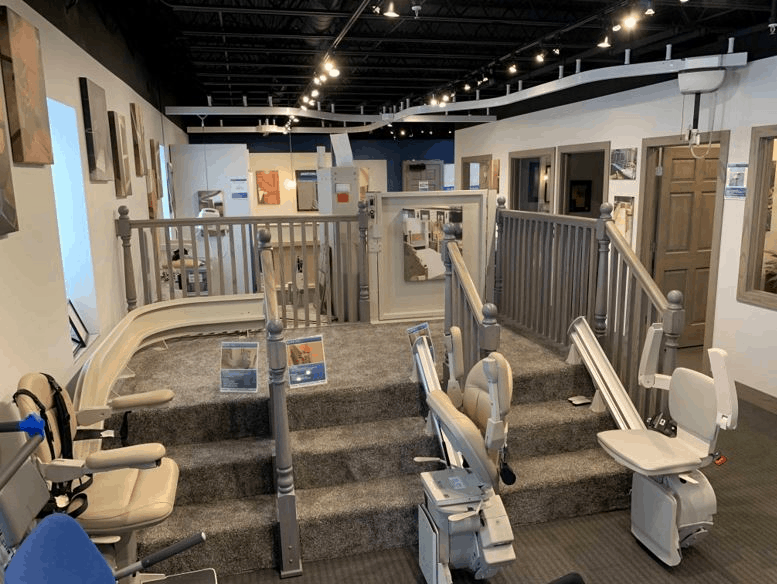 Schedule a Free Stairlift Evaluation at Your Condo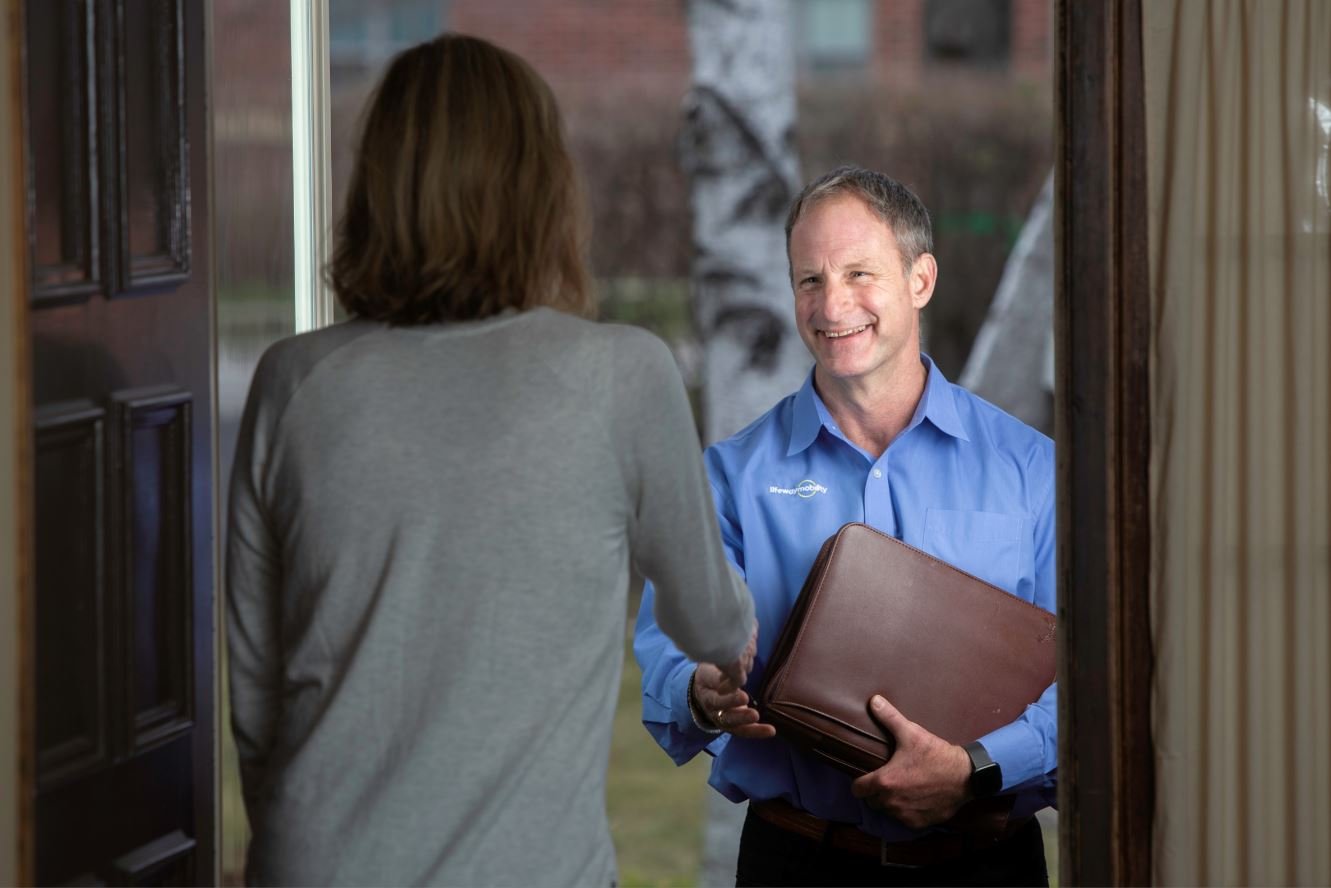 If you would like to set up a free evaluation at your condo building or have any questions about the information provided in this post, please don't hesitate to contact us.
Interested in learning more general information about stair lifts? Check out the Lifeway Mobility Ultimate Stair Lift Guide!
---
---