Wheelchair Ramps in southern New Hampshire
Improve accessibility & independence with a wheelchair ramp from Lifeway Mobility!

Wheelchair ramps provide a convenient way to access a home or building for wheelchair users or those using other mobility aids such as a scooter or walker. For people with limited mobility, even a few steps or a high threshold can be difficult to navigate. Lifeway offers a variety of wheelchair ramps to overcome entry barriers, including short-term and rental options. Our local accessibility experts can help you choose the ramp that best meets your needs and space, and it will be professionally installed by our own technicians.

Learn more about wheelchair ramps from Lifeway Mobility
Visit Our Wheelchair Ramp Showroom in southern New Hampshire
Why Choose a Wheelchair Ramp from Lifeway Mobility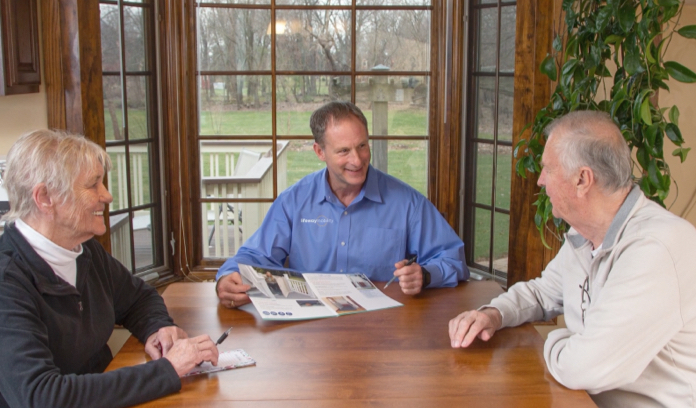 Local team of wheelchair ramp experts in southern New Hampshire
Professional wheelchair ramp installation within 1 day in some cases
Robust warranty coverage on most wheelchair ramp types
New, used, & rental options
Customized handicap ramp configurations for your unique needs
Wheelchair Ramp Reviews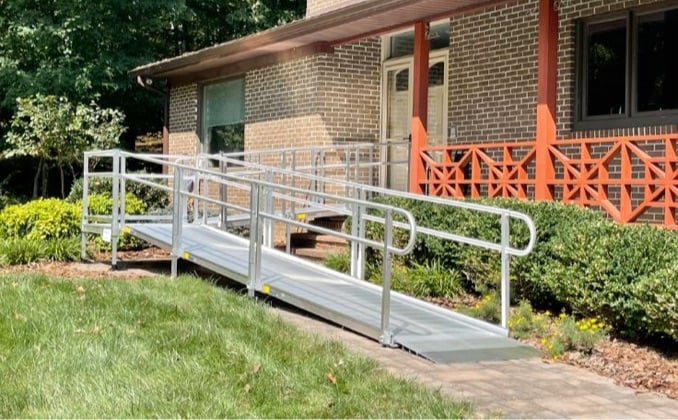 Lifeway Mobility is rated 4.8/5 with thousands of online reviews across trusted online review platforms such as Google & Trust Pilot. The wheelchair ramps we offer are professionally installed by our very own trained and certified technicians. See what our customers have to say about their experience with Lifeway Mobility and the installation of their wheelchair ramp.
Wheelchair Ramp Videos
Our wheelchair ramp video gallery features testimonials, product tip videos, and much more.
Wheelchair Ramp FAQs: Everything you need to know
A wheelchair ramp makes your house safer and more convenient, and can be essential in helping you remain independent in your own home. Check out our most frequently asked questions about wheelchair ramps:
How much does a wheelchair ramp cost?
There is not a simple answer to this question because the price of a ramp depends on the length, material, and upgrade options. The prices listed below are estimated ranges, but our suggestion is to schedule a free in-home evaluation to get a better idea of how much the ramp you would need would cost.
Threshold ramps: $35-$140 range for aluminum, $94 - $150 range for rubber
Portable folding ramps: $99 - $520 range for aluminum, $460 - $1,000 range for lightweight graphite fiber
Residential modular ramps: Prices depend on the length of the ramp and the angle of slope. See our Residential Modular Aluminum Ramps page for more information and sample ramp pricing.
Commercial modular ramps: Please see our Commercial Aluminum Ramps page for more information, and fill out the form on that page for a free site evaluation and pricing.
Rental wheelchair ramp options available in select locations. Contact us for more information on our monthly rental program.
Will health insurance policies or Medicare pay for a wheelchair ramp?
Unfortunately, most health insurance policies and Medicare plans will not pay for a wheelchair ramp. A ramp can be considered as a medically necessary piece of equipment, but unfortunately, Medicare does not mark it as an item that would directly treat a medical condition.
What type of wheelchair ramp material is best?
There is not one type of material that is the "best" for ramps, but we often suggest aluminum because of the benefits that it has over wood and concrete. Aluminum wheelchair ramps are least expensive, can be installed within days, and require little-no maintenance. There are also a variety of surface materials to choose from.
What are the ADA requirements for a wheelchair ramp?
According to the ADA, the length of ramp should be based on a 1:12 ratio, meaning for every 1 inch of rise, there should be 1 foot in length of ramp. Lifeway follows the ADA ramp guidelines, but there may be times where a 1:10 ratio is an option if a caregiver or family member will always be assisting a wheelchair user on the ramp.
What types of wheelchair ramps does Lifeway Mobility offer?
Lifeway is proud to offer a variety of aluminum modular wheelchair ramps, and several types of threshold and portable ramps from EZ-ACCESS. The wheelchair ramps we offer have been hand selected by our accessibility professionals through years of experience and research. We will work with you to determine the right solution for your home—to eliminate any entry barriers and make your home accessible.
Want to learn even more about wheelchair ramps?
Check out the Lifeway Mobility Wheelchair Ramp Guide!