Accessibility Solutions for Veterans
Posted on by Eric Rubel
If you are a veteran, we would first like to say thank you for your service. You put your life on the line to protect our freedom and keep us safe in our home country.
If navigating around the home has become a challenge due to limited mobility or a disability, there are many options that can approve access. Whether it is getting in and out of the house, up and down the stairs, or using bathroom, we would be happy to assist with providing a safe solution for your home.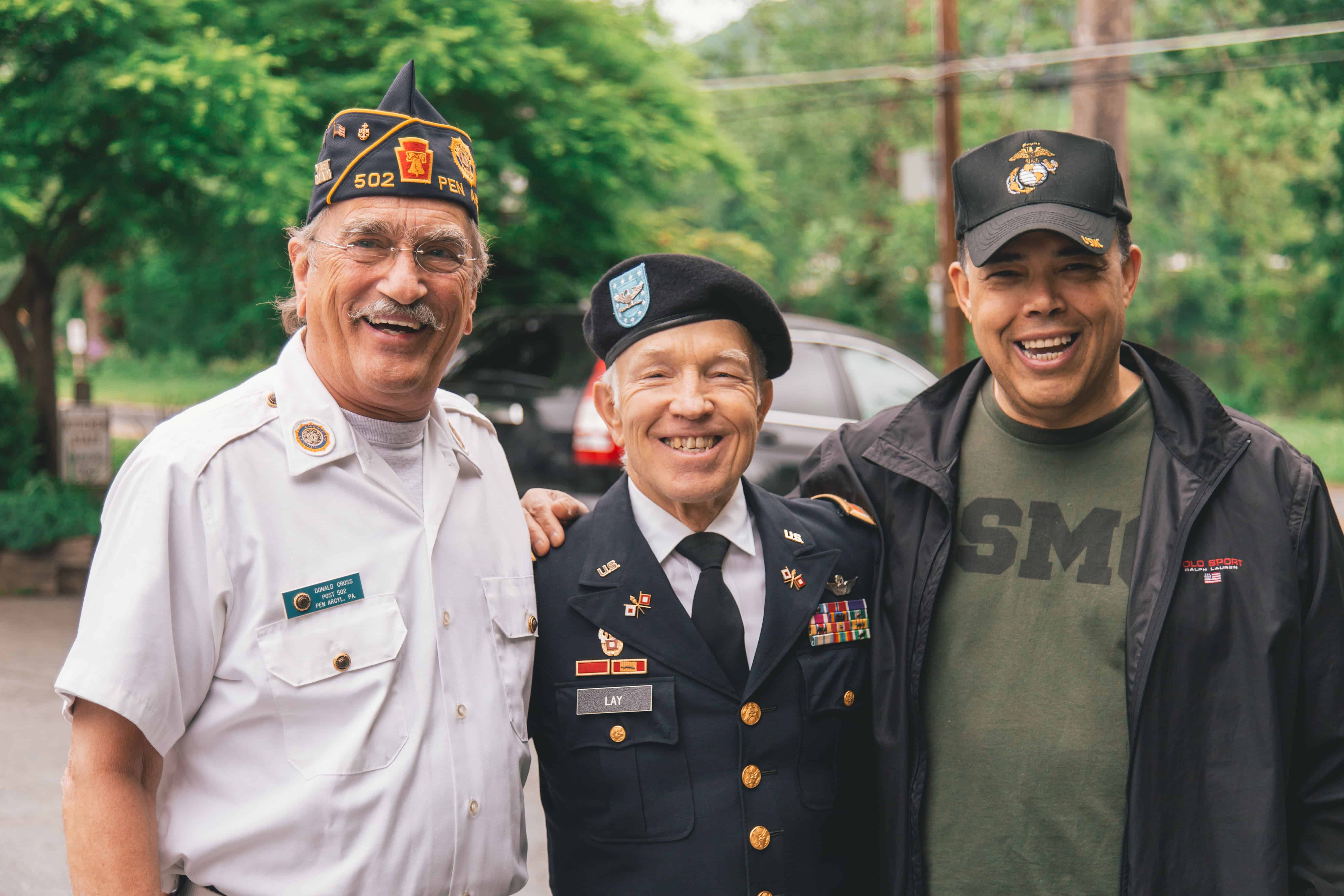 Over the years, Lifeway has been a proud partner with the VA in offering accessibility solutions. In this post, we will provide you with some information about the solutions mentioned above and provide answers to questions that we often receive from our veteran customers.
We proudly serve the following areas:
Accessibility Lifts & Ramps
Stair Lifts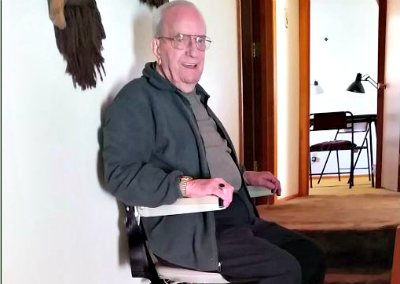 A stair lift is one of the most common accessibility solutions that Lifeway provides for veterans. It can be installed on staircases that are straight or ones that have curves, turns or intermediate landings, both indoors and outdoors. Lifeway's certified and professionally trained technicians install the lifts and come to provide service if/when needed after the lift is installed.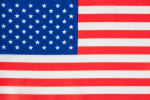 Stair lifts are easy to operate and have multiple safety features to ensure a safe and comfortable ride. There are also multiple upgrade options, such as a power swivel seat, or folding rail for those that may need them. The Bruno stair lifts we offer for veterans are made in the USA!
Interested in learning how it works and seeing it in person before it is installed? Lifeway offers you the ability to test ride a lift in our local showrooms in Chicagoland, Connecticut, Los Angeles, Minneapolis, Massachusetts and San Francisco.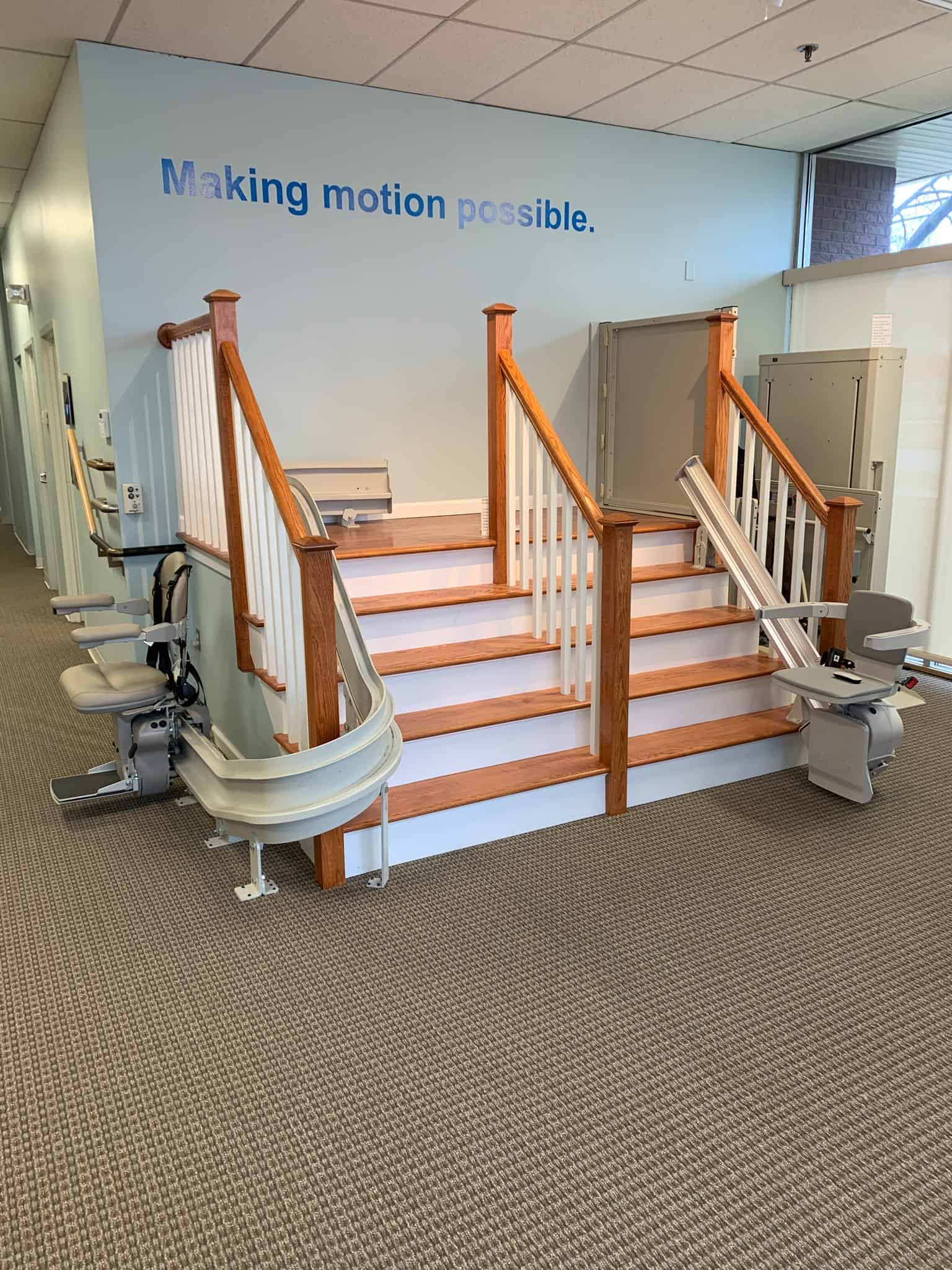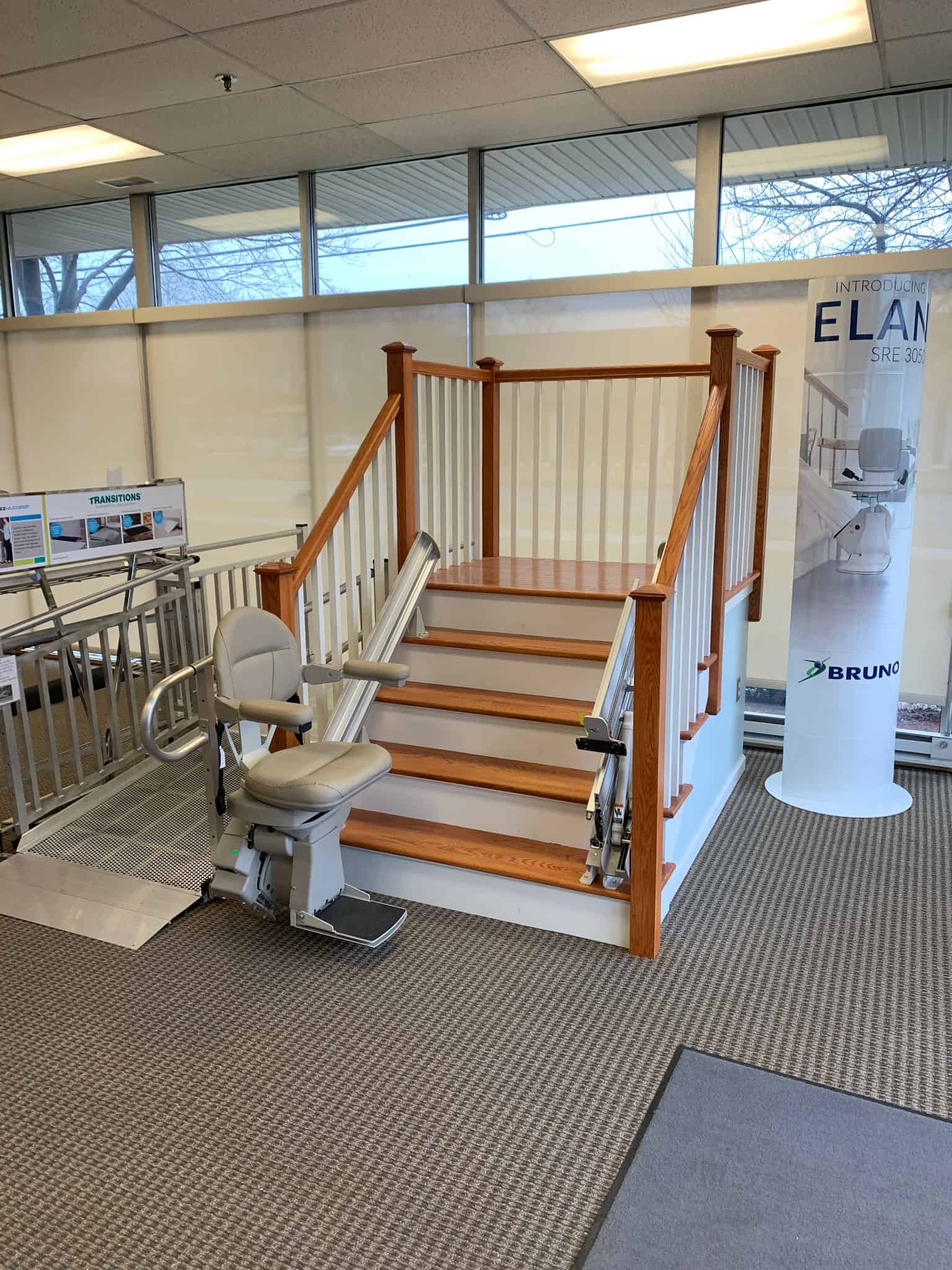 An installation of a stair lift can prevent a fall and enable you or your loved one to maintain independence at home!
Looking for more general information on stair lifts? Check out the Lifeway Ultimate Stairlift Guide!
Wheelchair Ramps
For veterans with limited mobility, even a couple steps or high threshold can pose a fall risk,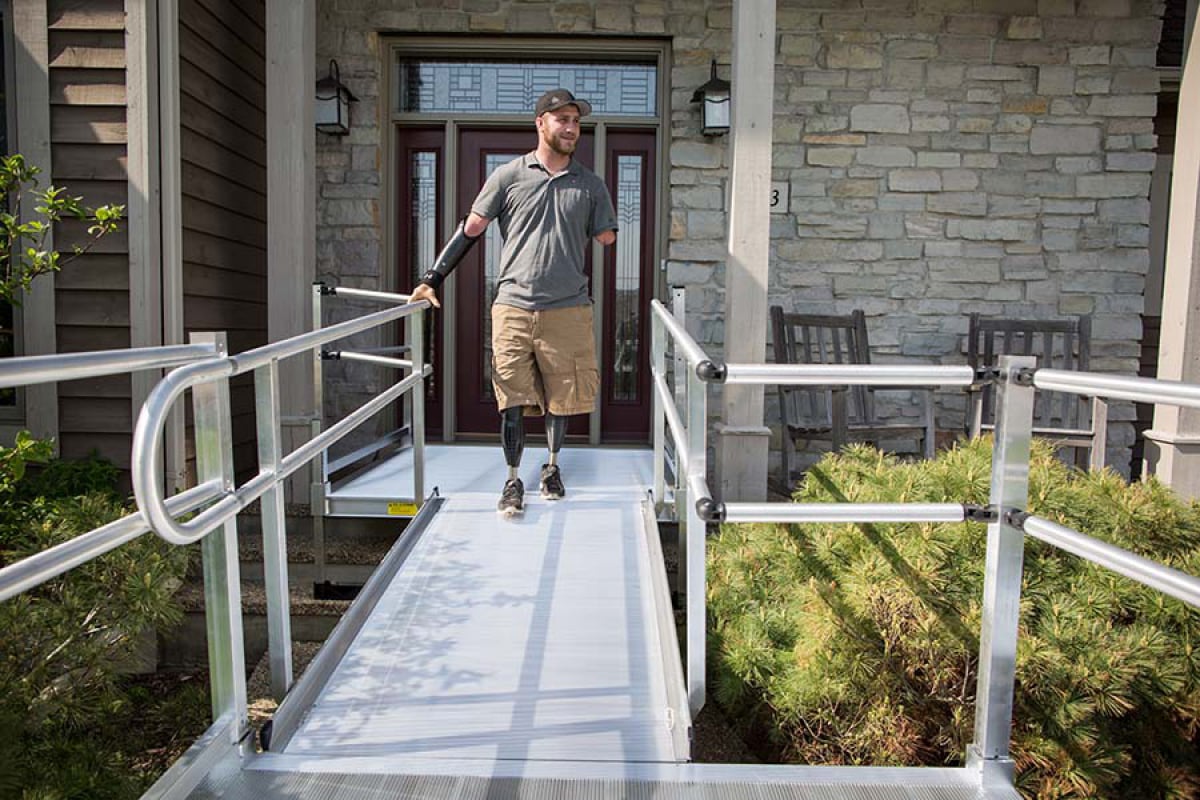 which can lead to a serious injury. There are multiple wheelchair ramp options available that can make your home safe and remove the risk of a fall. When it comes to ramp material, aluminum and wood are the most common. While both have their pros and cons, aluminum ramps are most often recommended because there are more options, and they require less maintenance.
Like the stairlifts and wheelchair lifts that we offer, the ramps we install are made in the USA! The installation of a ramp is one of the quickest and easiest accessibility solutions for getting in and out of the house. Our accessibility experts' years of experience will help you choose the best ramp for your specific needs
Wheelchair Lifts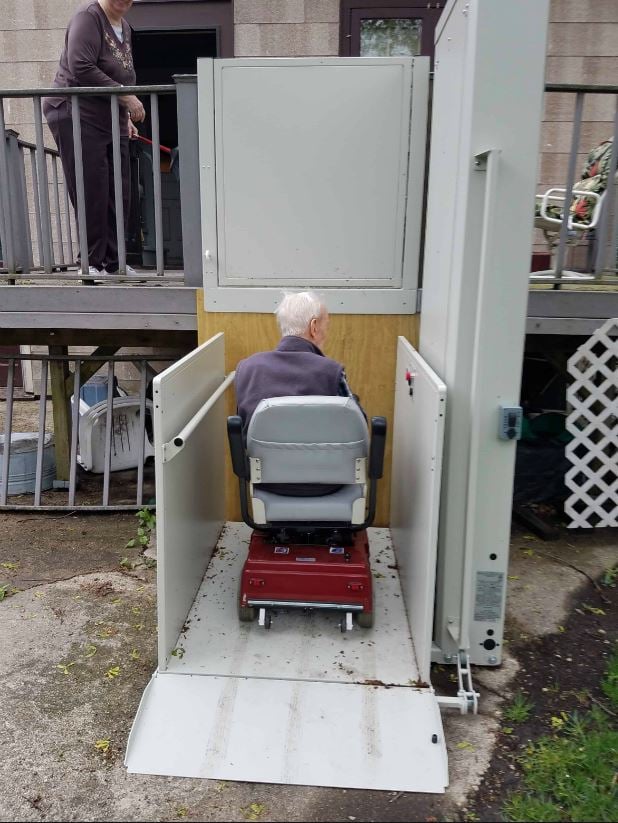 Wheelchair lifts provide a safe means of access for wheelchair or power chair users needing to travel between floor levels. It allows for veterans and others with limited mobility to regain access to a porch or deck, or main entry way of your home such as the front door or garage door, without sacrificing space. While these types of lifts can be installed indoors or outdoors, they are most often installed outside of homes in urban areas when space is limited.
The wheelchair lifts that we offer for veterans are also made in the USA and are installed by certified and professionally trained technicians. There are different sizes available, with weight capacities ranging from 500-700lbs. Lifeway provides service after installation and offers you the ability to see and test ride a fully operational wheelchair lift at our local showrooms (see image below of vertical platform lift in Lifeway Chicago showroom).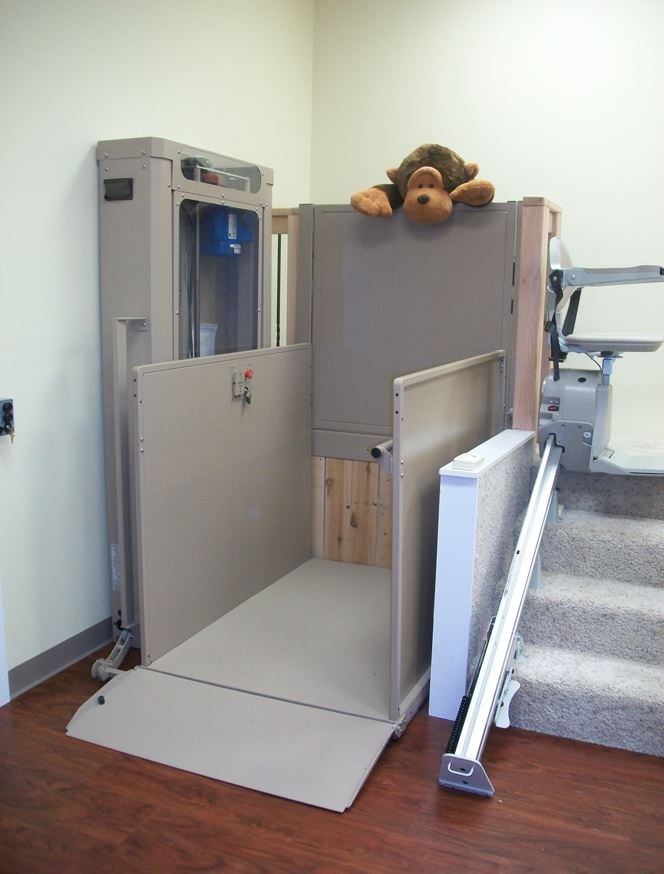 Lifeway's accessibility experts can help you determine which product will be the best for your specific needs!
Bathroom Safety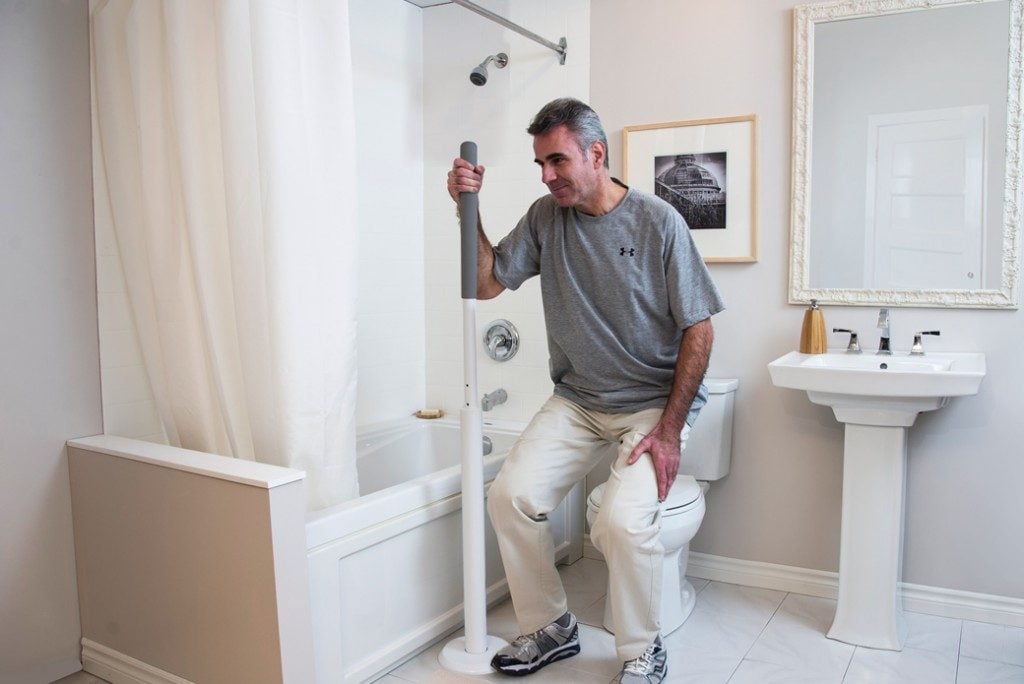 There is a variety of bathroom solutions that can help improve safety in the bathroom for those with limited mobility or reduced balance. For some, a simple solution such as a grab bar or safety pole may be all that is needed to improve safety when getting on/off the toilet or in/out of the shower or tub. However, others may need larger modifications such as a walk-in tub or accessible shower, and we can help with determining the best solution.
Regardless of your mobility challenges, the bathroom often creates a challenge that can make it difficult to feel like you are at home. We believe everyone deserves a safe and comfortable bathing experience and are happy to provide multiple solutions to ensure your safety.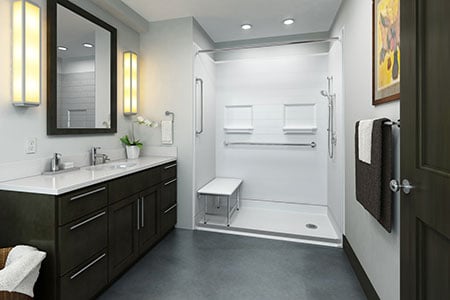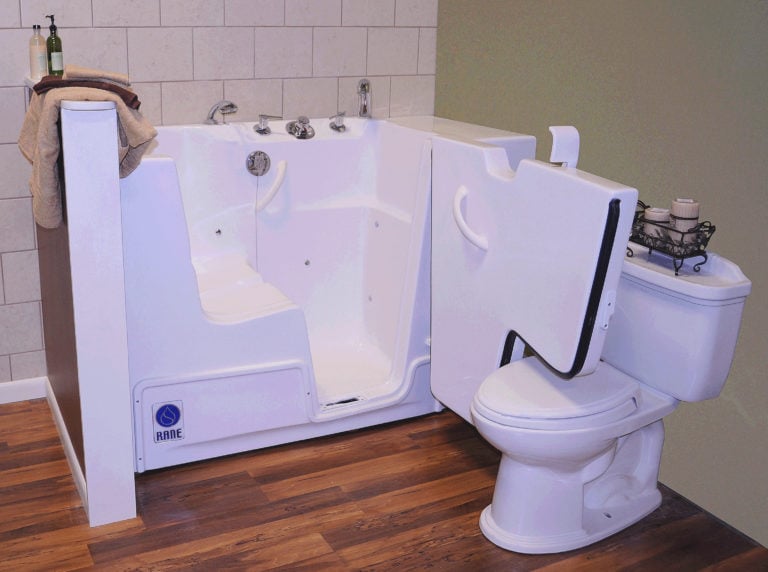 VA Funding FAQs
Below are answers to some of the most commonly asked questions that Lifeway receives from veteran customers:
1. Does the VA provide funding for stair lifts and wheelchair lifts?
Yes, but it depends on the type of grant that the VA approves, based on your specific needs.
2. Are there grants available for home modifications (i.e. stair lifts, wheelchair lifts)?
Yes, below are the VA grants that you may qualify for as a veteran:
HISA (Home Improvements & Structural Alterations)
SHA (Special Home Adaption)
SAH (Specially Adapted Housing)
For more information on these grants, visit the VA's page on disability housing grants
3. If I have never been to the VA before, can I still receive funding for these modifications?
There still may be an opportunity to qualify for this funding. You will need to call the local VA hospital to schedule an appointment with a doctor.
4. If I have private insurance, will the VA still cover accessibility modifications?
Yes.
5. If I did not serve during a war-time conflict, will the available grants from the VA still apply to me?
Yes, the grants apply to any veteran with an honorable discharge that served in any of the military branches.
6. How do I determine if I qualify for a VA accessibility modification grant?
The 1st step is to call your VA hospital to make an appointment with a VA doctor.
For more information on any of the information provided above or to schedule a free consultation, please contact us. Lifeway is proud to have provided accessibility solutions to so many veterans in the areas that we serve!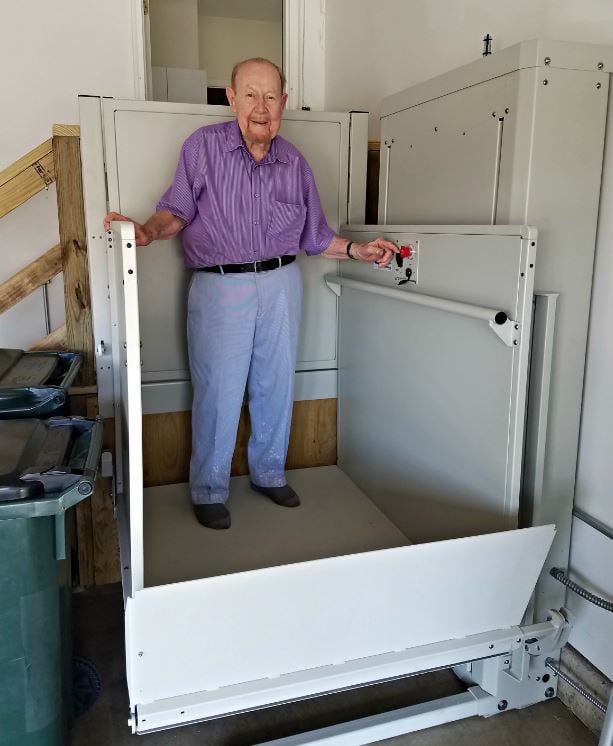 ---
---