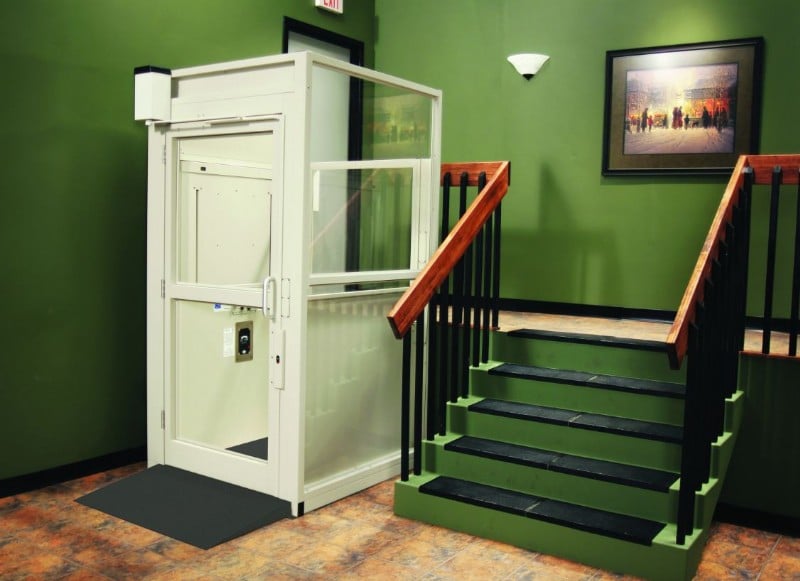 Commercial Vertical Platform Lifts
Bruno Commercial Vertical Platform Lift
Bruno commercial wheelchair lifts may be the perfect accessible solution for your church, school or business. Sometimes all you need to conquer is a couple steps—up to the stage, the podium, or the main lobby.
Features
750 lb lifting capacity
Provides access up to 14″
Keyed, constant pressure controls on platform with emergency stop switch and audio/visual alarm
Bottom platform safety panel
42″ high, solid, side platform walls
Top & bottom limit switches
Top and bottom final limit safety switch
36″ x 48″ non-skid platform
Automatic folding ramp (unenclosed unit only)
Fixed ramp (enclosed and 3-gate)
Power Systems – Models VPL-3353B & VPL-3375B: ½ hp DC motor (includes 17AH batteries)
Reliable, quiet ACME screw-driven DC motor with full-time battery operation offers access even in a power outage
Options
Top landing gate includes call/send controls with key and mechanical or electrical interlock
A Cold Weather Package, tested to improve performance down to -20º F
"Stay-dry" Platform Canopy
Several platform sizes and configurations
Push button or Paddle Controls on the platform
Push button or Paddle Landing Controls
Flush mount doors with interlock
Power assisted door/gate operator
ADA compliant telephone kit
Platform gate
Plexiglass panels: clear or bronze
Secondary grab rail
---
Gallery
---
Improve your mobility. Request a free home assessment today!