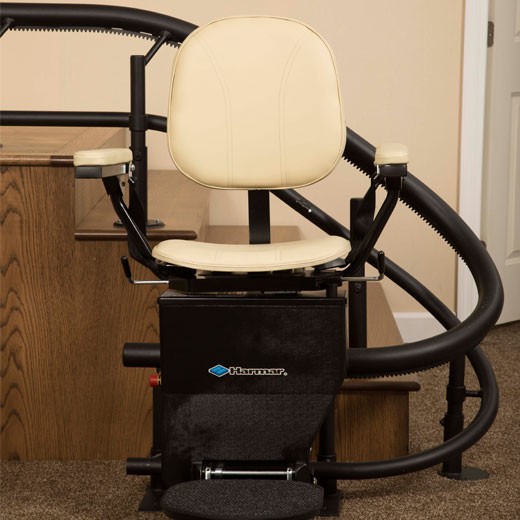 Curved Stair Lifts
Harmar Helix Curved Stairlift
The Harmar Helix stair lift is custom designed to fit staircases with curves, turns, or intermediate landings. Built with a durable, dual-style steel rail, and finished by experience craftsman, the helix is engineered to provide an exceptionally smooth ride up and down any staircase. The Helix curved stair lift is perfect for staircases with standard 90 or 180 degree turns, and for spiral staircases, and multi-story homes. Restore your independence at home and continue to enjoy the local community you've grown to know and love with the addition of a Harmar Helix curved stair lift.
Features
Weight Capacity: 350 lbs.
Narrow profile leaves ample space on the staircase for foot traffic
Adjustable arm width for maximum comfort for all stairlift users
Quiet, smooth, and comfortable ride
Advance bending technology allows for smoother turns
Comfortable and supportive seating
Charge stations at top and bottom landing for continuous charging while the lift is not in use
Light chassis and simple to connect rails for easy installations
1-year warranty on labor by Lifeway Mobility, in addition to Harmar's warranty on parts
Options
Customizable rail color and fabric options
Wider seat option
Additional call/send remotes
Additional charging stations
Downloads
---
Improve your mobility. Request a free home assessment today!