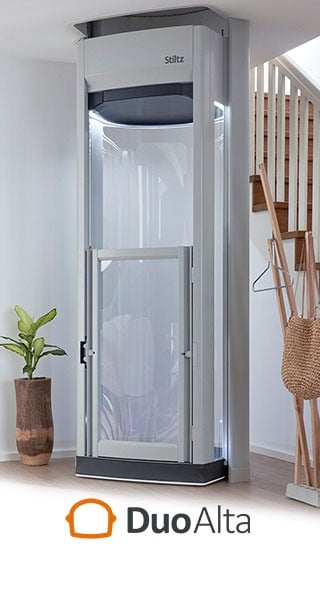 Through the Floor Home Elevators
Stiltz Through-Floor Home Elevator
Stiltz Home Elevators are attractive and practical, and they can fit easily into most any home. These residential elevators are designed to help anyone with mobility challenges overcome stairs and levels in a home. The innovative and unique design of these home elevators make them an affordable alternative to a stair lift.
Are stairs and levels posing a challenge to your everyday life?
Consider a Stiltz home elevator, a game-changer for those with mobility challenges. With its sleek design and advanced features, this residential elevator is here to make your life easier and more convenient.
With its sleek design, easy installation process, and a range of practical benefits, say goodbye to stairs and levels - say hello to a more accessible and convenient living experience!
Features & Benefits
Small Footprint: The Duo Alta footprint = 8.5 square feet. The larger Trio Alta footprint = 15.5 square feet and can accommodate a full-sized wheelchair.
Full Safety Features: Far safer than stair lifts. The lift will not operate when the door is open. Proximity sensors stop the lift if there is something in the path of travel. A battery backup lowers the lift in the event of a power outage. The floor lid is safe to stand on. And a key lock will prevent unauthorized use.
Quiet Operation: Powered by a self-contained, electric drive motor that is hidden away in the lift car roofspace. No noisy oil hydraulics or vacuum systems.
Fast Installation: Standard installation can take as little as one day, once the ceiling aperture (if needed) has been created by one of our licensed technicians.
Low Power Consumption: Plugs into a single, standard electrical outlet — just like any other appliance — and uses very little power when running.
No Supporting Walls Required: Stiltz home elevators are self-supported by a structure of two parallel, vertical rails — or "stilts" — that bear the entire load of the elevator. No additional burden is placed on the structure of a home.
Self-Contained Drive System: Unique, self-contained drive system is cleverly concealed in a single space within the roof area of the lift car. There's no need for a machine room or separate oil pump.
Wide Entry: Wheelchair users will find the wide entry and exit points of the Trio Alta particularly useful when maneuvering their chair in confined spaces.
Easy Access: For safety and comfort, the Trio Alta comes with a gently-angled ramp to enable more convenient entry for wheelchair users, and those unable to manage steps.
Tech Specs
Specifications
Stiltz Duo Lift Home Elevator
Stiltz Trio Lift Home Elevator (for wheelchairs)
Drive
Roped drum, braked gear motor drive
Roped drum, braked gear motor drive
Power Supply
Dedicated 220V AC line required, like most major appliances
Dedicated 220V AC line required, like most major appliances
Maximum Load
375lbs / 2 persons standing or 1 person sitting
Max. 550 lbs* / 2-3 people or a full-sized wheelchair
Maximum Travel

177 – 3/16″ (14.77 feet)

Up to three floors, with a maximum of 236″ (19.66 feet) of travel;
(230″, 19.16 feet, max recommended)
Entrance Security
Half height light curtain with obstruction sensor
Half height light curtain with obstruction sensor
Maximum Speed
5.9 inches / second
5.9 inches / second
Warranty
2 year parts
2 year parts warranty
Rope Diameter
6mm galvanized steel rope
6mm galvanized steel rope
Additional Sensors
Out of balance; overload; top / bottom obstruction
Out of balance; overload; top / bottom obstruction
Lighting Type
2 x 3w LED downlights
4 x 3w LED downlights
Landing Call Stations
2 wireless remote controls
2 wireless remote controls
Installation
Typical installation takes one day after home modification is complete
Typical installation takes two days after home
modification is complete
Operation
Hold-to-run controls
Hold-to-run controls
Configuration
Single entry door or ThruCar (Duo Classic only)
Single entry or double entry / Thru Car
Free Brochure
Download Brochure
Download Brochure
Why a Stiltz Home Elevator / Lift?
It's safe: A battery backup lowers the lift in a power outage. Sensors stop the lift if something is in the way, and a phone is available in case of an emergency.
It's versatile: With different models and sizes, Stiltz home elevators fit one to three people – or even a wheelchair.
It fits just about anywhere: Install your lift through the floor, in a stairwell, in a closet, or up to a landing. No supporting walls required.
It's quiet: The electric drive system is very quiet. No noisy hydraulics or vacuum systems are involved.
It's an extra pair of hands: Comfortably and confidently move laundry, suitcases, vacuum cleaners, and even pets.
---
Stiltz Through-Floor Home Elevator Gallery
---
Improve your mobility with a Stiltz home elevator.
Request a free home assessment today!
Request an Assessment