Staying Independent at Home
Posted on by Chris Frombach
Many of us know of someone, or ourselves, dealing with issues that may cause them to have difficulty functioning in their current home environments. Dorothy Gale said it best, "There's no place like home." Boy, was she right! We feel most comfortable in the place we call home and nobody wants to be forced to leave because of physical issues.
Luckily, there are easy modifications that can help you regain accessibility and continue living independent in your own home.
Stair Lifts
Many houses have at least one set of stairs in them. With mobility issues, navigating them can be a challenge. While you must keep the stairs in a multi-level home, there are a variety of stair lift configurations out there, including curved and straight versions. There are also stair lifts that can accommodate a narrow staircase and weatherproof stair lifts for the outdoors. Most stair lifts attach to the tread, as opposed to the wall. Therefore, they will not damage your home's walls. When not in use, they tuck conveniently out of the way to avoid a tripping hazard.
Accessibility Equipment
Along with mobility issues may come problems with flexibility or strength. There are countless pieces of adaptive equipment out there that can assist:
Bath Safety Products
The bathroom is the one room in the house that has a great need for adjustments if you are disabled.
Raised toilet seats come in many different styles, including various heights and optional arms. These can greatly assist in standing up from the toilet.
Choosing a pedestal-style sink or completely open-bottom sinks over a vanity-style sink can help wheelchair users access the sink.
Various types of tub seating are also available for easier access. Some modifications, such as a walk-in tub cut-out, don't require a major remodel and utilize your existing tub. For a higher cost, you can convert your tub to a roll-in shower or walk-in tub to help you continue showering independently.
There are also many handles and grab bars available in multiple sizes, colors, and finishes that can help when you have good arm strength yet struggle with balance deficits.
Kitchen Modifications
Cooking or baking is a source of enjoyment and relaxation, but these tasks can be difficult with limited mobility.
Pull-out drawers installed in cabinets can help you reach items that are far back. Some drawers even elevate as they come out. Removal of cabinet doors in favor of open design can allow easier access for wheelchairs. Pay close attention to cabinet and drawer knobs and find ones that you can use easily.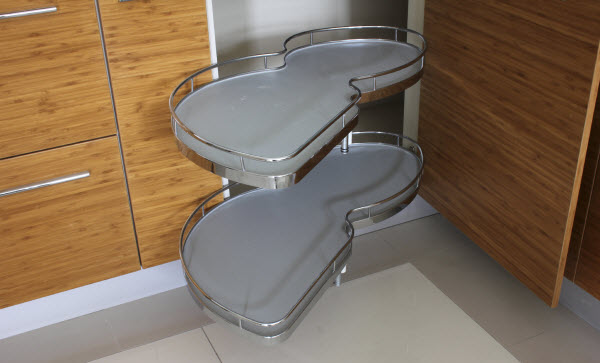 Depressions and holes can be cut into cabinets and cutting boards to allow holding of bowls. One of the most underutilized items is non-slip matting, which will keep kitchen items from mobbing around. It's inexpensive and can be purchased at any HomeGoods store.
These are just a few of the many products and modifications that can help you remain independent at home. With some research and minor adjustments, you can easily make your home a safer and more accessible space!
Interested in a free home evaluation to ensure every room in your house is safe and accessible? One of our trusted technicians would be happy to assist.
---
---
---
Improve your mobility. Request a free home assessment today!