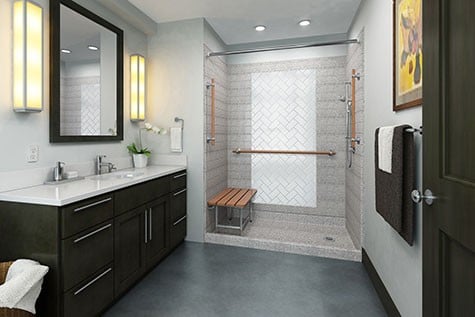 Showers & Bath
Accessible Showers
Easily replace your old tub or shower with a fully accessible roll-in shower for enhanced independence and safety. Lifeway has over 400 roll-in shower model combinations available that we can professionally install within days! The barrier-free shower that's right for you will depend on your needs, available space, and your home's style.
About Accessible Showers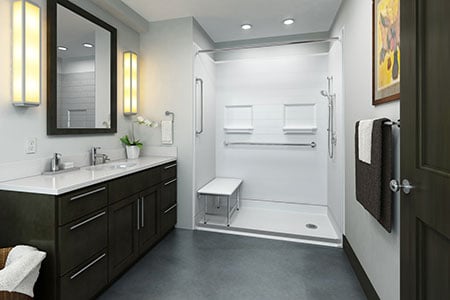 A wheelchair accessible shower creates a beautiful space while providing freedom and security to individuals with limited mobility, or homeowners wanting to age in place. Roll-in or barrier-free showers are curb-less showers and are easier to get in and out of than conventional showers or bathtubs. The floor of a roll-in shower is level with the bathroom floor, eliminating the step that is often difficult to navigate.
Let Lifeway help you to create a true barrier-free shower that is fully accessible, attractive, and comfortable for people of all abilities.
Roll-In Showers:
Create independence without sacrificing safety
Allow for more rolling space in the bathroom
Makes a smaller bathroom much more accessible
Roll-In Modular Shower Solution #1 – The Need It Now!
There's no need to wait for your new accessible shower. Lifeway's most efficient shower solution is built with a plywood surround and a gel coat finish. These barrier-free showers are durable and barrier-free.
Includes:
Slip-resistant floor
Telescoping glide bar with handheld Delta shower
Heavy-duty shower curtain liner & shower rod
Water dam
Two grab bars, two shelves and soap niche
Wall-mounted shower chair
Color: White
Roll-In Modular Shower Solution #2 – The Need It Now! With Color Options
This package comes with all the same features, durability and convenience of Package #1, but with a range of versatile color options. After selecting your color choice, your new shower will ship in 1–2 weeks and can typically be installed shortly after, depending on availability.
Includes:
All options in the

Need It Now! package
Removable threshold
Color choices: White, Off-White, Bone, Almond, Biscuit, or Ice Grey
Roll-In Modular Shower Solution #3 – The Designer Series
For the most attractive shower solution, choose a Designer Series shower. Starting with a barrier-free or roll-in shower from Best Bath, we create a beautiful, spa-like shower oasis. Choose from 60 x 32″ or 60 x 30″ sizes.
Includes:
All options in the Need It Now! With Color Options package
Wall-mounted teak shower chair with teak bars
Designer molten stone color upgrade
Tile Recess: 3 tiles down, pattern on all 3 surrounds, or a recessed square pattern on back wall
For more information on our standard or best bath roll-in showers, please contact us.
---
Gallery
---
Improve your mobility with an accessible shower.
Request a free home assessment today!
Request an Assessment