Will a Stair Lift Track Create a Tripping Hazard?
Posted on by Lifeway Mobility Technician
Lifeway Mobility customers will often ask: "I have a small hallway or door at the bottom of the stairway. Will the stair lift track extend into the hall and potentially create a trip hazard?"
In order to know if a stair lift installation will pose a safety concern for you, let's review how a stair lift is installed. If our standard installation method poses a safety risk, our technicians will come up with alternate options.
Typical Stair Lift Installation: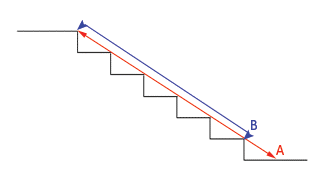 In order to ensure your safety, we install a stair lift so that you never get off or on a stair.
The stair lift is mounted so that you get on and off the lift on the top landing or bottom floor with your feet placed firmly and securely on the ground. In order to support this installation, the stair lift track must extend beyond the stairway (See Line A in the diagram to the right).
During the installation process, we make sure that the track extends at the same angle of the stairs out past the nose of the first step (approximately 14-15 inches).

If this track extension causes a trip hazard in any way, one of our certified accessibility consultants will provide a few options to address your concern. The two images below show two different installation examples: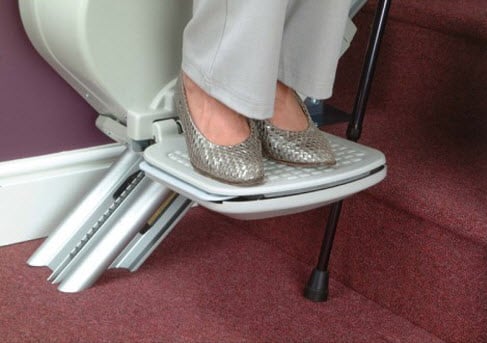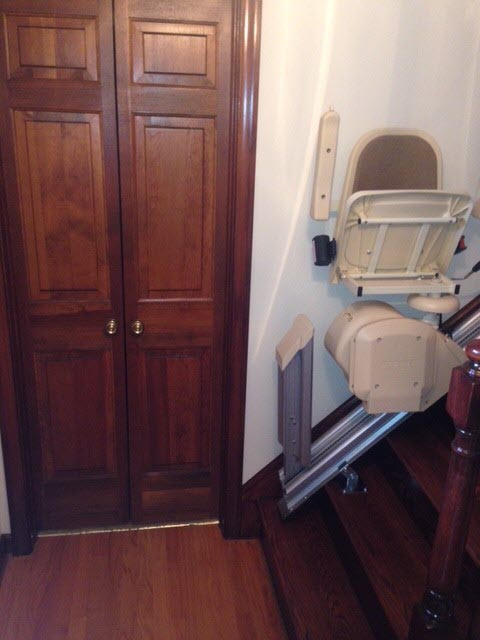 For example, the above manual or power folding track rail can be used to fold out of the walkway. This ensures that when the stair lift is not in use, the bottom portion of the track folds up and away from the floor, eliminating any potential safety hazard for those walking in the nearby hallway or doorway.

Safety is most important when designing and installing mobility solutions for your home. That's why each of our technicians ensure the proper stair lift design is used depending on your stair's architecture.
We offer free home assessments so that our technicians can determine which style of stair lift is best for your home.
---
---
---
Improve your mobility. Request a free home assessment today!