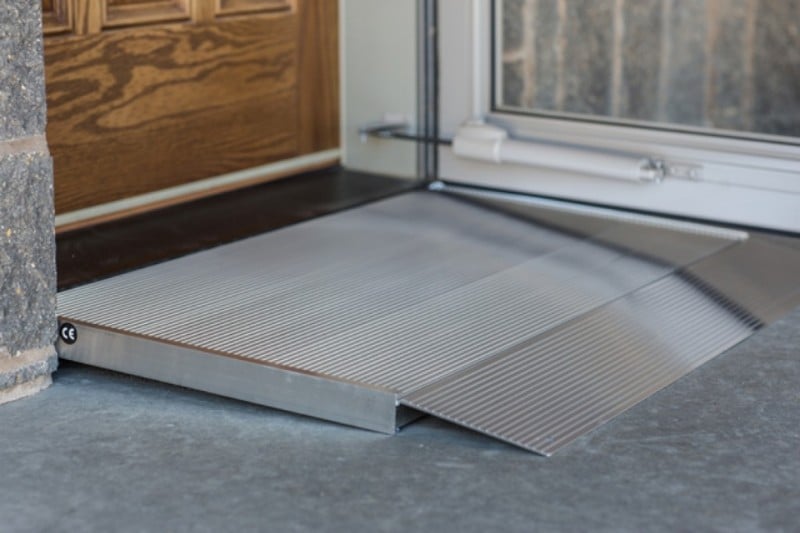 Threshold Ramps
Angled Entry Ramp
The Angled Entry Ramp is made completely out of high-strength aluminum with an extruded tread surface, offers adjustable legs with swivel feet, and is completely free-standing.
Available Sizes
This is a favorite ramp because of its adjustability. Offered in 12" and 24" sizes, the 24" is by far the most popular. Since the feet are adjustable, you can take care of a wide range of threshold heights with a single product (in the case of the 24" the range is from approximately 1 ¾" to 4 ¾").
Features
Extruded Tread Surface: The extruded tread surface is slip-resistant, meaning users are safe to use in any weather.
Adjustable Legs with Swivel Feet: The adjustable legs with swivel feet allow for 2 inches of vertical adjustments. The adjustable legs adjust independently, making the Angled Entry Ramp the perfect solution for uneven surfaces.
Free-Standing Portable Ramp Design: The free-standing portable ramp design is ideal for entryways with doors that swing both in and out.
High-Strength Aluminum Materials: The Angled Entry Ramp is made completely out of high-strength aluminum which will not rust or corrode over time.
Specifications
Take a look at the free-standing portable ramp specifications below and contact us if you have questions!
Specifications
12"
24"
36"
Made of aluminum
Slip-resistant surface
Usable size (L x W x H)
12 x 36 x 1 ¼"
24 x 36 x 2"
36 x 36 x 3.5"
For wheelchairs & scooters
Usage guidelines*
1.375 – 2.75"
1.687 – 4.375"
3.312 – 5.875"
Weight**
5.15 lbs
10.4 lbs
15.15 lbs
Weight capacity
700 lbs
700 lbs
700 lbs
Pricing
$135
$210
$295
*Consult your equipment's owner guide for proper degree of incline. Never exceed its recommendations.
**Weights are approximate and may vary.
---