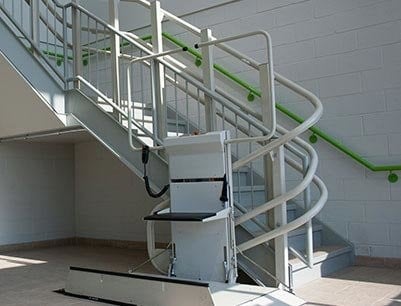 Commercial Inclined Platform Lifts
Savaria Omega Commercial Inclined Platform Lift
An alternative to an commercial vertical platform lift or LULA elevator, the Omega inclined plafform requires little to minimal construction. The Savaria Omega is designed for staircases with curves, turns, and those with landings in between two or more flights of stairs.
The Omega inclined platform lift is designed for access over stairs with multiple levels, curves or intermediate landings. This lift carries a passenger with wheelchair up and down stairs by traveling along a rail system mounted alongside the stairs.
Features
550 lb lifting capacity
Travel up to 164′
An affordable alternative to an elevator or vertical lift: Provides access without significant renovations.
Space-saving design: Sleek design with a foldaway and optional out-of-the-way parking that harmonizes with any building design.
Machine-room-less: Motor is unobtrusively installed at the top landing, with the controller located remotely keeping the visible components to a minimum.
Other standard features: Constant pressure buttons to move the lift up and down, pedestrian warning light and movement alarm, straight through the platform, power folding platform, pendant control, fold-down seat with 330 lb. capacity, modular rail system.
Standard finish options: Lightest gray.
ADA-compliant platform: Optional ADA-compliant platform, ideal for public accessibility requirements.
---