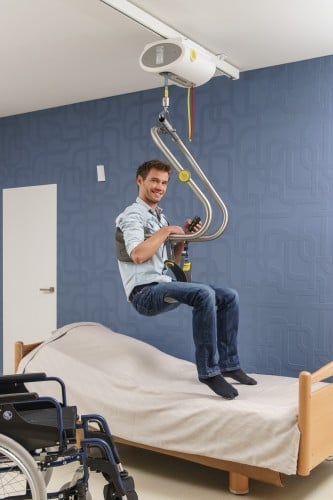 Ceiling Lifts
SureHands Ceiling Lifts
SureHands Ceiling Lifts make transfers within a home easy and safe for people with mobility challenges. Regain your independence. Improve your lifestyle. Options are plenty with various motors, body support systems (including slings) and the unique track system. Explore the options to build your ceiling lift systems so that you can soar through the air as you move from room-to-room in one ride.
Body Support Systems
The Body Support
The SureHands body support is a device that attaches to the motor of a ceiling lift. It lifts in the same way as a caregiver would lift a person. It supports the body in a small number of places and provides great comfort and safety.
Universal and safe: The body support works on a hinge system. It embraces and secures the upper body. It self-adjusts to an individual's body making it suitable for adults and children.
Hygienic: The body support is made from stainless steel and synthetic material. It is maintenance free, except for a wipe down as needed. It is also water tight.
Comfortable: Great comfort for the user and caregiver. The soft chest supports (with optional cushions) secure and stabilize the upper body while the ergonomic thigh supports steady and maintain the lower body.
Versatile: The body support is compatible with SureHands ceiling lifts as well as mobile, wall-mounted and floor-fixed lifts.
Thigh Supports
Thigh supports are essential when lifting someone using a body support as they evenly distribute the body weight. They fit securely under the thigh and ensure that the body is perfectly supported when lifted in a sitting position. They are available in different models and sizes, and with a smooth or slip-proof coating.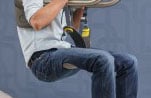 Alternative Slings
Alternatives to the body support system are a wide array of slings to fit most every circumstance. People who are unable to control their head or who are otherwise constrained for use of the body support will benefit from a sling.
Comfortable, strong and durable: The slings are available in mesh, solid fabric, parachute fabric or PVC. They are machine washable and tumble dryer safe. They are available in various sizes and models and are latex-free.
For smooth transfers: Slings make transferring smooth from your bed, bath, toilet, wheelchair and shower. They can be used for transfers in lying or sitting positions, and are available with or without head support.
Types of slings:

Standard/contour

for universal use,

DayLite

for sensitive skin,

bariatric

,

hygienic

for toileting,

bathing

(made of PVC) for quick drying in wet areas,

amputee

for people with an amputation above the knee, and

walking

for gait training and ambulation.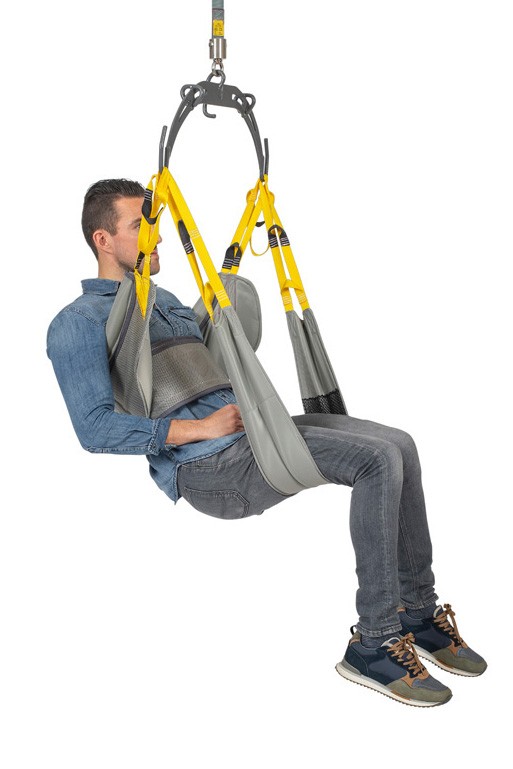 Spreader Bar
When the SureHands body support is inappropriate or contraindicated, lifting and transfers can be done with a sling. The two and four point spreader bar attaches to the sling to give a caregiver the opportunity to perfectly distribute a person's body weight for maximum comfort and functionality.
Perfect weight distribution: The four point spreader bar system allows a person to be positioned in a reclining, sitting or inclined position. The spreader bar is bow shaped so that a person's head is out of the way during lifting.
Quick and safe to put on: The spreader bar and sling are quick to put on and remove, saving time and energy for the caregiver.
Alternative Slings: Whenever the Body Support systems is not feasible, there are various slings...
Types of spreader bars:

Combi

uses hoops to attach to an eye ring,

standard

attaches directly to the eye ring, and the

classic

spreader bar.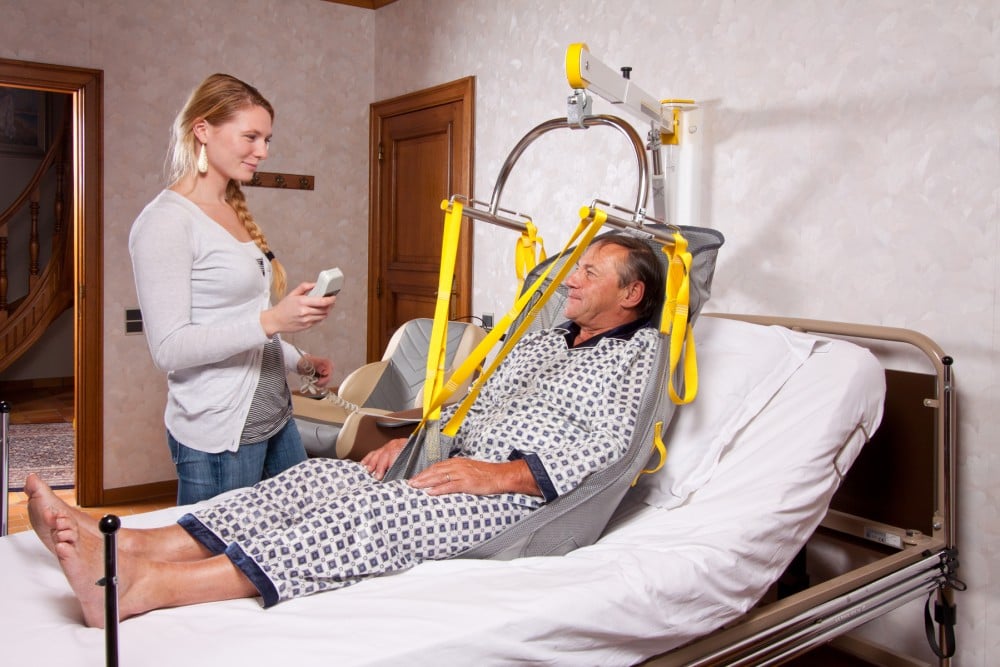 Motors
The motor is the work horse of a SureHands ceiling lift system. There are various models to chose from. Motors are capable of lifting a person from the floor, a chair, a bed, and the shower or bath. They accommodate the body support or slings.
Motors glide on a track system to allow a rider to transfer between rooms in one transfer. It some cases, it is possible for a rider to conquer transfers independently, without the help of a caregiver.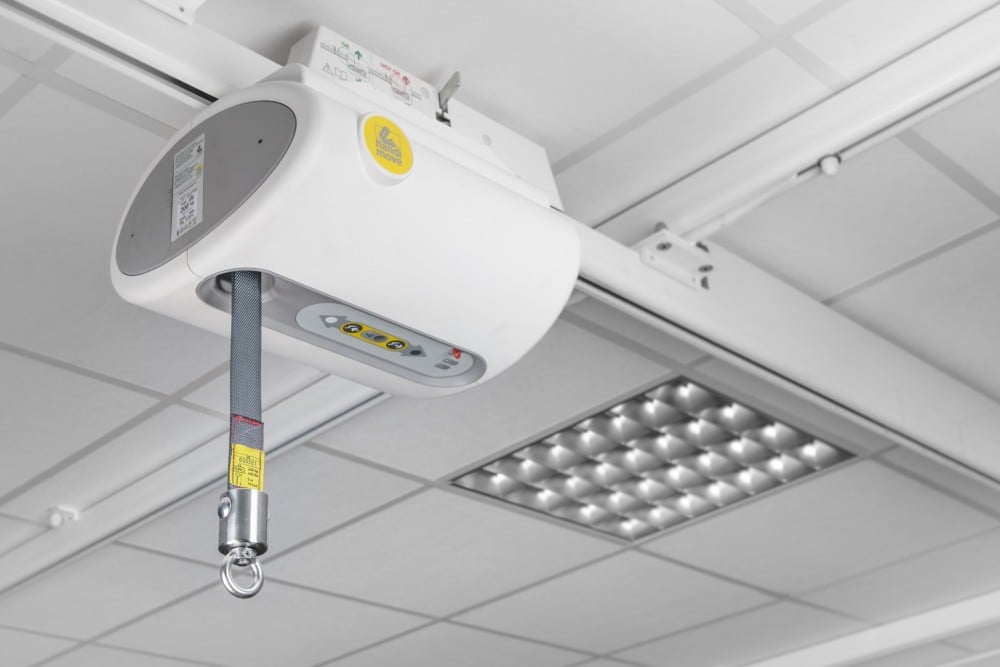 Ceiling Track Systems
The track system is what the motor of a SureHands ceiling lift glides on. There are many types of tracks that can be designed to fit most any home. Tracks can be installed on the ceiling or wall to wall. Shown here are some of the most common components of a track system.
Ceiling Track Rails
Ceiling-mounted track rails are a discreet and efficient transferring solution. They can attach to vaulted ceilings as well. The tracks can run from room-to-room, can be straight or curved to wind around walls and entryways.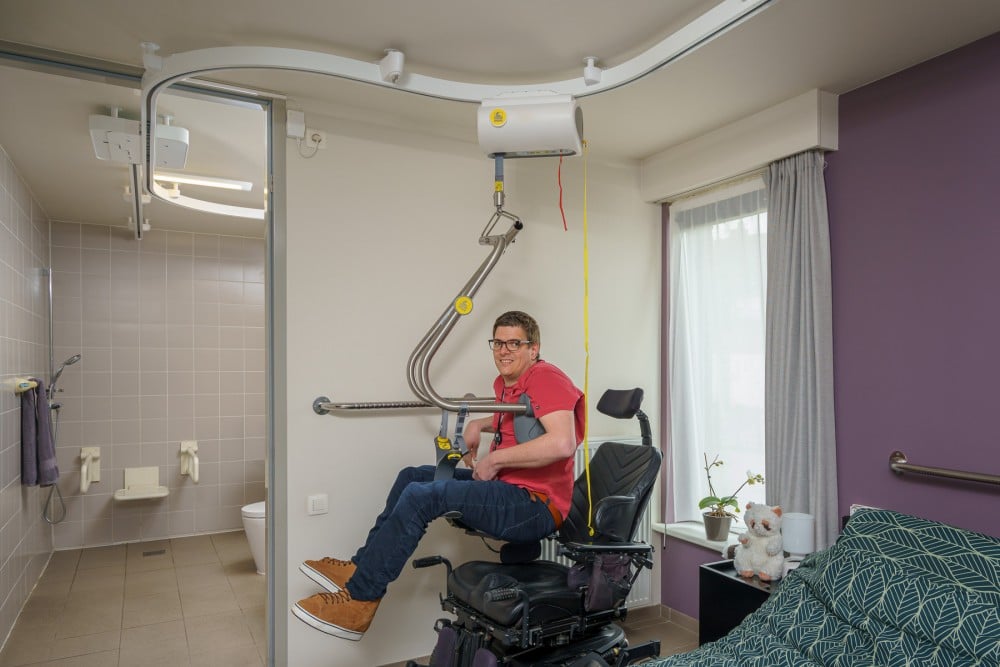 Turntable
A turntable is a pivot point that allows a ceiling lift motor to rotate to change the direction a person is being transferred to. It allows for smooth 4 way transfers.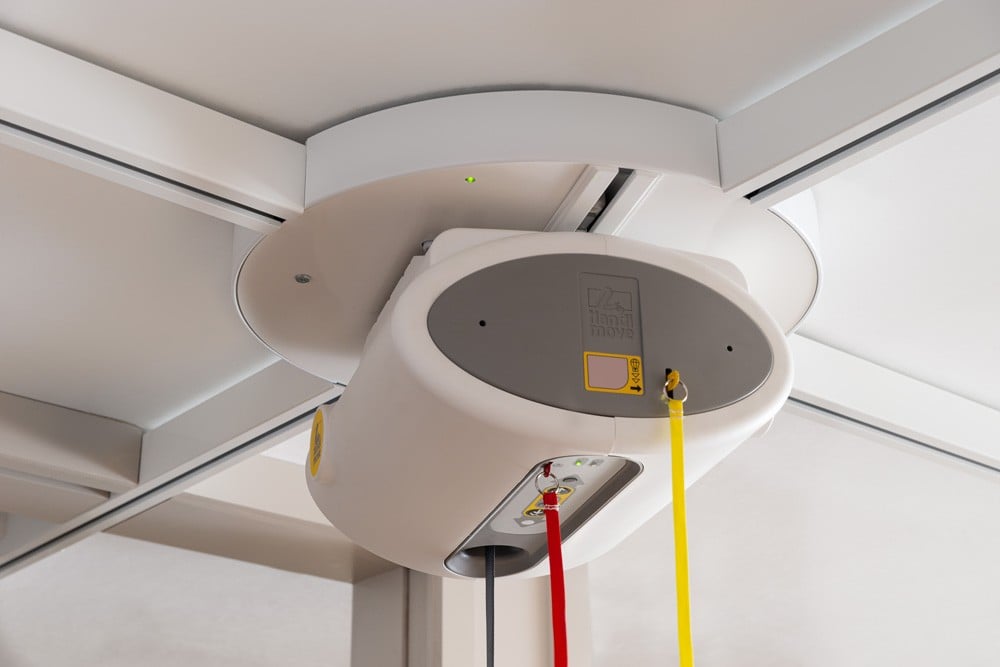 Freedom Bridge
The freedom bridge is a free-standing rail system that does not require wall or ceiling modifications. It is perfect for an apartment or a condo, adjusts to fit the space available. It can be a temporary solution making it possible to move it, or it can be permanent.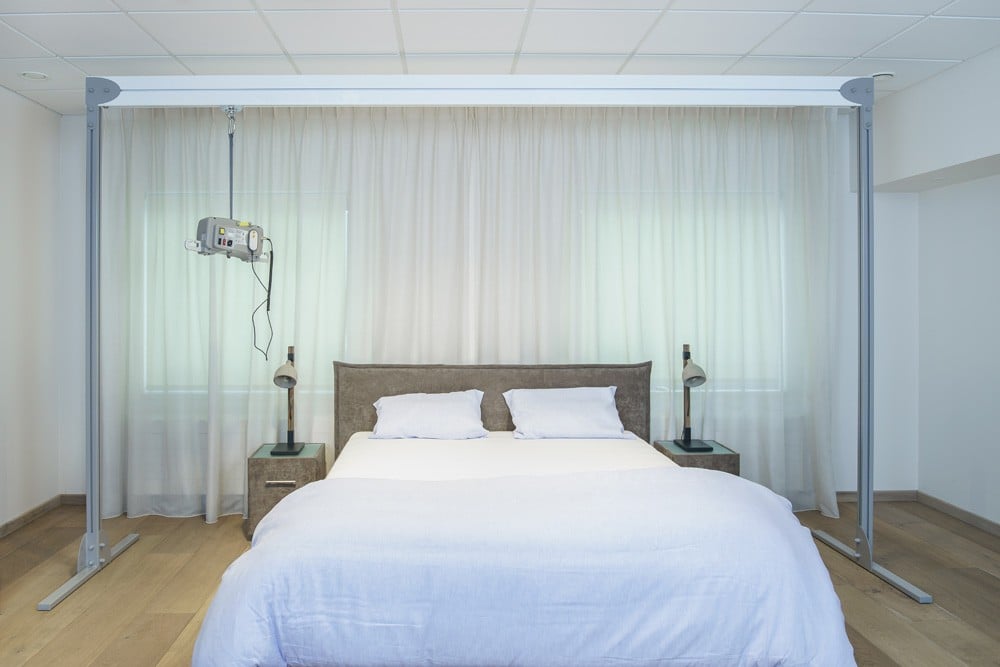 Downloads
---
Gallery
---