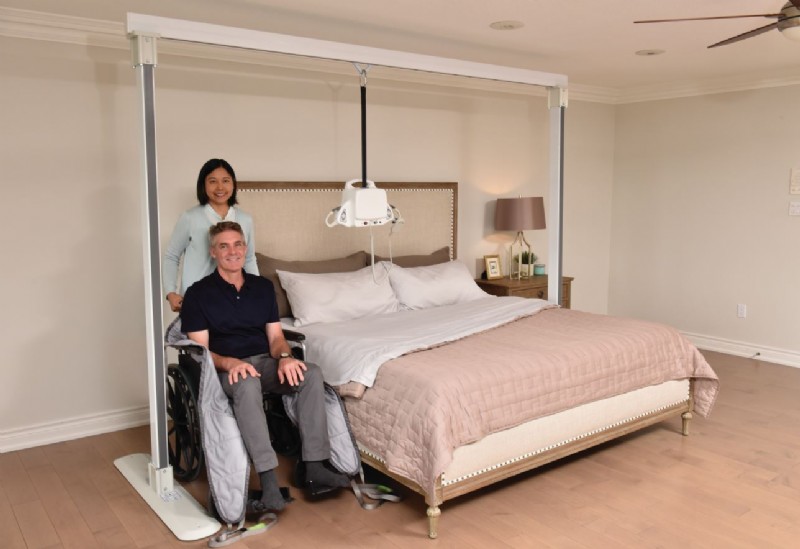 Ceiling Lifts
Savaria PL Portable Ceiling Lift
The Savaria portable ceiling lift was designed for those that need assistance from getting from bed to wheelchair. It was built from the ground up with a lithium-ion battery system and weighs significantly less than the lifts made by other manufacturers in the industry. Whether you are a patient, caregiver, or the Savaria portable ceiling lift provides multiple benefits and helps prevent the risk of injuries during transfers.
Gantry for Portable Lift
Transferring from the bedroom to a wheelchair, or bedroom to the bathroom can be very difficult for some. However, when paired together, the installation of Savaria Gantry and the PL portable lift offer a perfect solution for short term transfer needs or when a fixed ceiling lift track is not feasible. The use of this system reduces the risk of injury for the caregiver and provides a safe and secure transfer for the person in need of assistance. Easy to assemble and dissemble, the Gantry system allows for quick installation and provides maximum flexibility.
Advantages of Lithium-Ion Battery Power
Longer battery lifespan and less charge time: Only 15-30 minutes of charging required when the battery is fully empty.
50% more lift cycles per change compared to industry average: Up to 80 lift cycles on one charge.
Fewer battery replacements: 5-year battery life (estimated) with normal use and no deterioration from constant charging of the battery.
Durable & reliable: Service calls for battery replacements lower the cost of owning the lift.
Environmentally friendly: No lead acid disposal concerns.
Small and light: Easy to carry, yet very powerful, with two available weight capacities – 286- or 440-lb. weight capacity models.
Features
Safe & easy transfers to and from wheelchairs, beds, and bathrooms.
Easy-to-use up & down commands.
Fast and powerful: Lift travels 30% faster than competitors' lifts, even when used at a higher weight capacity.
SureClip system opens outward to make the clip easy to push, which reduces the risk of common misuse issue.
Great for condos or as rentals when fixed lifts are not a viable solution.
Accessories
Trolley attaches to the track of the ceiling lift, and acts as wheels for the lift mechanism. You need at least one trolley for each track.
Extendable Reacher assists in hooking the portable ceiling lift to the trolley.
Track Turntable: A great addition when two crossing tracks need to be connected together to allow for the lift to travel freely between both routes throughout the home.
---