Ceiling Lifts in Northern CO & Wyoming
Ceiling lifts allow for safe transfers throughout the home and can make life easier for patients and caregivers. Overhead ceiling lifts are mounted on a permanently installed rail system and are an ergonomically ideal alternative that eliminates the need for manual lifting. This allows caregivers to always choose the optimal working stance. A ceiling lift system is very easy to maneuver, provides a large lifting area, and enables safer transfers throughout a home for disabled individuals.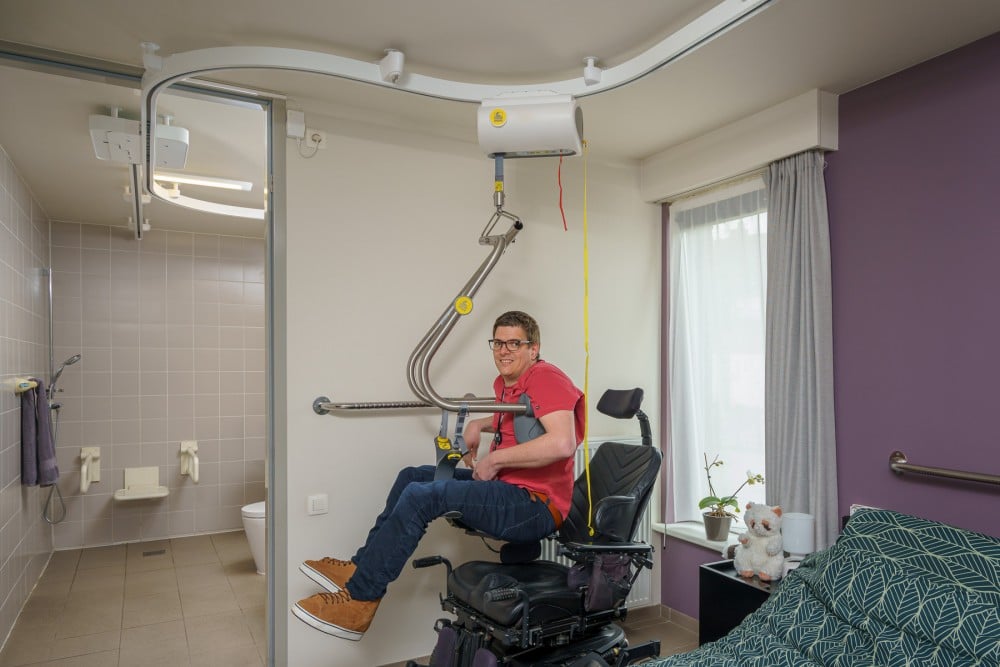 Lifeway Mobility offers a wide selection of ceiling lift units for all situations, settings and users, offering different lifting capacity, features and functionalities. There are types of ceiling lift units available for a track system:
fixed ceiling lift system
portable ceiling lift
A fixed ceiling lift motor is a permanent fixture on the rail with a weight capacity of up to 1,000 lbs, whereas a portable ceiling lift motor can be used on multiple different systems and has a weight capacity of up to 600 lbs.
Quiet, compact, and powerful motor: Lifting capacities up to 1,000 lbs.
Battery: Auto shutoff to conserve battery life, and constant charge options available.
Slings: Multiple options available for safe and easy lifting.
Types of Ceiling Lifts
Savaria Ceiling Lifts

The Savaria fixed ceiling lift was designed to specifically to meet the needs of both patients and their caregivers. Best for long-term use, Savaria's fixed lift provides safe and easy transfers from room to room and to and from bathrooms. Built with a lithium-ion battery, the Savaria FL fixed ceiling lift is reliable and much more efficient than those that are built with the lead acid batteries.

View Product

SureHands Ceiling Lifts

SureHands Ceiling Lifts make transfers within a home easy and safe for people with mobility challenges. Regain your independence. Improve your lifestyle. Options are plenty with various motors, body support systems (including slings) and the unique track system. Explore the options to build your ceiling lift systems so that you can soar through the air as you move from room-to-room in one ride.

View Product

Savaria PL Portable Ceiling Lift

The Savaria portable ceiling lift was designed for those that need assistance from getting from bed to wheelchair. It was built from the ground up with a lithium-ion battery system and weighs significantly less than the lifts made by other manufacturers in the industry. Whether you are a patient, caregiver, or the Savaria portable ceiling lift provides multiple benefits and helps prevent the risk of injuries during transfers.

View Product
---
Ceiling Lifts in Northern CO & Wyoming Gallery
Ceiling Lift Installation
Lifeway Mobility provides professional installation of ceiling lifts for home use. Our lifts are installed by our very own trained and certified technicians. After your lift is installed, our local team is available to service your lift if ever needed. Our ceiling lifts come with a manufacturer's warranty, which can vary from one manufacturer to another.
Contact us today to set up a free ceiling lift consultation
---