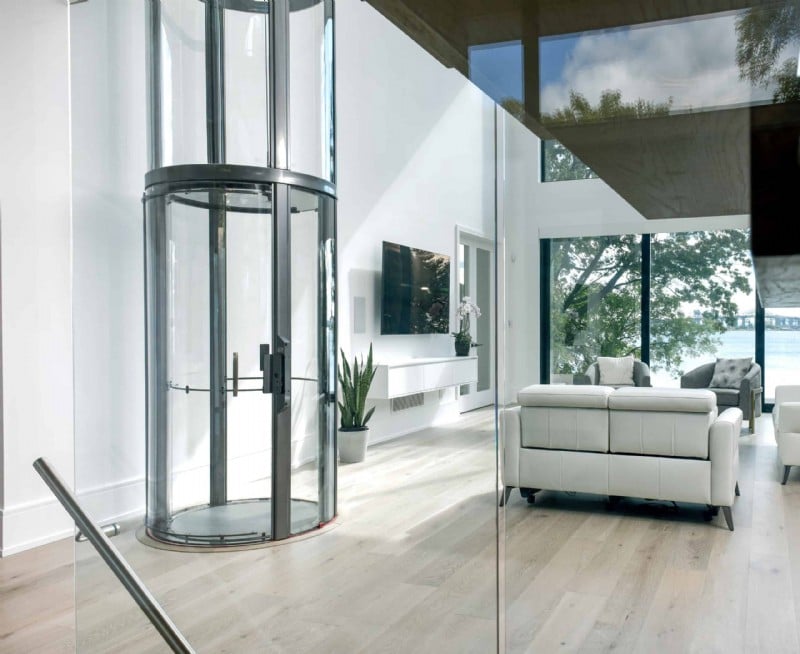 Glass Home Elevators
Savaria Vuelift Mini Home Elevator
Make your home stunningly beautiful and space more livable. Savaria's Vuelift Mini glass elevator combines stunning aesthetics with the convivence of reaching all floor levels of your home with the push of a button. It has a small footprint, making it an easy addition for new construction and flexible for installation into an existing home.
The Savaria Vuelift Mini is a showcase element that instantly adds value to new or existing homes. Make use of otherwise wasted space by adding this clear glass or acrlyic elevator close to a wall, in a corner, or center it in a winding or circular staircase.
It allows for a flexible lifestyle both now and in the future. Incorporating Vuelift Mini into a home means greater
convenience, enhanced mobility and allows for aging-in-place
for those who find the stairs difficult to navigate.
Whether you need an accessibility solution, or just want to avoid the hassle of carrying items up and down the stairs everyday, the Vuelift Mini home elevator offers both convenience and peace of mind.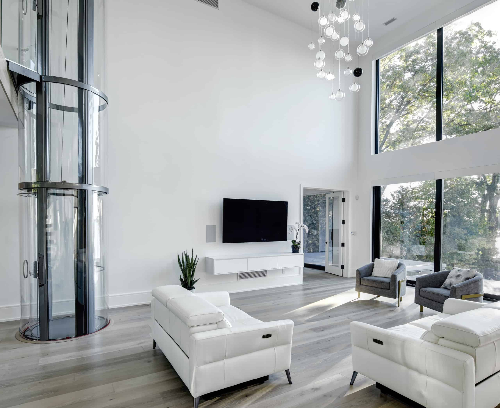 Features
All Inclusive

Free-standing design – no wall is required for installation, and no hoistway construction is needed
Available in silica glass or clear acrylic with matching hoistway
manual sliding car gate and manual landing doors
Illuminated push-button hall call stations and cab operating panel
Integrated touch-pad phone
Automatic on/off LED cab lighting and ventilation fan
Black powder-coated framing

Numerous safety features so that you should never have to worry about most safety risks, even during a power failure

Emergency stop switch
Safety brakes
Emergency battery back-up for cab lowering & lighting
Manual emergency lowering
Overspeed governor

Multiple Models Available -- Download Vuelift Glass Elevator Model Comparison Chart
Options
Up to six stops for a maximum travel of 50 ft (15.24 m)
Frame colors including white, silver or custom powder-coat
Straight-through cab configuration (2 doors)
Specifications
Vuelift Mini Specifications
Code Compliance
Meets or exceeds ASME A17.1 / CSA B44 requirements
Footprint
49.75" diameter
Capacity
500 lb.
Overhead Clearance
96"
Cab Dimensions
Interior Height: 78", Floor Area: 8.25 sq ft
Max. Travel
50 ft.
Travel Speed
30 ft./min
Power Supply
30A, 230V, single-phase, 50/60 Hz
Pit Depth
3"
Drive
Winding drum, with .7 HP motor
Configurations
Type 1 (1 cab door), optional Type 2 (2 cab doors)
Colors
Black (standard), optional: white, silver or custom powder coat
Photo Credit: Savaria
---
Improve your mobility with a Vuelift Mini Glass Elevator.
Request a free home assessment today!
Request an Assessment