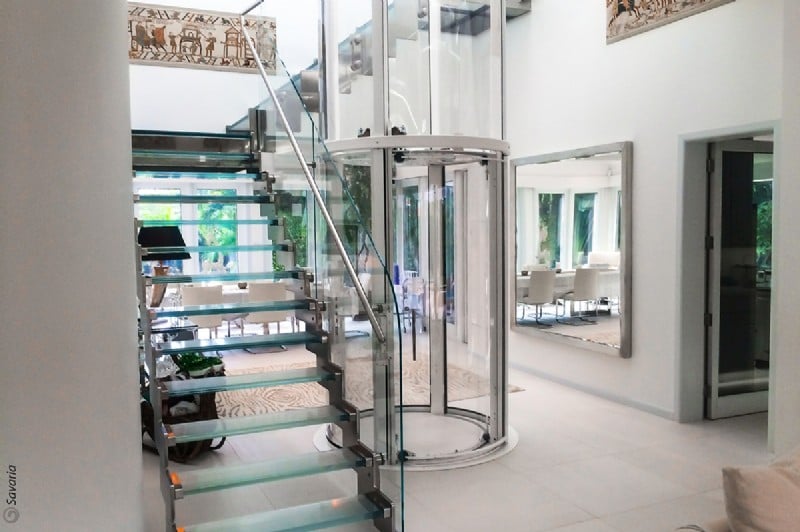 Glass Home Elevators
Savaria Vuelift Home Elevator
Make an investment in your continued mobility that will change your perception on home elevators and give you a new perspective on your home. The Savaria Vuelift is a high-quality glass elevator crafted with exceedingly strong acrylic panels, so you can enjoy a smooth ride with unobstructed views of the place you love best.
A unique combination of elegant design, energy efficiency, and built-in safety features make the Savaria Vuelift a home elevator that offers much more than convenience. Add it to your existing home during renovations, or make it the centerpiece of a new home construction (many architects place the cylindrical elevator within a spiral staircase).
Features
Free-standing design – no wall is required for installation, and no hoistway construction is needed
Modular hoistway design makes it easy to install a Vuelift in new or existing homes, and eliminates construction costs
Winding drum drive system is reliable and energy-efficient
Cab and hoistway are fully enclosed in clear acrylic to offer unique views of the interior of your home
Black semigloss textured powder-coat finish
Automatic on/off interior LED lighting
Numerous safety features:

Emergency stop switch
Safety brakes
Battery operated emergency lowering & lighting
Manual emergency lowering
Options
Configure up to 6 total stops (with a maximum travel of 42.5′)
Panoramic car ceiling
Configuration Options: Type 2, 3, or 4
Frame Color: Silver, white, or custom-colored powder-coat frame
Optional cab wall and hoistway: Low-iron silica glass (Octagonal model only)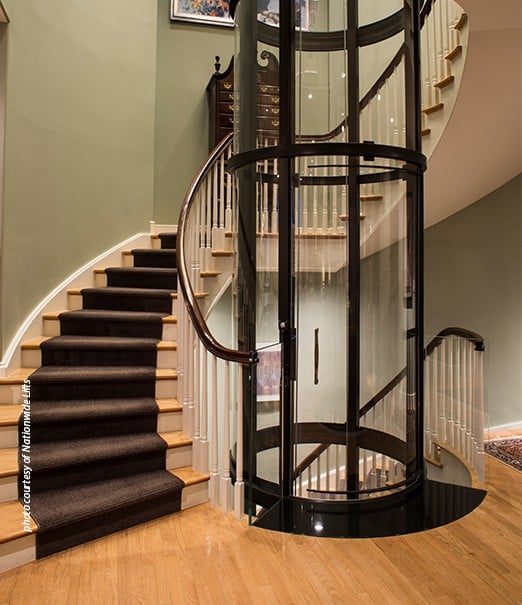 Round Model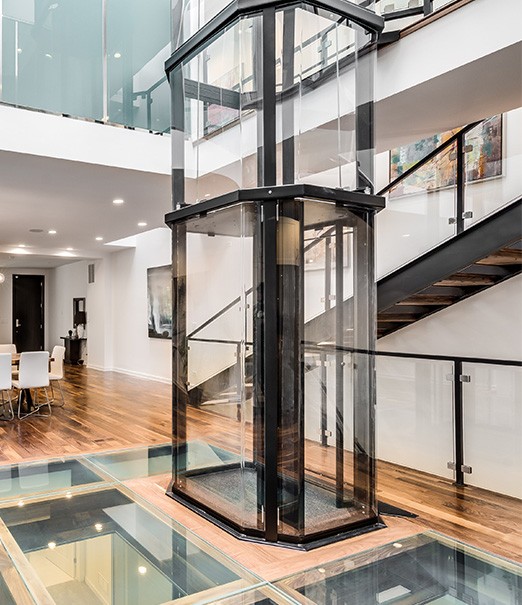 Octagonal Model
Specifications
Use this chart to compare and contrast the features of the Round and Octagonal models.
| Specifications: | Round | Octagonal |
| --- | --- | --- |
| Capacity (with standard acrylic glass) | 840 lb | 840 lb |
| Capacity (with low-iron silica glass) | N/A | 950 lb |
| Cab floor area | 13.4 sq ft | 11.91 sq ft |
| Interior cab height | 84″ (2.13 m) | 84″ (2.13 m) |
| Hoistway size | 54″ diameter | 54″ diameter (W48″ x L48″) |
| Minimum overhead clearance | 106″ | 106″ |
| Maximum travel distance | 42′ | 42′ |
| Nominal speed (with standard acrylic glass) | 32 ft/min | 32 ft/min |
| Nominal speed (with low-iron silica glass) | N/A | 40 ft/min |
| Drive/Motor | Winding drum, 1.5 hp | Winding drum, 1.5 hp |
| Minimum pit | 4″-12″ (102-305 mm) | 4″-12″ (102-305 mm) |
Photo Credit: Savaria
---
Gallery
---