Walk-In Tub or Walk-In Shower? What Are the Options?
Posted on by Dan Martin
The bathroom can present challenges for people who are aging, wheelchair bound or have limited mobility. More than 2/3 of emergency room visits are due to falls in the bathroom. Falls in the bathroom can be the result of a loss of balance, wet floors, tight spaces and/or bending and lifting required to access the tub and shower. How can you continue to enjoy your bath or shower independently at home? Let's consider and learn more about options for safe showering and bathing.
Safety Step or "Tub Cut Out"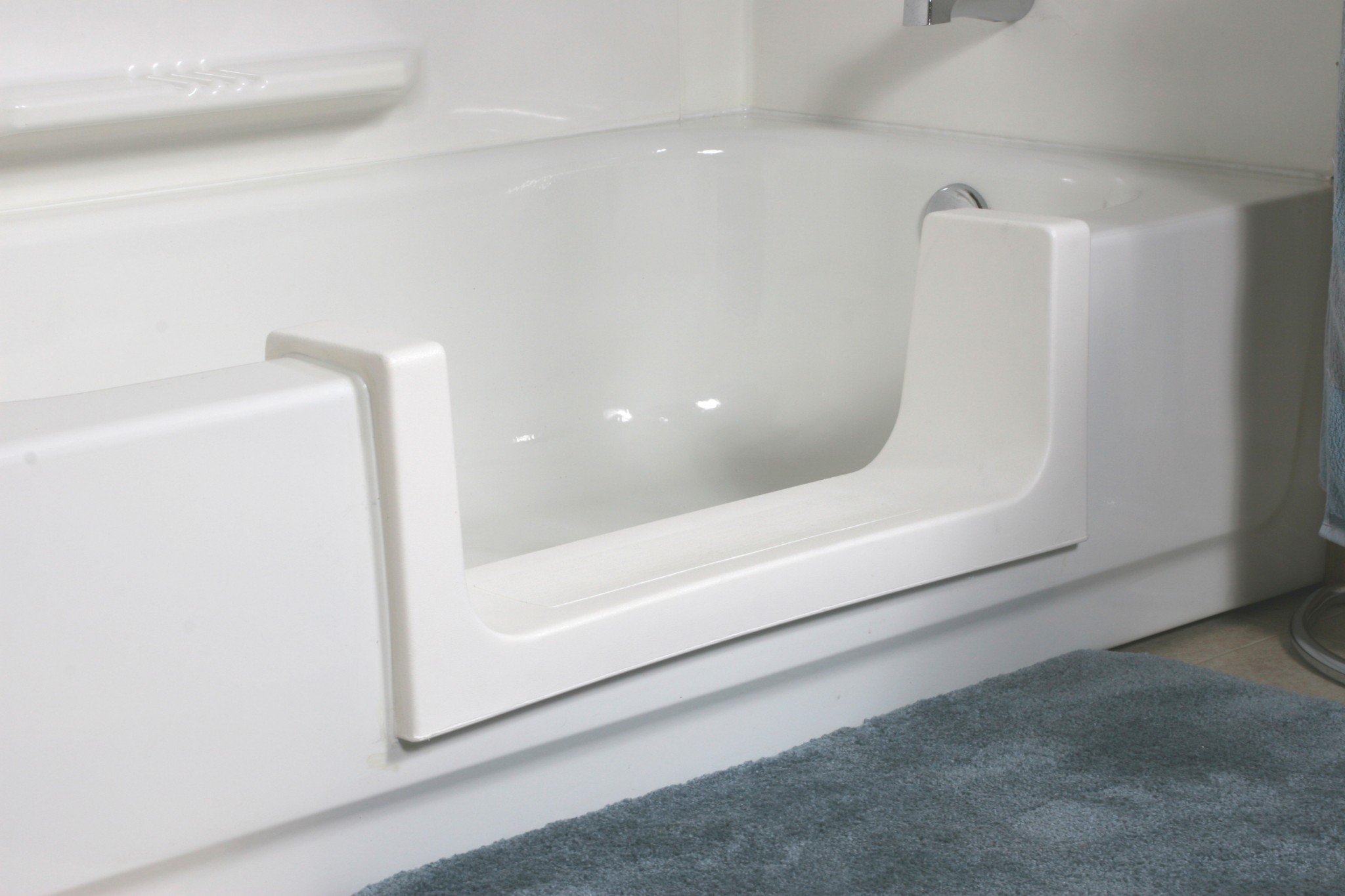 A increasingly popular option is to convert your existing tub to a walk-in shower with the installation of a Safety Step. This will give you safer access to your existing tub by not having to step over the tub wall but rather step through the tub.
You can also install grab bars, a bath board and a handheld shower to create a safe bathing environment for relatively little cost. This is the most affordable and quickest solution for an accessible bathing alternative. It is installed in your home with accessories for around $1500.00 in less than one day.
Pros:
Least expensive option
Installed quickly – in less than 1 day
Least intrusive; uses existing tub – no remodeling
Cons:
Not wheelchair accessible
6.5 inch threshold to step over to enter tub
If mobility is declining this could be short-term solution
Access point is limited in width to approximately 22 inches
Cannot be installed in a whirlpool tub or tub with a liner
Walk-In Shower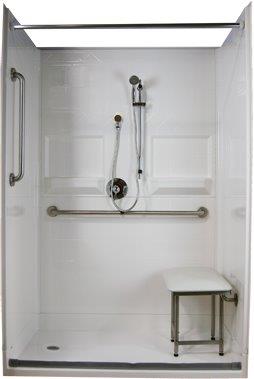 A walk-in shower is designed to provide safe, barrier-free and convenient access to showering. The danger of stepping over a bath tub or a threshold of any height is eliminated with a zero-entry shower floor. The shower is fully accessible including wheelchair bound people.
A walk-in shower is installed and completed in about one week and can cost anywhere between $6,500- $8,500 for a good quality unit with all the accessories or more than that for a custom ceramic tiled shower.
Pros:
Fully accessible including wheelchairs
Considered a bathroom upgrade
Can be incorporated beautifully in design of bathroom
Moderately priced
Easy access for a caregive to help with showering
Cons:
Beware of inferior products available in market
If balance issues exist a walk in shower can be unsafe due to falls
Larger scale project; permitting required
Walk-In Tub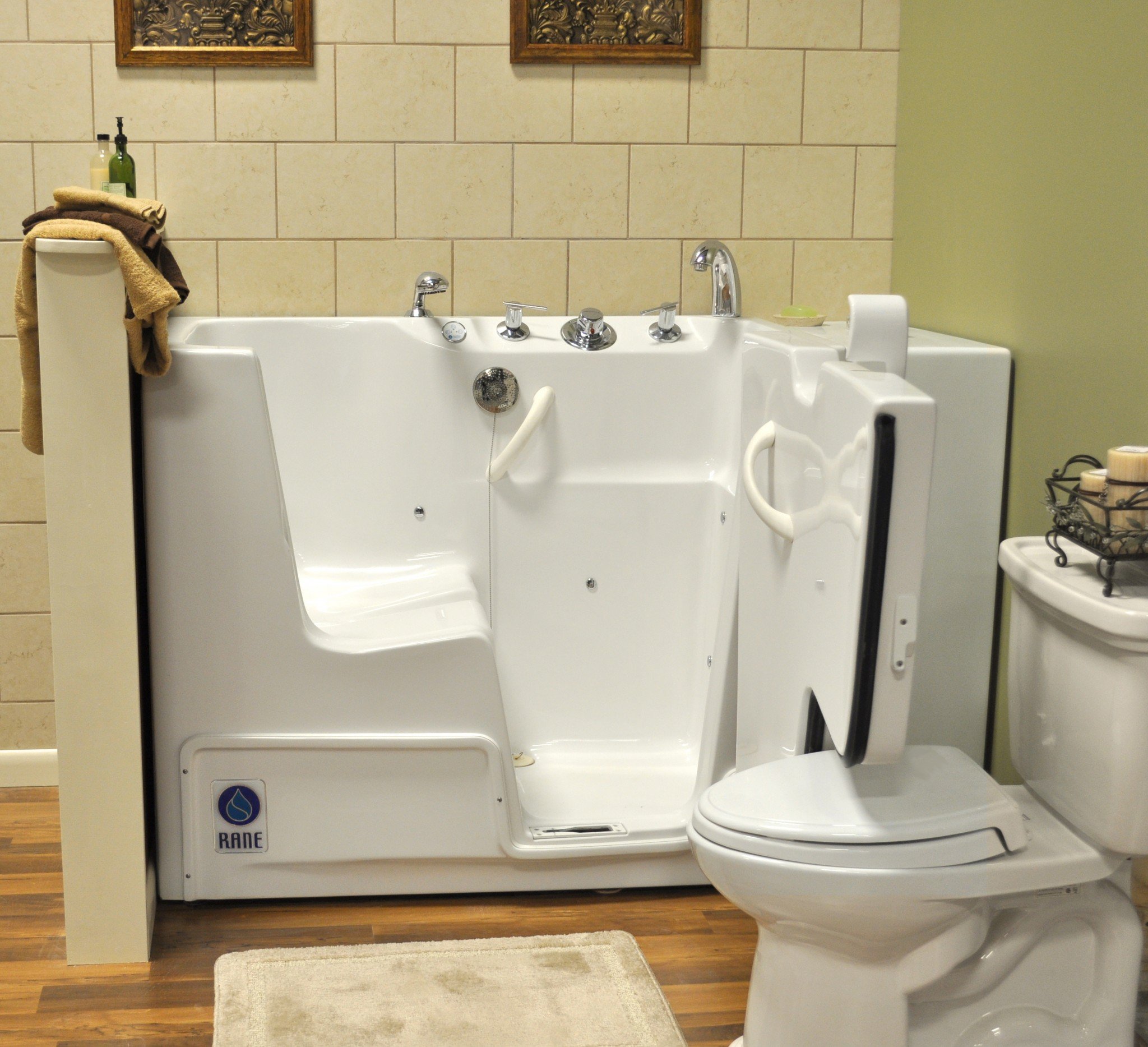 Walk-in tubs are a bathtub that comes equipped with a swinging door that opens and closes on the front or side of the tub. The door should open out and give the user access to the tub without stepping over a threshold. The door seals tight so water stays in the tub. Fast fill and fast draining capabilities exist.
The tubs often include other features such as handrails, adjustable shower heads and inside the tub seating. A walk in tub involves a remodeling project and can cost in excess of $10,000.
Pros:
Excellent theraputic benefits that help with blood circulation, arthritis, fibromyalgia, aches, pains and insomnia
Safest alternative for safe bathing
Safer solution for people with balance/dizziness
Offers both bathing and seated showering options
Cons:
Most expensive option
Many non-approved inferior products on the market
Larger scale project; permitting required
The homeowner should use a company that assesses his/her needs and concerns for safe bathing. A company that prioritizes the needs of the user will provide guidance in choosing the most appropriate product.
Remember to hire a company that provides, installs, services and waranties all the options listed above. A full-service company is not pushing the sale of a particular product but more thoroughly assessing the requirements of the user and guiding the homeowner to make the choice that best serves his/her long term needs.
---
---
---
Improve your mobility. Request a free home assessment today!