I Have More Than One Staircase, Do I Need More Than One Stair Lift?
Posted on by John Burfield
If you're considering the purchase of a stair lift and have more than one staircase in your home, you may be wondering if you need more than one lift. It will likely come down to your budget and the need to access each stairway.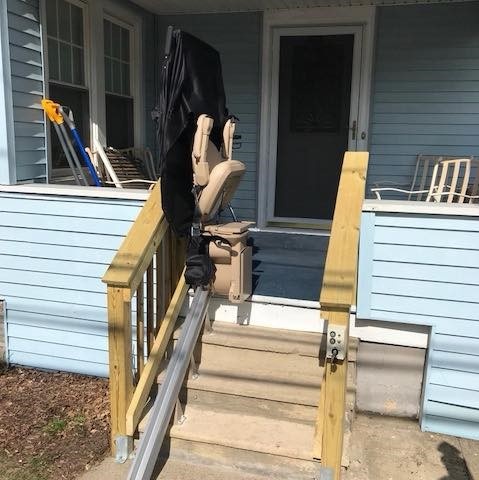 If you have multiple stairways that access the same level of your home (for example, a front and back staircase to the 2nd level) and you don't mind using just one of those, a second lift is not necessary. However, there are several situations where a second lift is sensible option.
If there are multiple living areas such as a basement or 3rd level, that you would like to, or need to access
If there is a set of stairs at the access point of your home (see right) or stairs that access a multilevel outdoor space
If you have a staircase with two straight runs of steps separated by a landing.
In the third scenario, installing two straight rail lifts instead of one custom curved rail lift can be more cost effective. With a typical starting cost of $9,500 for a curved rail stair lift, this option could save some money for those with a limited budget. To learn more about stair lift costs read our blog post.
However, it is important to keep in mind that you would need to make a transfer from one lift to the other each time you wanted to access the other level of your home. For many, the convenience of one curved rail lift is worth the additional cost if it fits in their budget.
If you still have questions about whether you'll need a second lift installed in your home, a reputable accessibility company can help you determine the most effective solution while keeping your budget and unique needs in mind.
Related Blog Posts:
---
---
---
Improve your mobility. Request a free home assessment today!