How Much Does a Stair Lift Cost?
Posted on by John Burfield
A question that we frequently get asked is "How much does a stair lift cost?". There are several factors that determine the price of a stair lift, including which make and model of stair lift you choose and whether your stairway is straight or curved. Other factors include whether you are purchasing a brand-new unit, a used unit or renting a stair lift.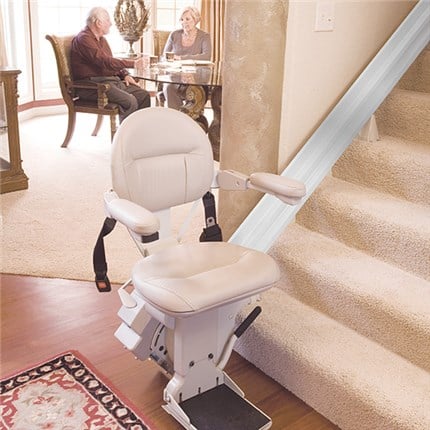 A new straight rail stair lift with 14-feet of track will typically cost between $2,800 to $8,000 including installation when purchased from a reputable and experienced provider. A used or pre-owned straight rail unit will likely start at around $2,200 installed. This can vary based on the make, model, and condition of the stair lift.
Pricing for a new outdoor chair lift will typically be just above the price of a new indoor lift. The increased cost over a new indoor straight lift is due to the need for weatherproofing to withstand the outdoor elements. The rail is built specifically for the outdoors and the chair comes with a protective cover.
The track for curved rail stair lifts is usually custom made to fit your stair case. Therefore, the cost is significantly more for a curved staircase or stairway with a landing. The cost for a curved rail stair lift will often start at $11,300 installed, depending on staircase configuration, location, and other options. Since the track is custom made, it is difficult to find used curved units or units available to be rented.
Beware of installers who offer a curved stair lift for significantly less than this amount. This probably means that they using a modular curved rail which is not custom made for your stairs. Modular curved rails often lead to a bumpy and uncomfortable ride.
If you'd like a new stair lift but paying the entire cost up front is a stretch, some providers offer monthly payment options. Lifeway Mobility currently offers a Bruno Elan a straight stair lift for as low as $56.70/month and a Bruno Elite for as low as $78.00/month to qualified buyers.
You maybe be able to find new stair lifts listed online for considerably less. However, this often does not include the cost of delivery and installation which is typically included in the pricing that is provided by local, reputable dealers.
Some online stair lift providers market do-it-yourself installation as a way to save some money. However, most quality stair lift manufacturers such as Bruno and Savaria do not recommend DIY installation and only sell through certified dealers. In addition, it can be difficult to find reliable service for stair lifts purchased online or from manufacturers that you may have seen advertising on late-night TV.
If your needs are temporary, some providers have rental options for straight rail stair lifts. Rates can vary but depending on the unit selected and length of rental period. Our rental program includes installation & removal, a monthly rental fee, and service when needed.
Typical Pricing for a Stair Lift
| | |
| --- | --- |
| New Straight Rail | $2,800-$8,000 |
| New Curved Rail | Starting at $9,800 |
| New Outdoor | Contact Us for Outdoor Pricing |
| Monthly Payments* | $56.75 to $78.00 |
| Certified Pre-Owned* | $2,200 to $3,000+ |
| Rental* | Contact Us for Rental Pricing |
*Straight rail stair lifts only
---
---